Unorthodox backyard adventure: Front-country bikepacking in the Sooke Hills
Originally posted on July 25, 2017 at 1:14 am
Words by Andreas Hestler, photos by Dave Silver
Last time I went bikepacking it was with a 50-pound backpack while smashing my personal undercarriage to smithereens on the saddle! It was tough (maybe we were just tougher then), and it gave me reason to pause whenever considering a repeat. Fast-forward a few years, the equipment has changed and now I have kids, but my love for the outdoors remains unchanged and I still yearn for adventure. This time around, I wanted to try some new gear and tone down the epic—do things a little differently.
About an hour outside of Victoria, on Vancouver Island in British Columbia, Canada, there's a small village called Sooke—a place I knew well, sitting on the edge of the wilderness. The idea took root, and I called my friend Seamus McGrath, a co-conspirator from the last taint- smashing bikepacking adventure. Still living nearby, he was game.
We had both toiled for many years cross-country racing on the World Cup circuit and are now time-crunched dads (two kids apiece) but still love a good, hard expedition. As a result we decided to foray once again into bikepacking, but on new terms. We also thought that a third addition would be needed for this backyard mission, so we called our friend Dave Silver, a professional photographer and another local dad. He was added to the mix, and we set about planning.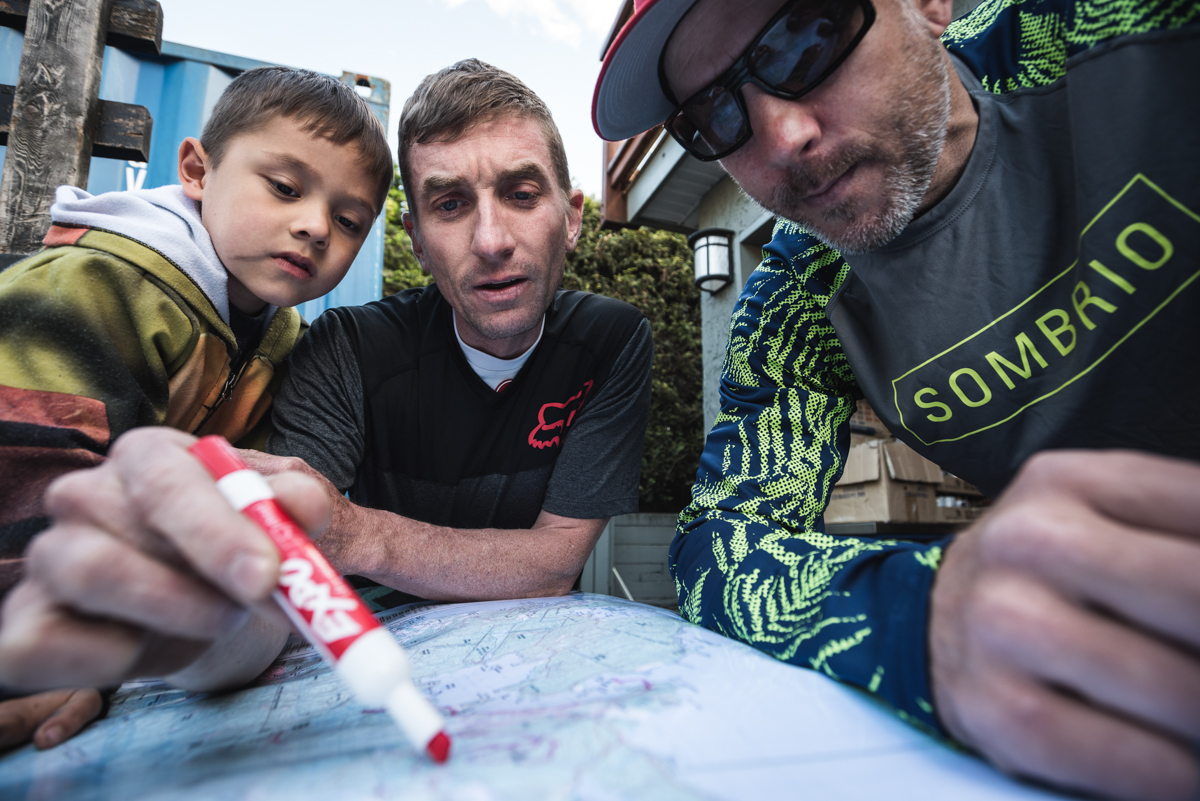 Currently, the idea of bikepacking seems to entail fat bikes, no dropper posts and some arduous journey of legendary proportions on mostly gravel roads. But somewhere along the way, an idea was seeded in my head: Isn't it just about getting out and enjoying what time you have on a longer-travel trail bike? If you bite off only big, nearly unattainable things, then you likely won't get out very often, or if you do, you might not finish. What about just a little backyard fun?
Our goals were simple: Let's actually mountain bike on trails with adventure between and not just go touring. Let's explore and link wacky things together. Let's enjoy ourselves and not follow some transmountain, super haute, machismo, gravel/pseudo-MTB route.
If we ever needed an out, town was nearby for rapid escape. What else would make a rad camping trip? We had singletrack, cabins, lakes, canoes, rivers and flexibility. Did we mention beer? We had beer.
Sooke, facing west to the Pacific Ocean, has an interesting history that includes clichéd Canadian pioneer values: everything from mining stories, gold rushes and old homesteads to long wooden water pipelines built by hand and a long-sustained regional logging industry.
Today, Sooke has specific mountain bike recreational areas nearby. Beyond them rise the Sooke Hills, a vast green space populated by rolling, forested countryside, granite bluffs and beautiful lakes. This area is still logged under modern practices but peppered within are all the camping amenities that anyone could want.
It was decided that a four-day, three-night trip would be our goal. With many choices and options available, not the least being that quick escape to town, our first night would be a short afternoon hop to base camp to allow an easy entry to our adventure.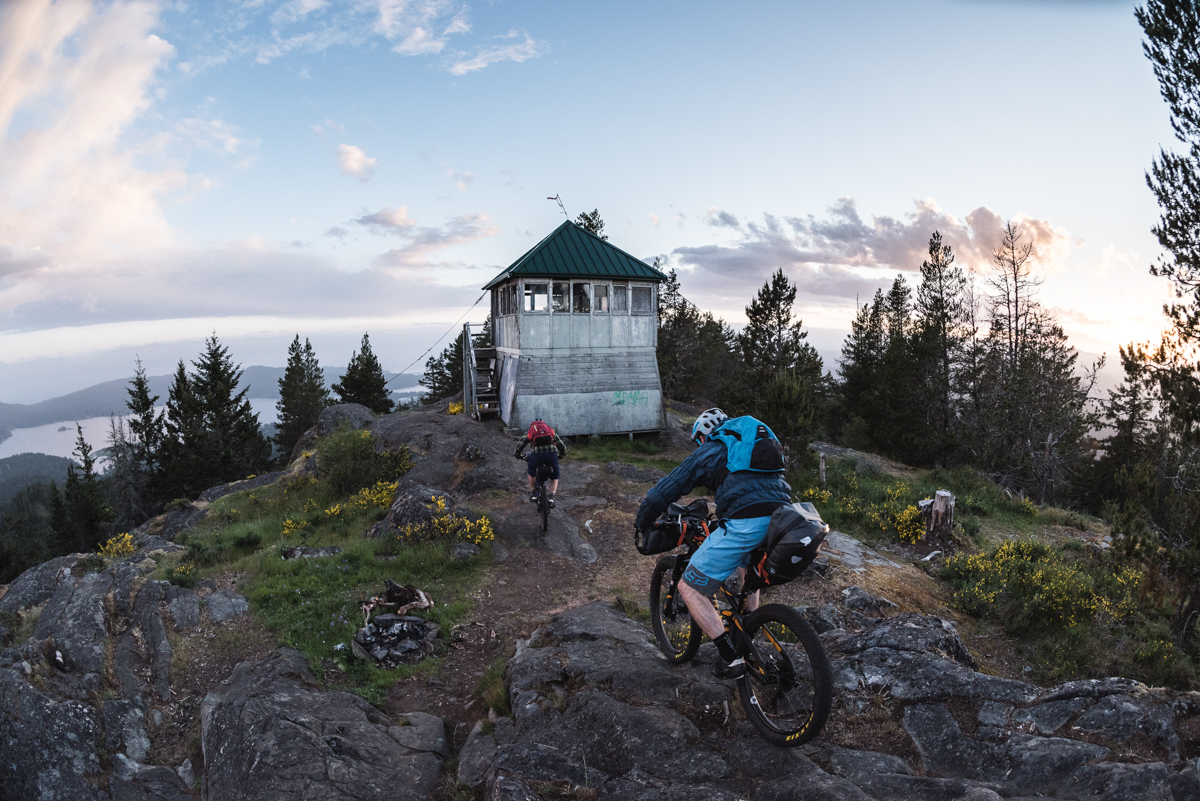 Here's the secret: Over the few weeks leading up to our outing, Seamus had been packing and stashing beer and water by mountain biking, motorcycling and hiking into some of the remote locations we would visit, enabling us to turn the rules of camping upside down. British Columbia has plenty of water, thus eliminating the need to carry a large volume of dead weight, but beer was essential, and it never hurts to have some extra water on hand. While rivers and lakes are nice, getting up to elevation and quaffing beer while watching the sunset also has its allure.
Late on the first afternoon of a warm and dry 75-degree spring day, we set off. It was only 4.5 miles, but it was all technical uphill singletrack. Our sweat equity brought us to an old fire lookout station atop Mount Manuel Quimper with incredible views across the Strait of Juan de Fuca. From here the snow-capped peak of Mount Baker in the Cascade mountain range could be glimpsed, and the Olympic range winked at us from just south of the Washington state border in the U.S.
We had gained about 1,640 vertical feet, and it was an amazing first experience with new gear and fully loaded bikes. The trac- tion that a weighted bike has going uphill is impressive, but it takes a while to adjust to the bar bag, extra gear and rear seat bag. It was funny to observe each of us overcorrecting the first few corners before finding balance and getting to terms with our new steeds. Dry, loose corners became amazingly grippy with the added weight on the bike distributed across front, middle and back.
With our dropper posts lowered, we had to spend some time figuring out seat bag placement so it wouldn't contact the rear tire under suspension compression. We had to stop and make a few adjustments but soon carried on our merry way with hoots and hollers aplenty.
When we rode in through the village of Sooke, in the spirit of keeping the adventure different, we had a great lunch at a local pub and then hooked up with Lorien Arnold, a guide from Sooke Mountain Cycle, who led us through his own stash of singletrack. Later, we meandered around some of the local byways and back routes before coming to another buddy's business, stopping to chat and drink a midday beer (keeping it in the chill zone) and then heading off again.
We covered some miles on logging roads into the wilderness before taking a sharp right on a smaller spur road and heading upward again. This sustained climb had us grunting pretty hard as we made our way to our second camp on top of another mountain, a spot achieved by scaling a cliff while pushing and carrying our bikes.
Again, Seamus had packed in beer and water to a secret cabin built by motorcycle riders. This area is so remote and sparsely populated that those who come here usually do so for fishing, hunting, off-road motorcycling or other secluded outdoor pursuits.
As the sun set on another amazing view, we dug into our space food and beers, starting to feel that warm afterglow of physical exertion and the sweet tingle of a new, never-before-done adventure.
Dawn arrived to shine light on our sleeping faces: two campers outside the cabin roughing it and one inside. For me this was a bit of a trying night. Our location near a brackish pond had brought the constant buzzing of mosquitoes, leaving me a little less fresh than I would have hoped. Dave, being smart, had put in earplugs and woke well-rested.
It was another bluebird day, and we broke camp in a relaxed fashion and headed out to tackle the lion's portion of this dirt bike trail. Gnarlier and rougher is how you would describe the difference between moto and mountain bike trails, but we were up for the challenge!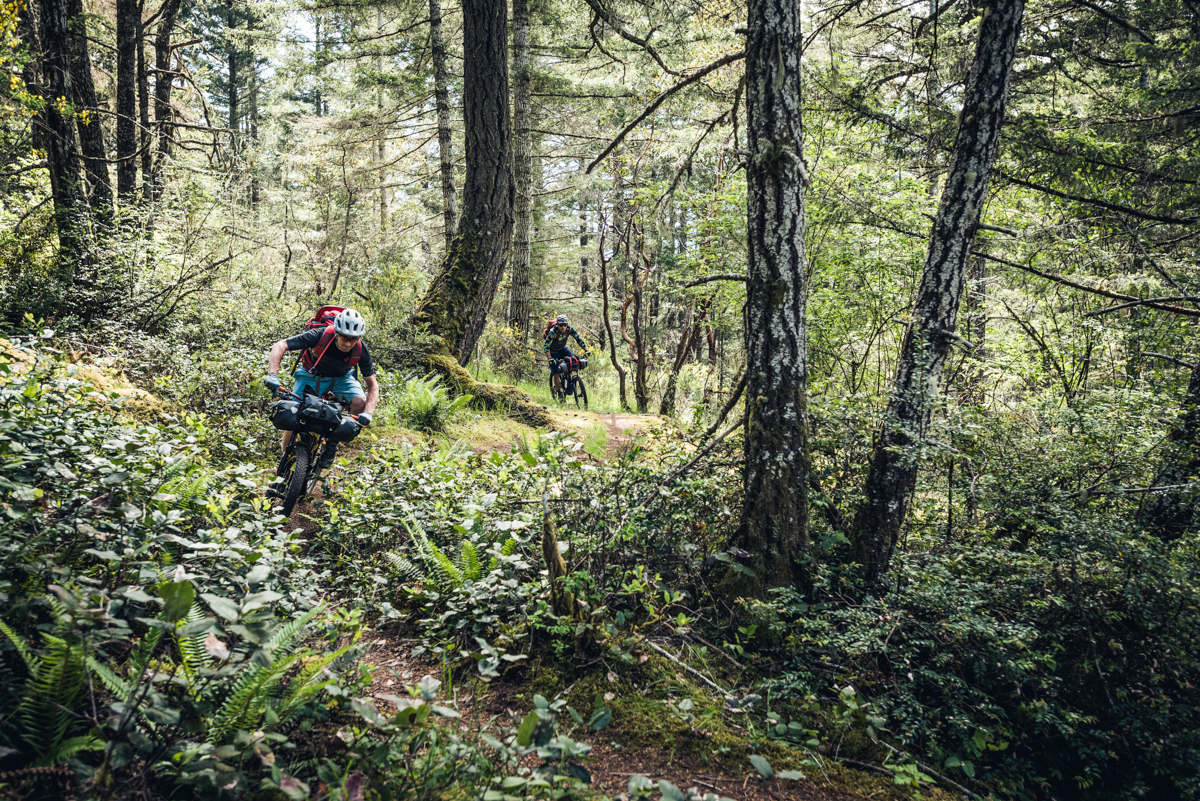 From up high there is only one place to go: down, down, down, plunging to the river on what can only be described as natural and raw singletrack. It had rock gardens, steep slabs— not manicured singletrack at all—but nonetheless it was a trail leading us through untouched old-growth forest surrounded by towering fir and red arbutus trees. Sunlight dappled through the thick growth, and light beckoned us down to our exit along a boulder-strewn creek lined with Jurassic ferns. The distance wasn't far, but it was a tough and physical morning.
Lunch was on a beautiful beach soon after we forded the Sooke River. Hooking back toward our day one location, we continued a big circular route, but there were miles to go before the finish of this adventure. Riding along the river enjoying our views of the famous "potholes" rock formations, the midday temperature climbed to nearly 90 degrees. Finally, we found ourselves at the bottom of another trailhead, and a burly climb ensued (it was well-noted that this uphill would have made an amazing descent). This turned out to be mostly hike-a-bike for an hour up to Peden Lake and a cabin we would choose not to use. Seamus and Dave took a paddle in a canoe stashed there before we continued onward to Shields Lake, our final camp. This last stretch of trail seemed little-used, as it was strewn with deadfall and reminded us we were now far from the comforts of civilization.
As we arrived at Shields Lake, a couple of dirt bikers drifted noisily by, but then silence and a feeling of absolute solitude was ours again. We grabbed a quick swim in the tepid lake and soaked up evening sunshine. Physical exertion was finally catching up: sun, heat, varied terrain and the weight of our gear. With no beer to charge our conversation that evening, fatigue settled in, and before the sun had set, we were three snoring dads under the stars having reached nirvana in nature.
Refreshed and relaxed the next morning in a way that I hadn't felt for a very long time, unsure whether the good sleep or the tranquility of nature were the reasons, we set about packing up for the last time. At this point we were familiar with our gear—where it went, how it worked—and it felt lighter after consuming most of our food.
Returning to regular mountain bike trails was refreshing, and this final day was mostly about heading down a rocky, exposed ridge and back to town. The views followed us down the ridge as we descended toward Sooke. Finding some relics of early pioneers, we mused lightly on the way things were, then carried on back to our realities.
Before re-emerging to ordinary life, we grabbed a sixer of beer from a local pub and scooted under the local bridge to have one final hurrah. Our professional lives and family were calling as our strange and unusual bikepacking trip was coming to an end.
I felt changed as I drove home that night. There had been no long farewells. We knew each other too well and had shared too many adventures for that. As I reflected on what we had done and how we had done it, I chuckled to myself. This could have been the best adventure yet, done right in our backyard.
---
This article originally appeared in Dirt Rag 198. Subscribe today to never miss an issue and sign up for our email newsletter to get fresh content delivered to your inbox every Tuesday!