Travis T's Falconer "Krusty Diamond" at Paul Camp
Originally posted on July 28, 2017 at 1:14 am
Arriving at Paul Camp in Chico, California (Back in May), I was immediately drawn to one particular bike-to-rule-them-all, Travis T's "Krusty Diamond," built by Cameron Falconer over in Quincy, California, painted by Russ Picket of Mountain Goat fame, and built with as many California and U.S. made parts as humanly possible. I thought I should find out more about this dreamy machine, and see what's up with Travis T himself.
So Travis, what is up with this bike of yours? It looks pretty special.
"One hot summer in Chico back when I was a kid, I was wandering around downtown killing time, hiding out in air conditioned stores, and the sickest airbrush paint job I'd ever seen in my life stopped me in my tracks. I was in a bike shop (now long gone) that sold Mountain Goat bikes. This bike was on display on a pile of rocks in the store and I remember it had some kinda crazy lightning or cosmos or combination of the two airbrush paint job that Russ Picket did. I never knew a bike could be taken to that level of craftsmanship and detail and that people could care so much about a bicycle because all my own BMX bikes leading up to then were total pieces of shit. That moment made a big impression on me.
Now, living again back in Chico now and (Wanting to have) that bike built by Cameron as a nod to old school mountain bikes it wouldn't reflect my love for California and where I work and ride unless I could talk Russ out of retirement to paint that bike for me. It's inspired by Metallica's "Ride the Lightning" album cover but the execution is all Russ. I told him do it however he wanted cause he's the master."
Just look at this pile of gold anodized goodness! All the best from Paul Components, White Industries, and Velocity, all made in the good old USA, and annodized together for a perfect match!
Of course everyone is talking about the Hite Rong. Can you tell me about that?
"I figured we were making a tribute to old school mountain bikes, and with our new Quick Release Seat collar coming out, and having the dropper post on my modern mountain bike improve my riding style so much, why not try to make our own PAUL Hite-Rong. Obviously it's a play on the old Hite-Rite from back in the day, as it turns out they had a lot of good ideas back then, go figure. Cameron Falconer seemed amused enough by the idea to make it happen, and Paul has expressed interest in possibly making one for sale in the future, so this would be a good chance to prototype and test it. Cameron custom bent a titanium spring for it. I've used it a bunch and it works great. If we end up actually making them at PAUL I think we'd try a thicker spring and make a couple other small tweaks, but as far as: does it work?….Yeah, it's actually pretty rad and I use it!"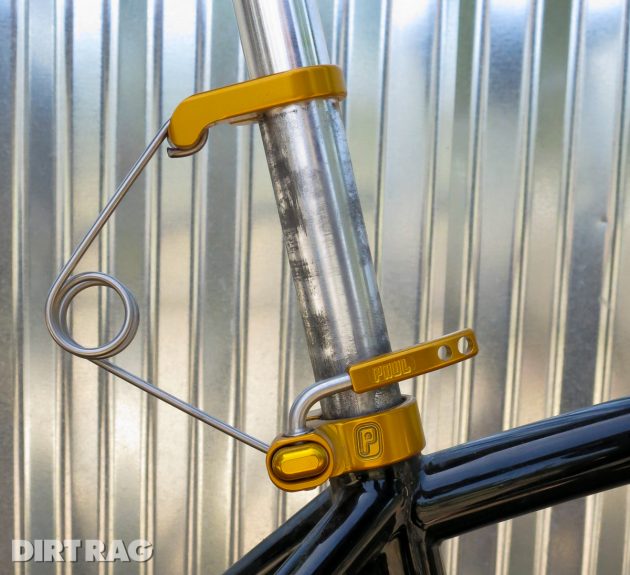 And what about that burly looking chain?
"It's a Interlock Chain from Shadow Conspiracy. It's a bit overkill of a chain, but what a beast!"
What do you do at Paul? Or as the Dean of Students at my Catholic high school used to ask me… "What's your function, mister?" 
"My business card at PAUL Comp says: "Marketing, Wizardry". I run our Instagram and answer phones and take photos and write copy and come up with ads, and help with everything from warranty to special projects for NAHBS and such. I did a lot of the work making PAULcamp happen this year.
How'd you get into the bike business?
My favorite high in the world is riding bikes. I went and became a bike messenger in Portland on my 18th birthday (they wouldn't hire me until then). I had green dreadlocks and a necklace made out of bones with a dog tag that said "Fuck Off". Bike messengering was the perfect job for a crusty punk in the 90's.
I transitioned to working in bike shops in SF and even owned a small shop called Fresh Air Bicycles for a few years, we had a rad cross team. I've met some of my best friends through cycling and readily admit I'm a bike nerd to the bone. My happiest day racing road bikes was beating Floyd Landis in a time trial at Valley of the Sun Stage race one year, and my happiest day on a mountain bike is yet to come."
So it's true that "T" is your legal name?
"I was always making deliveries to the courthouse and asked about it once (while) making a delivery and it was stupid easy back then. I thought it would be cool and punk if my name sounded like "Travesty". And yes I was known for taking things a little too far back then haha….."
So Travis, what one band, album or song would you want the Dirt Rag Family to get turned on to?
"There's a black metal band named Darkthrone, and their album Goatlord is the rawest ripper ever, here's a taste: https://www.youtube.com/watch?v=EO6d3LdcDSQ
Most people will want to turn that noise off in about 2 minutes or less though, haha. Black metal is an acquired taste, like the finest of fortified wines."
By the way, here's the bare frame, by Falconer. Influenced heavily by the Cooks Cruiser, Cameron made both pairs of dropouts on it and did the bending on the back end. Curtis Inglis bent the top tube. 29″ wheels, 68˚ head angle, 74˚ seat so it feels modern. Boo Yaa.