Blast From the Past: First ever production full-suspension singlespeed, the Kona A
Originally posted on June 29, 2017 at 1:44 am
Ed. Note: This review of the Kona A, the first ever production full-suspension singlespeed, was originally published in Dirt Rag 102 in August 2003. 
---
Rider: Philip Keyes
Height: 6'2"
Weight: 196lbs.
Inseam: 34"
Kona is one cool company. Case in point: these guys are offering the first-ever production dual suspension singlespeed. They had to know that they weren't going to sell millions of these things, but they had the cojones to make one anyway. Helmets off to a company with some singlespeed soul.
Pronounced the "Ahhhhh," the Kona A is the brainchild of Kona's resident mad scientist, Dr. Dew El Grande, a hardcore North Shore rider, racer and founder of the legendary Cove Bike Shop. "Hey, no one else was doing it," says Dewey, "so I thought it would be pretty cool."
Making a double-boing SS is a challenge because the rear end has to move up and down while the chainline stays exactly the same length. The $1600 A does this by pivoting the rear triangle around the bottom bracket. Once Dr. Dew found that the bottom bracket configuration wasn't controlled by a bunch of patent lawyers, he decided to make a go of it. The rear swingarm clamps around the bottom bracket shell using two oversized sealed bearings, and the whole operation looks nice and clean, and is good and stiff. Although the A looks like their other dualies and offers 3.5 inches of travel, the pivot around the bottom bracket sets it apart. Kona's website sums it up perfectly: "A achieves the Kona quest for the shortest name in the biz and a quirky need to build a bike that has more suspension than gears."
Riding a dualie singlespeed takes a little getting used to. In contrast to hardtail singlespeeding where you're frequently out of the saddle and hammering the pedals on the climbs, this bike ascends better seated and spinning smoothly, like other full suspension bikes. The rear Fox Vanilla RL shock has lock-out, but its lever placement is a bit of a reach and is tricky to get to while dicing it up. If there were ever a bike crying out for a remote lockout lever, this is it. However, with a decent amount of preload, I was pleased with how little the rear end bobbed. But the key is preload, and this doesn't make for a super plush ride. It's always a trade-off.
Kona spec'd the bike with a solid international parts pick: an 80mm travel Marzocchi MX Comp fork, RaceFace's ISIS-compatible singlespeed crank and bash guard protecting a 34-tooth chainwheel, Avid Single Digit brakes and Speed Dial levers, and a Koski stem, bar and seatpost. The wheelset mates Shimano QR and KK singlespeed hubs with Mavic X221 rims wrapped with diminutive Tioga Red Phoenix 1.9 tires. While I had never heard of the hub manufacturer before, it worked well and created a strong, no-dish rear wheel.
In short, it's a fine parts selection though I never got used to the skinny race rubber, which slipped out on honking climbs and cornered skittishly. I also wouldn't have minded a lower gear ratio, and I've never understood riders' predilection for a straight 2 to 1 ratio—I guess my legs are just weak and spindly. On this dualie, having a lower ratio would have made seated climbing a bit easier on my knees, but that's a personal preference.
The frame itself is nicely welded out of butted 7005 aluminum and is built around 71°/74° head tube/seat tube angles with 16.9" chainstays and variable top tube lengths depending upon which of the three sizes you pick: 16", 18" and 20". This presented a slight problem for me since at 6' 2" I would have fit better on a bigger frame than the 20".
The A feels like an XC race bike, and at 26.5 pounds, this dualie was raring to go fast. While not twitchy, the steering is quick and responsive. With the handlebar lying about 3" below my saddle height, I always felt like I was in an "attack" position. This took some getting used to since my other singlespeeds are set up in a more relaxed trail riding style. This is a matter of preference, and for me, I would have swapped out the stem for a more upright stance and put on some fattie tires for more stability and grab. On the other hand, if you're into a racy setup, the bike is probably perfect as is.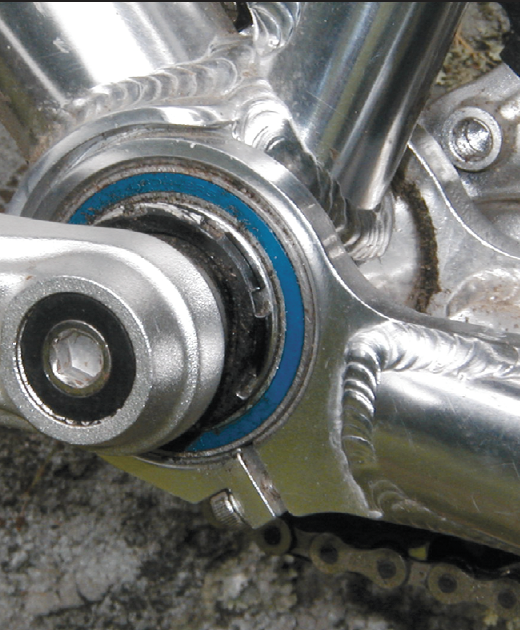 My biggest grins on this bike were had while zipping rolling trails at a decent clip and keeping up a solid, high-speed spin. As long as there weren't any long and steep climbs, the bike was a ton of fun to ride, but the grin-factor declined on technical climbs where brute leg strength is needed to muscle the bike up the minefields. The suspension worked admirably, and for the most part I didn't even realize that it was a dualie, yet it did a good job taking the edge off choppy trails and let me pedal through sections of trail that I would normally stand in.
Dr. Dew tells me that next year's A will be offered as a frameset only, which is probably a good idea since most people who'd consider getting into a dualie singlespeed are most likely hardcore riders with a good idea how they want their bikes set up.
While I wouldn't recommend the A as someone's only singlespeed, it's a great bike to add to the quiver, have a bunch of fun with, and take pride in owning the first ever production dualie SS. Part of the bike's dilemma is its somewhat racy set up—did I mention the skinny tires?—which contrasts with the more trail riding appeal of dual suspension. True SS racers might shy away from a dualie rig and trail riders would probably go for a more laid back trail bike, but the latter can be easily attained by a few inexpensive modifications. But singlespeeding is all about fun, and this is definitely a fun bike to ride.