Review: Two MTB shoes you can walk in
Originally posted on June 20, 2017 at 1:27 am
Words and photos by Adam Newman
Remember when clipless mountain bike shoes were terrible? It wasn't that long ago that most were just glorified road bike shoes with rock-hard soles and even harder plastic nubs glued to the bottom that gouged up your floor and turned every smooth surface into a skating rink. Or worse, they actually were road shoes, tucked into toe clips. The mind shudders.
Luckily for us, the totally-rad-enduro-stoke that the industry has been pumping out for the past few years has brought us some really nice and practical products, and these shoes are two of them. Suddenly it was OK to acknowledge that not every fleeting moment of the Mountain Bike Life was spent clipped into the pedals, and our tortured tarsals don't need to be uncomfortable during all those real-world parts.
---
Pearl Izumi X-Alp Launch II – $160
It might seem crazy that these were designed with walking in mind. Walking? On a mountain bike? I know! Who does that?! Well I do, and a lot of other people do, and some of the best trails in the world require walking. Luckily the Launch IIs are great at it. The carbon fiber reinforced shank is stiff enough for pedaling, of course, but is plenty comfortable to hang out in. I would not hesitate to wear these all day, on and off the bike. The fit is generous throughout the width and toe box, but the upper keeps your foot from sliding thanks to the BOA retention dial.
This was my first experience with a BOA system, and I've heard lots of moaning and groaning about them, but I didn't have any trouble. It's nice that you can dial the tightness back and forth without it releasing completely. Because the dial is high up on the top of the foot, it's also pretty safe from damage. The only hiccup is that the left and right dials spin in opposite directions. The right shoe is righty-tighty, but the left goes the other way. Not sure that's necessary.
OK, that covers the top, but on the bottom you'll find a typical two-bolt SPD style cleat mount with a pretty decent adjustment range. I was riding these a lot on a bigger, all-mountain bike, and I was happy with the cleats pushed fairly far back. The outsole doesn't have any unusual materials or tread, but it's soft and wide, and extends up over the toe box in the front for some added protection.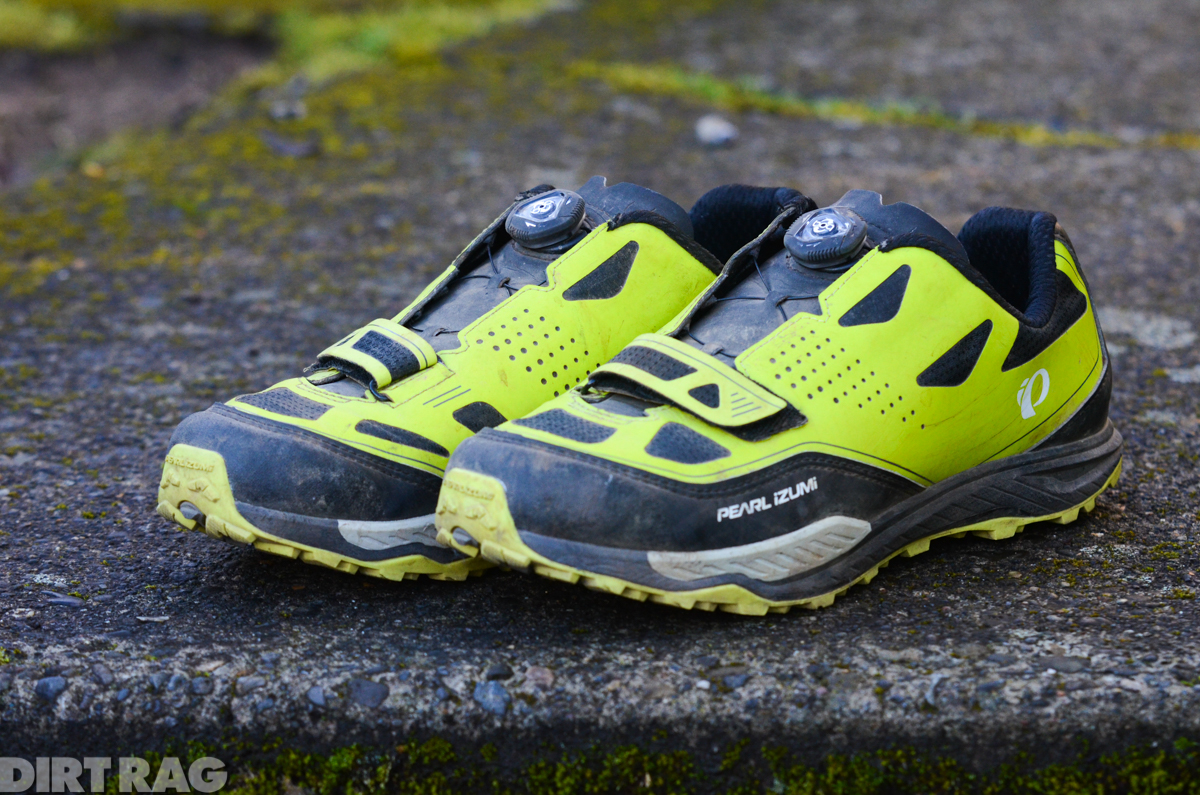 ---
Sidi MTB SD15 – $200
While the Pearl Izumis are buff and burly, the Sidis are svelte and sophisticated, like you would expect an Italian shoe to be. The fi t is narrower, though not unacceptably so, and the sleek, suede-like upper gives them a much slimmer profile. Sidi calls the material "politex," and it's made from a combination of PVC, a knitted fabric and felt. Sidi says it's super strong and a totally "green" product. Dunno. Looks black to me.
Here too you'll find a cable-dial closure, but this is Sidi's own design, with a flip-up lever to tighten and a two-button release. You can't ratchet it backwards like you can the BOA, but at least the dials on both feet turn the same direction.
Out back you'll find the stiff, reinforced heel cup featured on many Sidi shoes, for great heel retention and some level of protection. Below, the outsole is much more aggressively lugged than the Pearl Izumi, though it has a narrower profile, so in terms of traction it's pretty much a wash.
---
Toe to Toe:
Both these shoes have been pretty great, but the biggest story here is that while they both more or less fit into the same category, their personalities couldn't be more different. The Pearl Izumis are comfortable, macho and rugged. To use a cliched car analogy, they're a full-size American pickup truck, with big tires and overstuffed seats. While you could certainly use them for just about anything, they excell at big trail to all-mountain rides, where comfort and traction are key.
The Sidis, of course, are a luxury sports sedan. I found myself reaching for them most often for cross-country and gravel rides where I knew I was going to spend more time clipped in and less time goofing off. I think they're a great all-purpose option for anyone who wants a little more comfort and off-bike traction without giving up too much in terms of performance.
These two are so different, in fact, I can't even pick a favorite. My guess is you know which one would be your magic slipper.
---
This review was originally published in Dirt Rag 197. Subscribe to be the first to get the next issue and sign up for our weekly email newsletter to get fresh content delivered to your inbox every Tuesday.