The Trans-Sylvania Epic Experience: Tips from a first-time stage racer
Originally posted on June 9, 2017 at 9:33 am
When you express to a co-worker or family member that you signed up for the Trans-Sylvania Epic mountain bike stage race you'll likely be greeted with an interesting response, and rightfully so.
You want to do a what? On your pedal bike? You're going to do this for how many days?
The conversation continues but only with the not-so-subtle facial expressions of confusion and bewilderment by this point and after a long pause of silence, "Well, good luck with that."
Without hesitation you fire back with a bold "Thank you, I'll be fine."
However, once the conversation ends, you start to second guess yourself and wonder if you are in over your head. You ask yourself, how can I even begin preparing for such an adventure?
First and foremost, don't lose that confidence that helped you want to sign up to begin with. Trans-Sylvania Epic (TSE) was my first stage race and I now know why it's dubbed "Singletrack Summer Camp." It was, however, a bit nerve-wracking as the date neared and I tried to make sure I had everything I needed for five days worth of camping and riding, so I thought a quick snapshot of how I prepared could be useful to others looking to prepare for TSE or any other mountain bike stage race.
---
The Bike
I rode a 2017 Pivot LES hardtail, setup as a singlespeed with a 120mm Fox 34 and CrankBrothers dropper post (a long-term review of the LES will appear in Dirt Rag 201, so look for it down the road).
More than 90% of my time spent on bikes is on a singlespeed, so take that into consideration before ditching all your shifty bits. Since this is a stage race and it is heavily frowned upon to change gearing throughout the course of the week, I decided on 32×19, which I later learned was considered the "magic gear" for TSE and the one that the majority of us singlespeeders used for the race.
Trans-Sylvania Epic takes place in central Pennsylvania's Rothrock and Bald Eagle State Forests, where the the term "rock garden" doesn't seem to be used because the entire trail system itself is a rock garden. Because of this, tires were my number one concern. Regardless of the situation, I hate changing flats.
With rain in the forecast, I decided to run what I typically would run if I were to recreationally go ride Rothrock State Forest – a Maxxis Minion DHR II 29×2.3, Tubeless Ready and with EXO Casing up front and a Maxxis Minion SS 29×2.3, Tubeless Ready, with EXO casing out back. I did end up with a small slice in my rear that was fixed by two Dyna Plugs, but this setup has usually served me really well.
Next time, I will probably run something more similar to a Maxxis Ardent 2.4 or Ardent Race 2.35 up front and an Ardent Race 2.35 or 2.2 out back. With the amount of gravel in between trail, it would have been nice to cut down some of that rolling resistance. I also ran the new Bontrager Line Pro 30 TLR wheelset with 108 points of engagement (check out a full-length review of these in an upcoming issue of Dirt Rag as well).
Before leaving, I disassembled my entire bike, cleaned it, applied grease as needed and re-assembled, ensuring all bolts were torqued to spec and everything received a reasonable once-over. I installed a fresh pair of ESI Extra Chunky grips, a new 10-speed KMC chain and new bottom bracket bearings. Thankfully, with a singlespeed there is not much to go over, so if you are not comfortable tearing your bike down and assembling then I would suggest dropping your bike off at the local shop at least 2 weeks prior to the event. It cannot be stressed enough that you really need to take into account how busy your local shop is and do this well in advance; the last thing you need is to be stressed out about getting your bike done as a rush job or waiting till the very last minute to pick it up.
---
Temporary Residence
TSE offers both RV/tent camping as well as indoor lodging right next to the start/finish area for most of the stages. Each has their pros and cons and in the end, I chose to test out the new Tepui rooftop tent (which will have a long-term review in an issue, too).
That's not to say I didn't spend some time hanging out in one of the lodges. Here are my thoughts on the two:
Staying in one of the lodges

Pros:
Safe haven from rain
Full use of kitchen including dishes, running water, and a fridge
Electric for lights, and charging devices
Easier to be social and make new friends
Cons:
You have a bunkmate, which could be a stranger on day 1 (see: making new friends)
Your bedtime is dictated by the group, light sleepers beware
Convenience has an additional cost
Can get extremely hot and humid inside depending on weather
Camping in the RV or Tent area (grass field)

Pros:
You can escape the social scene as needed
Bedtime is on your terms
Included in entry fee
Cons:
Shower flip-flops highly suggested in communal bath house
More things to pack (i.e. cooking equipment, coolers, etc)
A short but inconvenient walk to water
Fewer places to escape from the rain
No power hook ups
---
Calorie Consumption
Being out in the middle of the State Forest is great, but unfortunately, when it comes to dining, that means limited options. For 2017, TSE brought in food vendors and offered meal tickets, which could be purchased in advance with a discount or purchased at the event a la carte. The cost to eat breakfast and dinner every day can add up and I never know how unknown food is going to sit with me, so I opted to bring my own for the week.
I am a firm believer in not changing your diet or trying to prepare complicated meals. I prefer to just keep it simple. Also, when camping, I found it to be very convenient to have pre-made food that you can eat cold or requires little prep and cook time. Unfortunately, when I pulled my camp stove out on the first day it was not working (I should have checked it before I left, but I didn't), so I couldn't have my standard egg breakfast. Which brings me to my next suggestion: pack a little extra just in case.
My food list including the following:

Breakfast: coffee, granola cereal, eggs, oatmeal, almond butter, bananas
Lunch/Dinner: taco meat and spinach wraps, avocados, tuna, pizza
Snacks and riding fuel: Pop-Tarts, date bars, Trader Joe's Penguins, pretzels, hummus
When packing eggs for camping, I've found useful is to crack the eggs open in a small wide-mouth Nalgene bottle ahead of time. You can also pre-mix any fixings in there such kale, tomatoes and peppers for easier transportation and less mess when it's time to cook. I also packed a small Nalgene with some almond milk and one with orange juice rather than taking giant jugs with me.
There is an ice machine available at TSE from the main office, which is something I did not know until the last day, but that may be a bit of a golden nugget for many to learn. I had a two-cooler setup, all my food and perishable items in my 58-quart Orca Cooler and all my beverages in a separate Coleman. The crazy thing about the Orca cooler is that I never refilled it with ice, and I drove home with enough ice in the cooler after six days that I did not have to be concerned with unpacking it right away. The Orca's price made it hard to pull the trigger on the purchase, but it is totally worth the investment for any long weekend camping trips and highly recommend.
---
The Race
Day 1 at Big Poe started off fast, and I recall looking down at my GPS around the 15-mile mark, noticing that my average speed was over 12 mph and I was still only fighting for 4th place singlespeed. This was an unfortunate indication of a long week ahead. Thankfully, the rest of the straggling singlespeeders were in the same boat, and we called a truce right then and there on the first day. This would ultimately end up being one of the better decisions I've made. Five days of hard racing turned into a real singletrack summer camp and I enjoyed every second of it.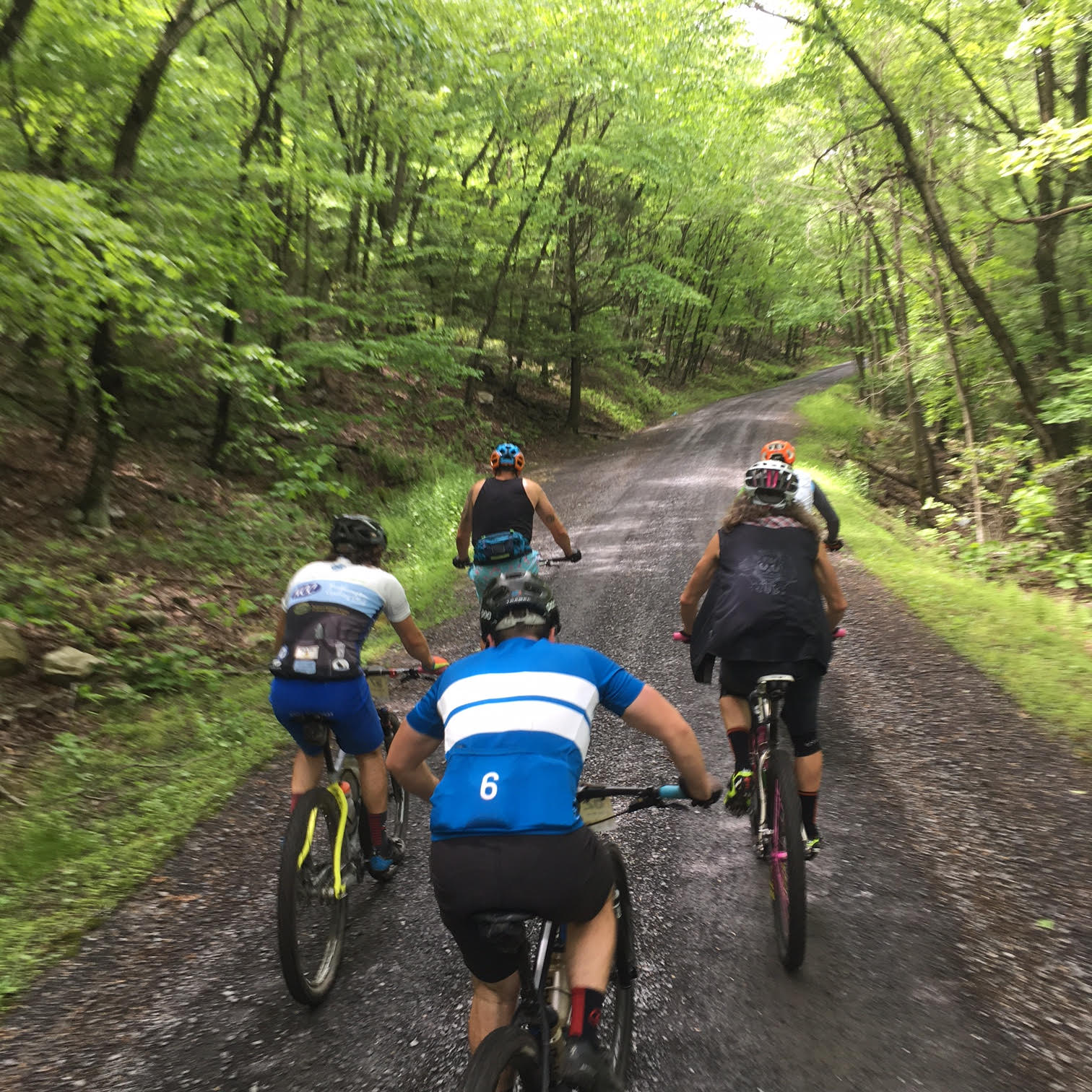 From that day on, the five of us just rode bikes and cheered on our fellow tryers. We still followed the course and started with the masses (except day five – we went early to cheer on the leaders), put in decent efforts and ended each day with spirits high.
Racing is fun and I am still competitive, but sometimes it's nice to relax and not care. I personally feel that better friendships were formed through our five days of shenanigans than if we were all heads down, fighting for the podium. You have to take a step back and remember why you continue this hobby and for 90% of us, there is no real chance to make a living racing bikes. TSE will always be my summer camp, a place to go have fun on bikes, relax and party with friends.
Sadly, I don't think I am going to be able to come back next year simply due to our Dirt Fest Pennsylvania event being too close on the calendar and not enough time to fulfill my responsibilities between the two. However, if I were able to come back, the only difference I'd make would be to initiate the truce before the week even begins.