SRAM GX Eagle- 12 speed for the proletariat?
Originally posted on June 8, 2017 at 12:37 pm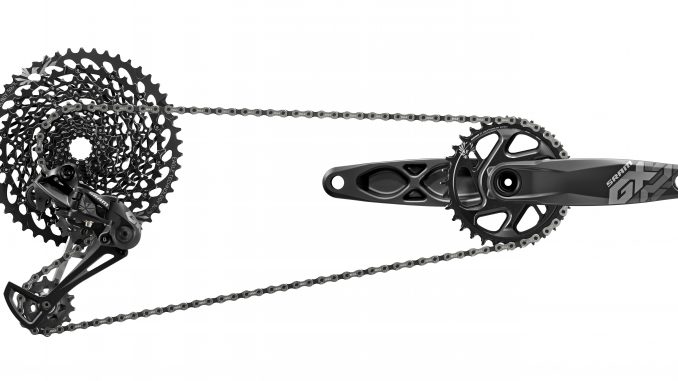 The appeal of a 500% gear range with a single derailleur is undeniable for most riders. It was also undeniable that affording either XO1 or XX1 Eagle was out of reach for a large swath of riders. At a complete group cost of approximately $525 (crank, chain, cassette, shifter, derailleur) GX Eagle flys much closer to earth for riders with more modest means.
GX has long been the workhorse of the SRAM lineup, with 1×11, 2×11, 2×10 and  1×7 DH options, and the 1×12 group looks to carry that mantle forward. I've been riding the new group the last couple of weeks, so here are some real world weights and riding impressions
Crank – $120-170
628 grams GPX spindle, no bottom bracket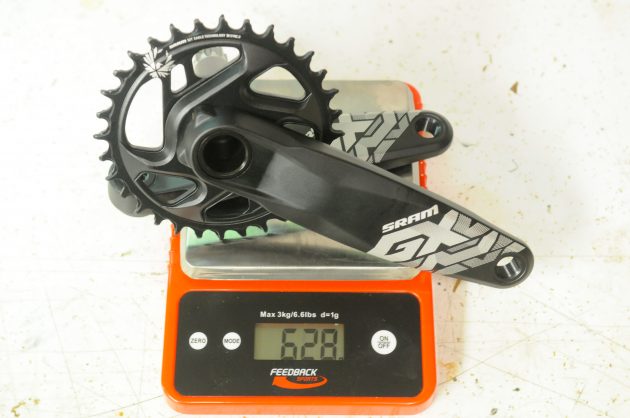 This is an entirely new crankset, with 7000 series forged aluminum arms, forged and machined chainring and options to fit most any bottom bracket standard. Instead of the previous open core construction from the GX 1400 crankset, the new crank has reliefs on the backside to save weight. The new crank promises to be stiffer, weight much the same, and cost less. Sounds like a win to me.
The X-SYNC 2 chainring uses lots of tooth shapes to keep the chain on, and there will be 30, 32 or 34 tooth options to start. Crank lengths are 165, 170 or 175 mm.
For reference, a carbon XO1 Eagle GPX crank is $390 and 520 grams.
Rear Derailleur – $110
289 grams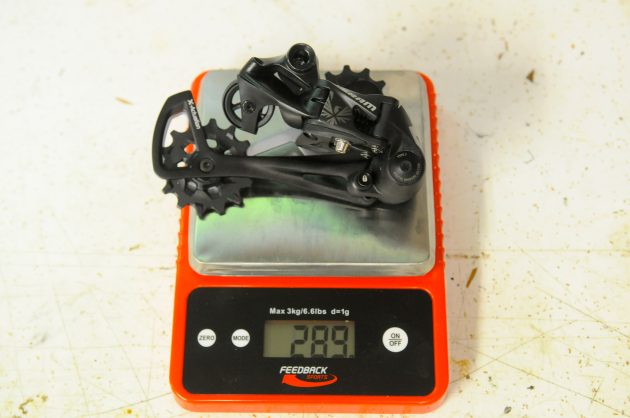 The GX Eagle derailleur doesn't break any new ground, but it also doesn't drop any features from the higher end models. You still get a Type-3 clutch, narrow-wide toothed pulley, and the easier-to-use Cage Lock button.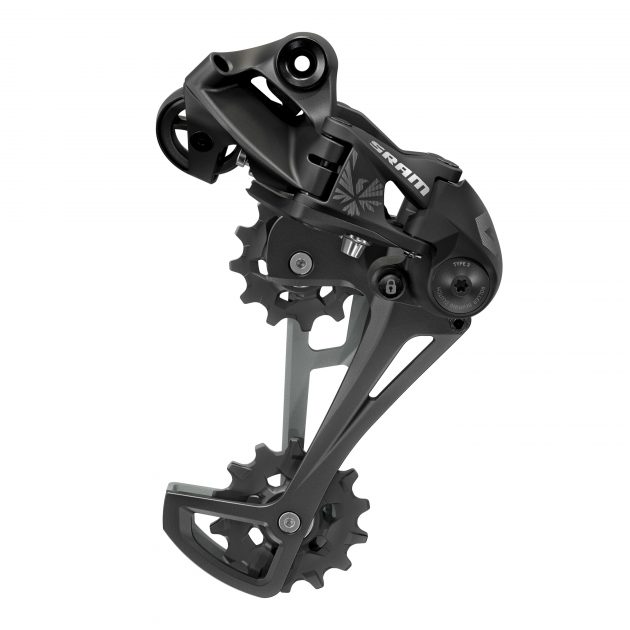 An XO1 Eagle derailleur is $220 and 276 grams.
Shifter – $40
123 grams (with cable, no clamp)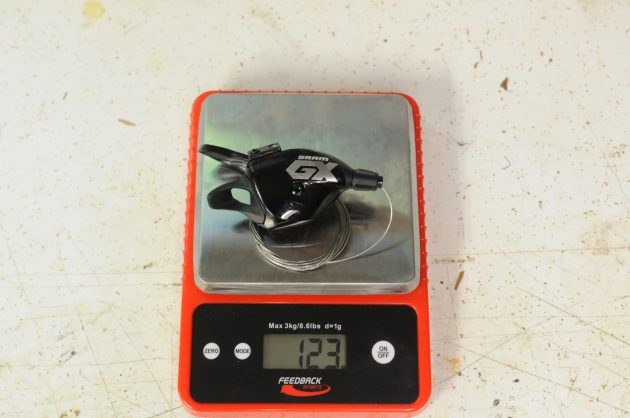 SRAM's trigger shifters have come a long way. I had issues with the ergonomics and inadvertent double shifts with early models, but that has all been solved, and GX Eagle gets all the trickle-down improvements from XO1 and XX1. Matchmaker X mounting means a single clamp can hold a brake lever, shifter, and Reverb or shock remote lever.
Again for reference, XO1 Eagle shifter is $127 and 124 grams.
XG-1275 Eagle Cassette – $195
448 grams
The cassette is the only place where the higher end groups really pull ahead of GX. While 448 grams isn't boat-anchor heavy, it certainly isn't light. The price makes it the most expensive part of the group, which is painful since this is a wear item. Buying a good chain wear gauge and replacing chains religiously will help this last a lot longer than most would expect. Range is the same as XO1 and XX1, 10-50
Instead of the fully machined construction of the X01 and XX1 Eagle groups, the GX Eagle cassette is pinned. Lots and lots of pins. All those finely machined cogs and the time needed to pin them together are some of the reason for the cost and the weight.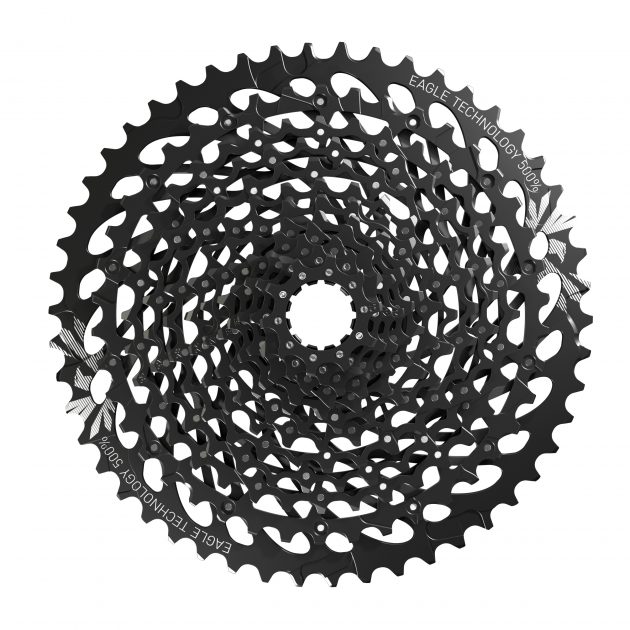 XO1 Eagle cassettes are $360 and 354 grams.
Chain – $30
263 grams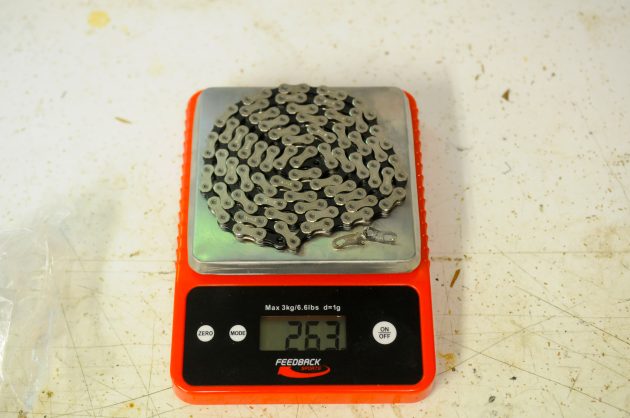 In person, this is a nicely finished chain. It has all the same features as XO1 and XX1 and is said to be designed specifically to reduce wear on expensive 12-speed cassettes.
XO1 Eagle chains are $60-85 and weight about 260 grams, depending on link count.
Ride Impressions
For those playing along at home, you already know that the GX groups saves you $647 and adds about 214 grams to the bike. I didn't include bottom bracket weight or price to simplify things, but in the end, I was highly impressed that a group that is half the price is no far off in the weight department.
I've spent some time on XO1 Eagle at a few press camps and the long-term test of the Trek Remedy, so I have a good baseline to compare the two.
To put it simply, GX Eagle is going to hard to distinguish from its more expensive brethren while riding. The GX shifter works and feels noticeably better than NX and as good as XO1 and XX1. Shifts across the cassette are smooth and consistent from the 10 tooth all the way to the almost comically large 50 tooth cog.
The cassette is both the hero and the villain of the group. It is far from light and not cheap, but it is still almost half the price of an XO1 cassette. It pains me to see a wear item as the most expensive part of a group, but since chains are only $30, swapping them often will keep that cassette rolling for a long time, hopefully.
I still have some issues with getting the shifter where I want when sharing a clamp with the brake lever, but I can always solve that with a separate clamp. And the rear derailleur still hangs out in the breeze a lot more than Shimano, something that can be an issue in tight rocks with wide rear ends.
I've been trying to compare this new group to SRAM's main competitor, Shimano. But with the huge variance between Shimano's MSRP and street prices and a 500% range vs Shimano's 418% with an 11-46 cassette, it is very hard to really be fair. Yes, Shimano can be had very cheaply online, but SRAM's cassette range isn't comparable to anything in Shimano's lineup.
In some ways, the GX Eagle group is a bigger deal than XO1 and XX1. Offering most of the performance at a cost that was unthinkable a few years ago, I expect to see this group on a huge amount of 2018 bikes, from the biggest of all-mountain rigs to the fattest of fat bikes, tossing that front derailleur has never been so accessible with so few compromises.
Look for a full review in an upcoming issue of Dirt Rag, and head over to SRAM's site for more info.