Cauliflower wings and knee pads – IMBA's Model Trail Program is back!
Originally posted on June 1, 2017 at 1:58 am
Ed. Note: Mountain Bike Trailer Park is a regular column written by Uncle Dan that appears monthly on the Dirt Rag Interwebs. If you missed his previous columns, check them out here.
---
Have you had those breaded cauliflower "Buffalo wings" yet?  I first saw them a few months ago at a restaurant. They're kind of a chicken wings substitute – cauliflower florets, breaded and deep fried (or baked, if you're into that sort of thing) and then dressed with wing sauce and served with ranch or blue cheese.  Anyway, I tried them, mostly out of curiosity, and they're pretty good. 
In the months that followed, I heard people talking about them, saw recipes online, and now, it seems, they're on the menu of every trendy brew pub that I visit.  (You know the kind of place – they have 22 craft beers on tap and PBR in cans and sell things like "truffle mac and cheese" and "deconstructed hot dogs").
 Foodies are over cauliflower wings already – they're last month's news.  In fact, next time you hear from your mom, expect her to ask if you've tried them – at this point, they've probably hit the "apps" menu at Applebee's. Mom will ask, incredulously, "Have you tried these?  I mean, cauliflower wings, who ever heard of such a thing?"  Like any other menu item, if they're just trendy, they'll disappear.  But if they're good, they'll have staying power.
Same is true for mountain bike trails.  When a new trail system hits the scene, the "foodies" of the MTB world will be all over it (you know, those folks who wear Oakleys with their flat-brimmed ballcaps and leave their knee pads on, just pushing them down to their ankles before heading to the bar).  Soon, the dirtbags will follow, with their campfires, crappy beers, and jorts.  And before you know it, your mom is there.  "Mountain bike trails in Arkansas, who ever heard of such a thing?"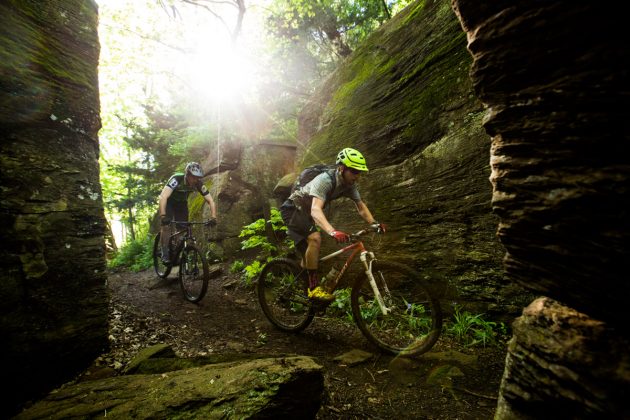 And there have been a lot of new trails built recently. A lot. But not all of them are good. So as I sit here in a flyover state, with my limited vacation time and my minivan, how am I supposed to know which trail systems are cauliflower wings, and which are the Whole Enchilada?  I mean, I could go to a classic well-known trail system, but may find it overrun with go-slows with Go Pros (not that there's anything wrong with that). Or I could end up at an awesome trail system, but where the only place to eat is a gas station, the only bar offers "both" beers on tap (Bud and Bud Light), and the locals are likely to run me off the road on my way to the trail (One recent trip found me at a trail system guarded by a pack of feral dogs – we were able to flank and outrun them, fortunately, otherwise the day would have been over).  In the past, the solution was relatively simple – I could just go to IMBA's website and peruse their Model Trails (encompassing "epics" and "ride centers"). 
But things have changed at IMBA. A lot. They have lost a major sponsor, Subaru, who provided not only the money to pay for much of the Model Trails Program and the Regional Directors,  but also donated cars so they could travel in their regions.  And all of IMBA's programming – including the booming Chapter Program and Model Trails program—had cast the organization's mission pretty wide.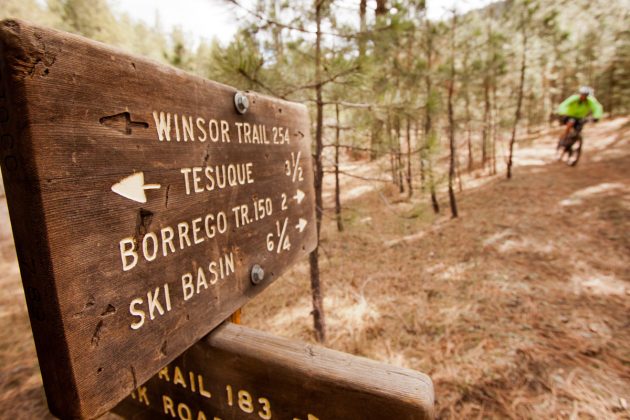 Fast-forward to 2017.  IMBA, under new Executive Director Dave Wiens, is taking stock.  Getting lean by necessity, for economy. The crisis is an opportunity though. An opportunity for IMBA to decide what its core mission is, and how best to deliver that mission. And it is great that Dave – a true mountain biker – is leading the effort. 
To get lean, IMBA had to make tough decisions.  IMBA's staff was cut almost in half.  On the chopping block were the Regional Directors. On hiatus were the Trail Care Crew and the Model Trails Program. Uncertainty loomed over the Chapter Program. After months of deliberation, IMBA announced some changes that would ensure that the organization stays true to mission, while remaining fiscally sound. They knew that as a core offering, the Model Trails program would have to come back.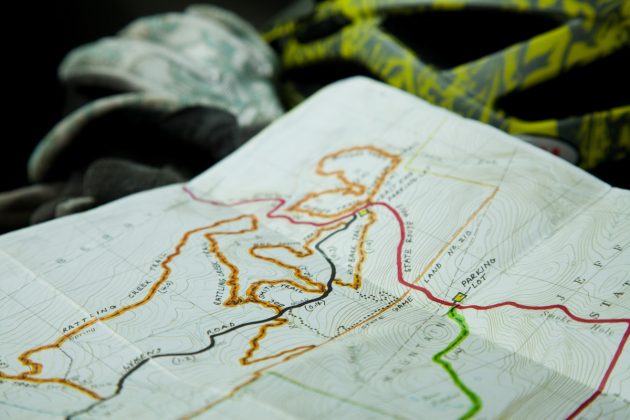 IMBA's Ride Center program was a hit, but the program grew bigger than IMBA's business model could handle, and the criteria for evaluating trails were in need of updating, given the rapid growth of mountain biking in recent years. So the Ride Center program went under the microscope. Under the Model Trails program, communities can come to IMBA and seek the designation, and IMBA will send Trail Solutions crew out to examine the site for "Ride Center" worthiness. Whereas "Epic" trails tend to provide that iconic, backcountry trail experience, the new "Ride Center" program seeks a holistic mountain bike experience – it's not just the trails, it's also about the intangibles – what makes a trail system a real destination for mountain bikers and their families. 
During the International Trails Symposium in Dayton, Ohio, I got a chance to sit down with IMBA's Program Director, Andy Williamson and IMBA Senior Project Manager Mike Repyak (over craft beer and cauliflower wings, natch) to discuss the Model Trails Program. 
The good news is that the Model Trails programs are back.  Ride Center applications are open RIGHT NOW. Interested communities can find out more here. 
Foremost, Andy told me, IMBA had reworked its mission statement.  Previously, IMBA's mission statement was "to create, enhance, and preserve great mountain biking experiences."  Now, the mission is: "to create, enhance, and protect great places to ride mountain bikes." 
The refocus on "great places" means that now, more than ever, the Model Trails program meets a crucial part of IMBA's part of the mission.  Nowadays, the Model Trails Program aims to cover some of the costs associated with the review process, unlike in the past. Model Trails assessments require days on the ground from a professional trail consultant in order to provide a detailed report with recommendations on how to improve. The education and trail building support will still be provided for by IMBA, but at a fee. The fees will vary by system and community.  More info on fees and criteria is available on the ride center website. 
Andy explained, the idea for the ride center evaluation is not just to get the designation and to get on the website. By inviting IMBA out, communities can get input and evaluation on what they are trying to build – think "so you want to be a ride center?"
Andy added that "while the previous process provided some feedback, the new process will deliver a comprehensive analysis of opportunities and constraints with objective and qualitative recommendations, a value unto itself."
I watched Andy light up as he talked about this – for him, this is evangelizing; spreading gospel. Communities know the value of ride centers. Indeed, some small communities have been able to turn mountain bike tourism into their central industry (think Copper Harbor, Michigan). And some bigger communities are jumping on board too, like Louisville, Kentucky and Roanoke, Virginia. I know of at least two communities in Southern Ohio – Chillicothe and Athens – that have miles of existing singletrack, and are working hard to build more miles and city infrastructure to bring in those cycling tourists.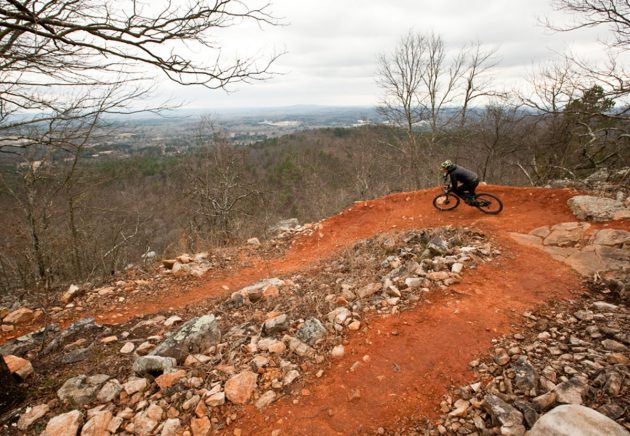 The key to ride center designation is offering the "full package." This means an evaluation will be roughly 2/3 trails focused and 1/3 focused on amenities. Trails are still the key, but its important to see whether the community welcomes cyclists. Are there bikeways to the trails? Bathrooms and parking at trailheads? Breweries and restaurants? IMBA is asking, is this a place I would like to spend a week at? And, in the future, IMBA intends to add an "Urban Areas" initiative, to reward big towns that integrate trails into city centers. You don't need a mountain landscape to be a ride center.
Andy made clear that the Model Trails program is not just a "Top 20 Places to Ride" list.  You can already find those all over the internet.  That's why a visit from IMBA Trail Solutions is needed – they need to spend time in the area and include the "subjective" in their evaluation along with the "objective" boxes to check off, like miles of trail, local stakeholders, events, and conveniences. 
For communities that have already earned ride center designation, it will not be enough to rest on that designation. They will be periodically evaluated, as the bar grows ever higher, they will have to keep progressing. Existing Ride Center designations will have 2 years to work toward meeting the updated criteria – no complacency!
I'm excited to see the program coming back. And I can't wait to see the new ride centers. It's like having menu changes at your favorite restaurant – some of the old choices will still be there, but there will be new appetizers and entrees as well.  Be brave and order the cauliflower wings.