Review: Jones Plus
Originally posted on May 25, 2017 at 1:00 am
For the uninitiated, Jeff Jones has long sought to built the best non-suspended mountain bike in the world, without consideration for trends, gimmicks or nostalgia. His latest model, the Plus, is made in Taiwan from butted chromoly with a Boost 148 rear axle and available in three sizes, two with a diamond frame and a smaller one with the Spaceframe.
The key feature to Jones bikes is the geometry. The reach is fairly short and the chainstays are long, as in no-I-promise-it's-not-a-typo 19 inches long. However the slack seat angle offsets the chainstay length somewhat as it moves the rider back compared to the ultra-steep seat tubes on a lot of modern bikes. The short reach is also paired with the big 76 mm offset of the signature steel truss fork, which isn't designed as some sort of old-fashioned springer device, but rather mimics the design of a bridge to create the stiffest, most well-tracking structure possible.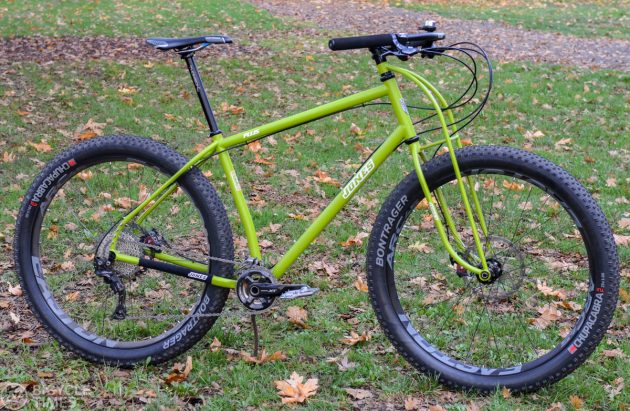 The Ride
The key to finding your groove on the Jones Plus is wrapping your head around the different fit. Most modern trail bikes have a lot going on in front of you and very little behind, but this chassis puts the rider centered in between those massive wheels. It also has a very upright posture thanks to the short reach and swept back bars. Dare I say this is the most comfortable mountain bike ever? It feels like you're ripping a Dutch townie down the trail.
Like a hill-climbing moto, those huge chainstays help keep the front of the bike down while climbing and that big 3-inch rear tire from losing traction. With the low gear from the Shimano 2×11 drivetrain you can sit and spin up some gnarly steeps.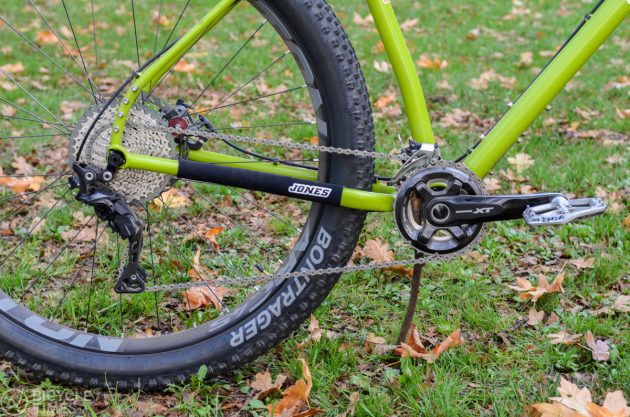 Rigid fork notwithstanding, the Jones descends well too, as the long wheelbase (47.4 inches) and smooth tires smooth out all but the roughest trail. Because you're not perched directly over the rear tire, it's less likely to buck you over square-edged bumps. Ever sit in the back of a school bus? You know what I mean. That doesn't compensate for the lack of suspension though. This is a rigid bike through and through, and you can expect it to ride like one.
The handling is where the differences between a Jones and a typical bike become more obvious. Because the rider is in such a different position, this is really a bike that you "turn" rather than "steer." It responds well to steep lean angles, but you really have to make good use of that big handlebar to chart your course. Despite the length the bike can get around most switchbacks, and the big offset actually helps quite a bit for tight uphill turns. Going back down you do have to make note of that rear wheel way back there though. You may have to steer a bit wide in some spots. Where I liked the geometry the most was on fast, sweeping trails where its stability shines and the long wheelbase is an asset.
Conclusion
Jones bikes, the Plus model in particular, fly right in the face of nearly every industry trend in mountain bike design. If mountain bikes were being designed from scratch right now, he theorized, this is what they would be like. Jones said his ultimate goal is to design a perfect machine, but instead of pushing one design along with diminishing returns, he isn't afraid to start with a clean sheet.
As a result the entire ride experience is quite different from what you find on most other hardtails. While many modern bikes emphasize an aggressive stance, the Jones puts you in a natural position that's perfect for endurance riding, bikepacking or just good old-fashioned fun. If you're looking for a "trail weapon" that's "playful" or any other number of lame cliches, this isn't it. Instead what you get is a well-sorted design that's versatile, comfortable and unique.
Tester: Adam Newman × Age: 36 × Height: 6'1" × Weight: 175 lbs. × Inseam: 33"
Price: $1,375 frameset, $4,074 as tested
Sizes: 23", 24", 25" (tested)
---
This review originally appeared in Dirt Rag 196. Subscribe now so that you never miss an issue and sign up for our email newsletter to get fresh content delivered to your inbox every Tuesday.