Access: Meccas and the lands of no man
Originally posted on May 29, 2017 at 1:03 am
Words and photos by Leslie Kehmeier. Originally published in Dirt Rag 193. 
Road trips have become a regular part of my work routine as I seek out mountain bike stories across the country. Over the last few years I've crisscrossed many states north and south, coast to coast, visiting both the renowned as well as the seemingly undesirable. 2016 has shaped up to be on par with previous years. Over the course of a month this spring, I stared through my bug-splattered windshield at the continuum of yellow and white lines flashing across the pavement between Arkansas and Oregon. Tally up the miles between those states, a geography that stretches from Middle America to the Pacific Northwest, and you'll get a number a little north of 2,000. It seems like a lot until you realize that it only covers a small portion of the entire network that constitutes the National Highway System, a special designation of roads that spans the entire USA.
The length of the National Highway System is over 160,000 miles. Although it accounts for only 4 percent of the entire road network in the United States, it carries the majority of the traffic. In fact, it serves 90 percent of those recreation-minded fun seekers (aka tourists) who jump in their cars and drive to their favorite vacation trail destination. While some of us loathe driving interstates, it's safe to say that the National Highway System is the major mechanism to deliver all of us from our wanderlust-suffering ways to the promised land of (rowdy, flowy, techy, playful, challenging) trails scattered across the country.
Between Oregon and Arkansas this system carried me across four interstates and a few highways to the meccas and lands of no man in six states. Come along with me as I recap my time on the road. We'll start in the middle and work our way out from there.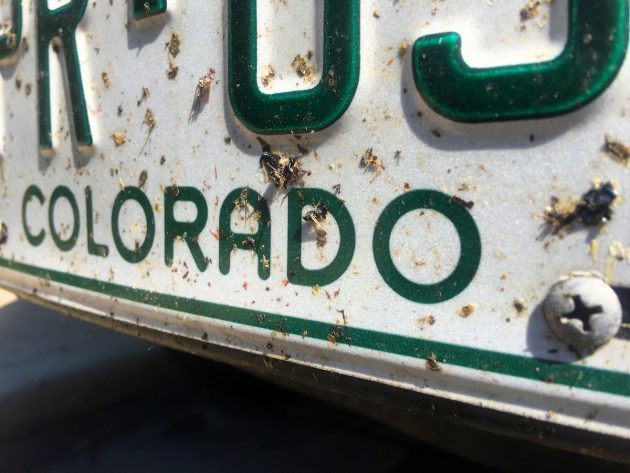 Westward, ho!
Exit 214A, Interstate 25, Denver, Colorado
In my hometown, at the intersection of two major interstate routes, I-70 and I-25, I can share that there is a bit of a tangled mess of off-ramps and overpasses called the Mousetrap. I know the nickname of this interchange is laughable, knowing other bigger cities I've driven through, but for Denver it's pretty crazy. Nonetheless, it is the crossroads between east and west, north and south.
I recommend heading west toward the Rocky Mountains here and going straight toward 300-plus miles of classic Front Range, Colorado singletrack. Among other things, the Mile High City can also brag that it has one of the largest concentrations of close-to-urban mountain biking in the entire U.S.
When you hit the foothills, you'll have your pick of routes from the north to south ends of Jefferson County, an area with a long history of trails and a great place to find ways to challenge both your fitness and technical ability. With the progression of trail construction and bike technology sky-rocketing, the Front Range area retains a lot of the "old school" mountain biking charm, with plenty of lung-busting and rowdy experiences.
Exit 6, I-80, Evanston, Wyoming
While driving through Wyoming, between Ogden, Utah, and Denver, I came across Evanston at a time when I needed to stretch my legs. Perhaps you might know that driving through the I-84 and I-80 corridors through here will lead you through one section of the least populated state in the U.S. It also means a high probability of no riding. Thanks to MTB Project and the Wyoming State Parks system, I was surprised and very happy to find this small town with a population of approximately 12,250.
When I pulled into the parking area of Bear River State Park, I refused to be fooled by all the people I saw taking their dogs on the "let's hurry up and pee so we can get back on the road" walk. I just looked toward the woods and the river and convinced myself by saying, "There is mountain biking here. It might not be great, but it might be just enough to work the kinks out and resume the road trip mission." And it was. In fact, it was surprising how the local trail builders had been able to craft some nice trails within a limited amount of terrain and space.
Exit 54, I-84, Boise, Idaho
Heading north through Ogden led me to Boise, Idaho, a launching pad of sorts for Pacific Northwest riding. The capital of Idaho is also a trail oasis between Salt Lake City, Utah, and Bend, Oregon. Like Denver, Boise has a boatload of trails, much of them accessible from its downtown core.
I didn't waste any time when I arrived and made a beeline for Camel's Back Park to access a few of the 190 miles of routes that are part of the Ridge to Rivers trail network. To top off the stellar mountain biking opportunities, Boise also has awesome bike culture with plenty of food and drink to make the post-ride refreshments just as good as the ride itself.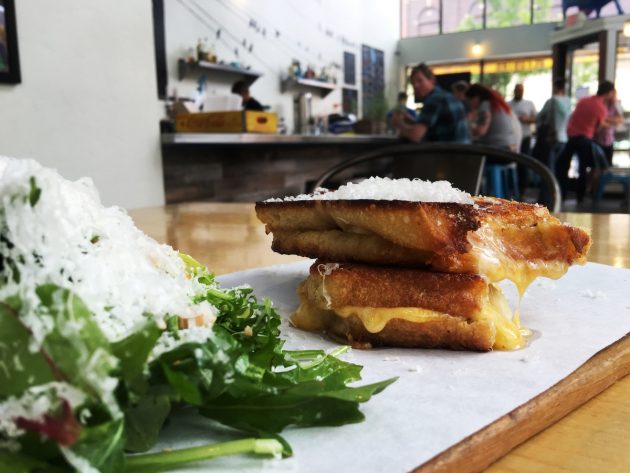 Exit 62, I-84, Hood River, Oregon
I'd never been to Post Canyon in any of my adventures, and I felt like it was time to experience what many mountain bikers consider a bucket-list destination. It was a worthy detour from I-84 into the scenic town of Hood River. The trail system is perched on the hills above the Columbia River, with views of Mount Hood and Mount Adams making for a stunning landscape in which to ride a bike.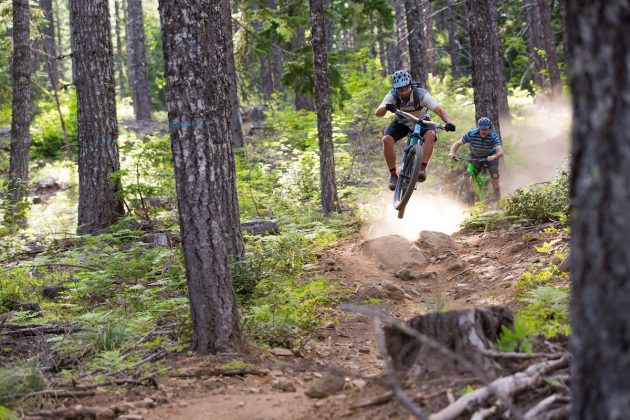 Post Canyon was an excellent mix of rowdy and rough trails that transition into exciting, purpose-built mountain bike routes. I'm not sure I'd ever get used to the soil there—those ball bearings are dicey at times. However, I would never grow tired of the big berms and flowing rhythms on trails like Bad Motor Scooter and Float On.
US Highway 26 Near Mount Hood Village, Oregon
The Sandy Ridge trail system is about an hour east of Portland (virtually no mountain biking) and just over an hour southwest of Hood River (oodles of mountain biking).
I've known the Sandy Ridge trails for a few years now and have heard it's becoming quite popular. On weekends the parking lot is overflowing onto East Barlow Trail Road. What's the draw you ask? To start, it's the closest quality mountain biking to the Portland metro area. It's also an excellent concentration of pedal-assisted gravity riding that serves the needs of both the rowdy and the acrobatically blessed crowd. I always enjoy the contrast of riding Follow the Leader to Flow Motion or the full pull on Hide and Seek. It's the best of both worlds, a mix of technical challenge and playful flow.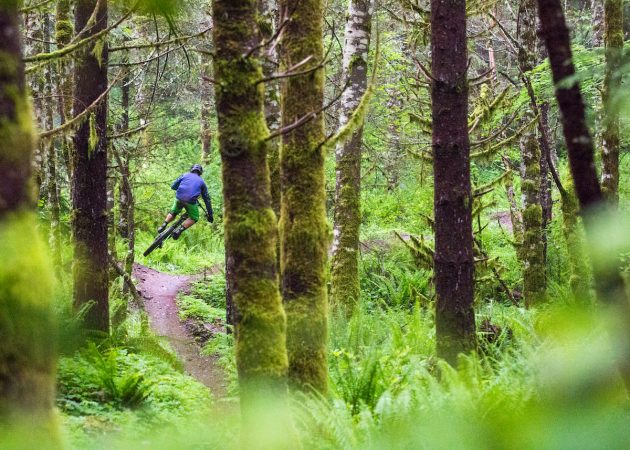 GO EAST!
Exit 206, I-70, Salina, Kansas
My recent adventure driving east on I-70 had me staring blankly across the vastness of the Great Plains. The lyrics from that Avett Brothers song were stirring in my ears: "Salina, I'm as nowhere as I can be/ Could you add some somewhere to me/ Ah, Kansas, I'm kneeling, ah, Kansas, please." Just about the time they started singing about Cleveland, Google Maps snapped me out of the daze when it interrupted with "in half a mile take Exit 206 for Wilson and Highway 232 …" MTB Project had found what I believed to be a honey hole with 25 miles of good singletrack wrapped around Wilson Lake. Switchgrass, as it's named, is a designated IMBA Epic ride.
And this trail network, only 7 miles north of the interstate, delivered the goods. Take the prairie and sprinkle in some sandstone. Add some big climbs with long views and you've got a legit place to ride a mountain bike. It was certainly a very convenient stop to "add some somewhere to me."
Exit 93, I-49, Bentonville, Arkansas
I took a right at Salina and headed south to what I believe to be the rising star of mountain bike meccas, Bentonville. It was my third trip to this town in northwest Arkansas. Every time I arrive, I'm ecstatic about the latest developments. I predict that this place is going to be the center of the mountain bike universe by fall when it hosts the 2016 IMBA World Summit.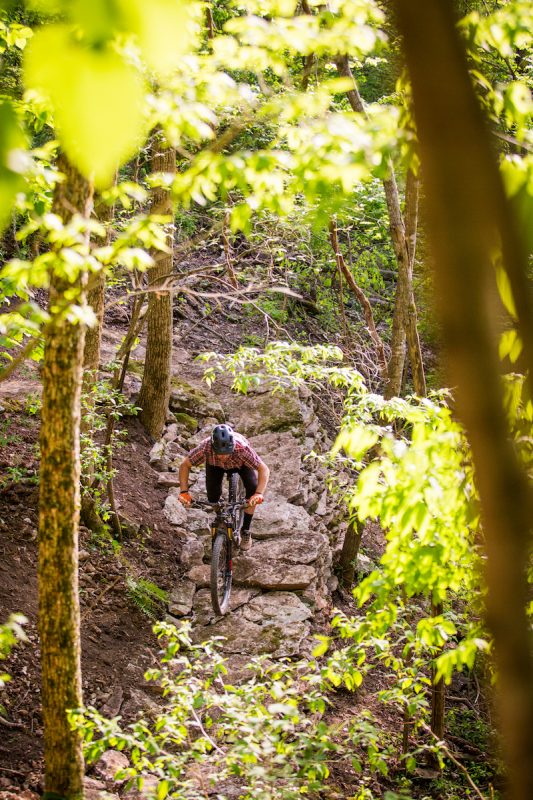 After I explored my favorite ride, the Slaughter Pen to Blowing Springs route from downtown Bentonville, I poked around a bit to check out new and developing areas. The Railyard Bike Park in Rogers blew me away with its size, variety of features and crowds of children. Opening last fall, the park is nicely situated in the I-49 corridor between Bentonville and Fayetteville. I also noticed that the new trail development is off the charts. My eyes dazzled at the sight of roots, rocks, jumps and flow. When the dirt settles and the trails develop into their prime, the riding will rival most places in the country.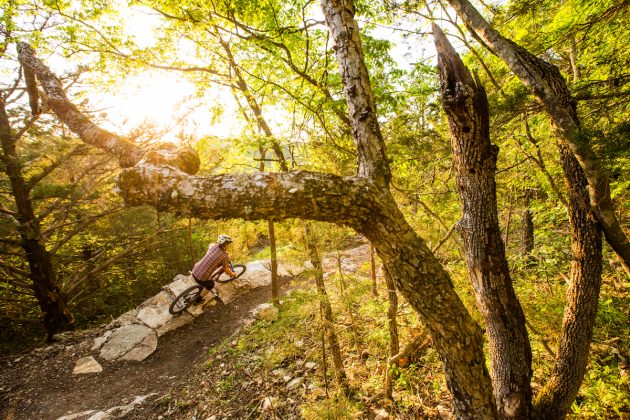 All roads led me back to Denver. I've been home now for a while and feel very rested. It must be time to hit the road again.