Review: Four different hip packs
Originally posted on May 10, 2017 at 1:00 am
Fanny packs, hip packs, bum bags. Call them what you want, but these things are making a comeback. Less cumbersome and sweaty than a backpack, more capacity than shoving stuff in pockets, these bags can be a great middle ground for those middle distance rides. Unless I need to carry a camera, you'll rarely see me riding with a backpack these days.
I tested each bag with my typical load: Topeak tire/ shock pump, tube, tool pouch (multitool, multi-pliers, tire lever, tiny lube bottle, zip ties, LED light with duct tape, glueless patches, a few spare bolts), phone, wallet, keys, can in a coozie and whatever random food I had in the kitchen.
---
Price: $115
Capacity: 3 L
Sometimes a truly waterproof bag is in order, and for decades cyclists have been turning to Ortlieb to keep gear dry. The Hip Pack 2 uses RF welded seams, rubberized fabric and a roll-top closure to create the most weatherproof bag of this bunch.
The main bag has a removable zipper pouch big enough for a phone, wallet and keys. The neoprene flap on the back has a small non-waterproof pocket that can fit things like snacks or a tube and CO2. The flap is big enough to handle a jacket or kneepads. A pair of bottle-sized pockets can handle even large bike bottles, but they can poke you in the ribs when really getting down on the bike. I stuck to small ones for the most part. The bottles are secured with adjustable elastic and the strap from the main compartment's flap, but the pockets are just shy of being deep enough to grab the indentation in most bike bottles. And finally, there are two tiny zippered mesh pockets in the front. They might fit a gel or two, or some small baggies of meth, but not much else.
The waist belt is well-padded; there are enough compression straps on this thing to lock big loads down tight. Even with a mirrorless camera, two bottles and a full load of ride supplies, this pack feels secure and flop-free. The Hip Pack won't win any Instagram-adventure awards with its tech-y looks, but it can't be beat for carrying big loads on big days. If 3 liters isn't enough, there is also a 6 liter version for $135.
---
Price: $72
Capacity: 4 L
The Tootsie is to the Ortleib as a Class 11 buggy is to a Trophy Truck. Both vehicles set out to travel long distances in the desert, but one is a lot simpler than the other. Coated Cordura fabric, a roll top and single strap keep things neat and clean. Inside a pair of thin pockets and a key fob are the only attempt to put some order to the chaos.
When really stuffed full, the Tootsie could feel a little floppy, but my standard load was fine. A jacket or kneepads can be secured with the compression strap. The waist strap is the thinnest of the bunch, but as long as the load was reasonable, it wasn't a problem. Since the entire top of the bag opens up wide, it is very easy to root around and find what you need inside, even when stuffed full. With no zippers to jam or break, minimalist but sturdy construction, and five colors to choose from, including the pictured Canadian Camo plaid, riders looking to keep it stripped down to the basics are going to be well- served here.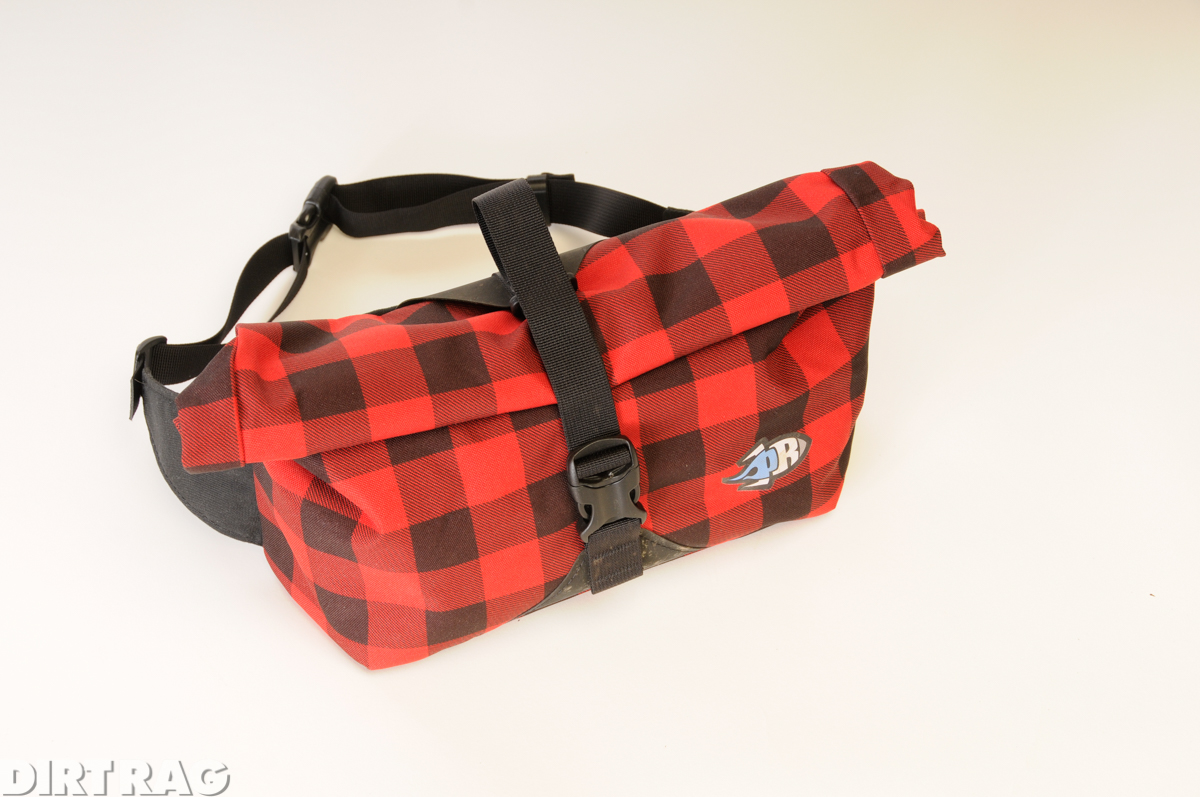 ---
Price: $65
Capacity: 5 L (2 L with a full bladder)
The only problem with leaving the big hydration backpack at home? Hydration. Even on a bike with a useable bottle mount, a multi-hour ride on a hot day is going to leave you parched without more fluids. The Low Rider keeps things flowing with a 70 ounce bladder.
The bladder goes in the rear pocket; the front pocket has a key pocket with fob, a plush-lined phone pocket, and a big zippered mesh pocket. There is also a flap with adjustable straps that can cinch down a small load or expand for a light jacket or knee pads. With a full 70 ounces in the bladder, I had to leave the beer at home with this bag, but the rest of my ride kit fit fine.
Trying to stuff a 70 ounce bladder, supplies and kneepads into and onto a hip bag makes for a big, unstable mess. Stuffing a few things into the bladder pocket helps, as does half-filling the bladder, but it still feels awkward. Each big drink of water means the waist strap gets a little loose. I mostly rode with no bladder and was quite happy with this setup, even with a jacket and spare gloves (and two beers) tucked inside.
I could see this being a decent pack for summer use on rides that start with a long, sweaty climb. At the top, put on the knee-pads, suck down most of the water and strap the pack down tight for the descent. But if you are planning to spend a few hours out in the woods sipping your water, a hydration backpack is going to be more stable and offer more cargo space.
---
Price: $75
Capacity: 3.4 L
High Above is a one-man shop out of Bellingham, Washington. On my travels to the PNW I've noticed more and more of these packs showing up strapped around some very experienced riders. There are good reasons for that.
This is probably the most traditional looking hip pack in the group, but why mess with a good thing? A single, water-resistant YKK zipper closes the fancy waterproof Dimension Polyant fabric. Inside there are a pair of pockets and a key fob. This pack also has the optional Bottle Rocket sleeve ($10 upcharge) for some added beverage capacity. The waist strap is flap-free thanks to some Velcro keeper straps.
The fit of this pack is obviously finely tuned, as it manages to stay put without needing to overtighten the belt. The bottle holder can be a little finicky; some bottles fit fine, some are too big. Most importantly, a can with coozie fits securely. The bottle sticks out enough to scrape some trees in tight corners, but it never hung me up on anything.
The padded back has a bit of mesh to keep things cool, and the pockets managed to swallow even my silly Android phablet with no issues. While not waterproof enough for submersion, the Cascadia protects the contents from the worst any ride can dish out. This is a simple pack that can carry basics plus a few extras. As an added bonus, you can customize the belt wing and zipper pull colors for no extra cash. There is also a smaller 1.4 liter pack, the Das Radpack ($60), for smaller stash needs.
---
This review was originally published in Dirt Rag 197. Subscribe now so that you never miss an issue, and sign up for our weekly email newsletter to get our best web content delivered straight to your inbox every Tuesday.
Keep Reading: Check out more reality-tested product reviews here.