Review: Gore apparel – jacket, pants, shorts and gloves
Originally posted on April 28, 2017 at 1:01 am
By Zach White
A February trip to Northern England  to ride mountain bikes had me second-guessing the wet-weather gear stuffed deep in the back of the closet. An impressive array of foul-weather kit by most standards, the idea of riding day after day in near freezing, wet, windy, and potentially wholeheartedly miserable conditions if unprepared caused some overly cautious questioning of how well my existing ensemble would handle such relentlessly crappy weather.
We're all familiar with Gore-Tex fabric and its industry benchmark for performance in inclement weather, but not quite as many riders are familiar with Gore's own cycling line. While not all of their product is made with Gore-Tex by any means, there are ample options of outerwear with their signature wet and cold resistant fabrics. On completely selfish motives sparked by hearing current Manchester conditions were "blowing ice pellets", and wanting to encapsulate myself the best way possible, Gore was contacted for review product specific to riding in frigid, wet and downright mucky England. Below is a breakdown of how the Jacket, shorts, pants, and gloves performed – both overseas, and in Colorado spring weather.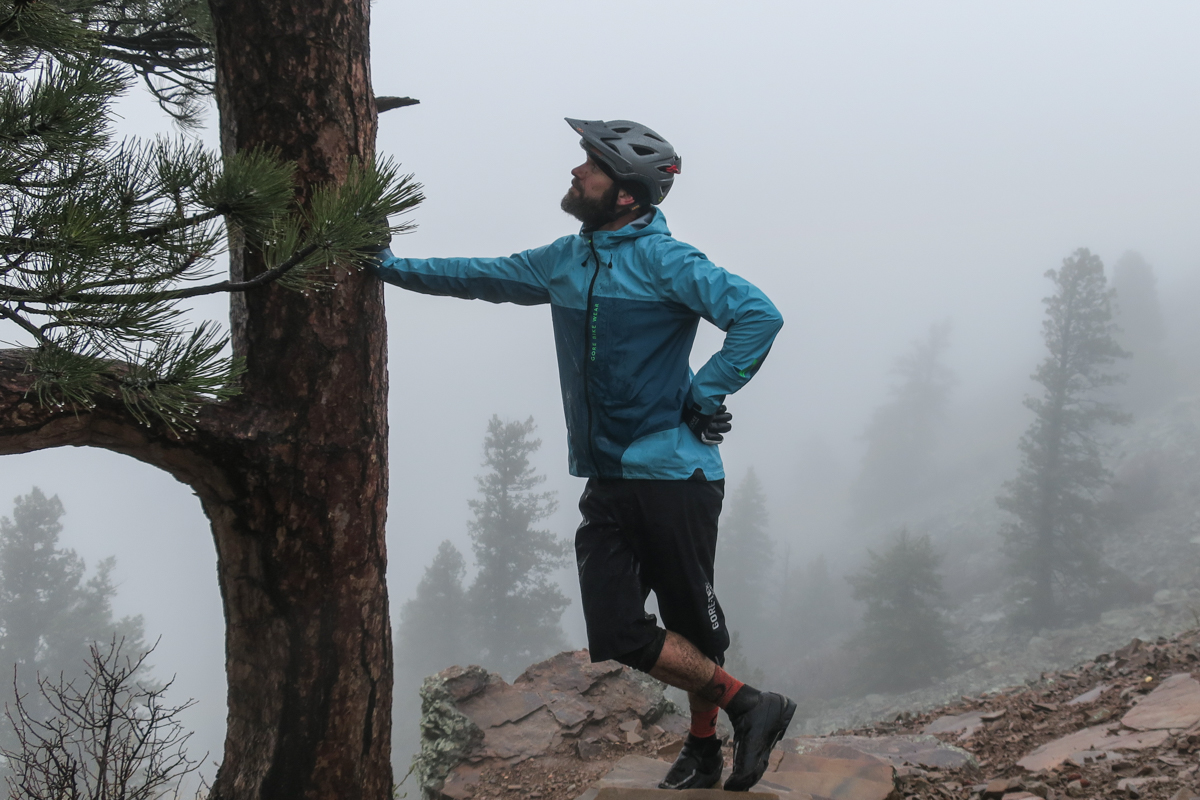 Gore Power Trail Gore-Tex Active Pants
$199.99
Sizes S, M, L, XL(tested), XXL
It was hard not to simply cut and paste Gore's description of their Power Trail pants. Basically, they're light and packable, and kept out rain, sleet, muck and wind day after day without issue. Their cut worked well while riding, though it the drawstring waistline with grippy insert did need to be yanked up over my navel to keep the crotch from feeling too saggy around a saddle. Even with this grandpa waist position, leg length was right where it needed to be to cover ankles and overlap with a pair of winter hightop shoes that created a nice weather seal.
Zippers at the ankles made throwing them on over size 45.5 shoes with chunkier than normal soles relatively easy and quick, and once zipped back down, the fit kept them from flapping into the drivetrain. They were worn over baggy shorts and either knee warmers or soft knee pads – none of which caused any restriction in movement, or oddity in the pant's fit.
When they weren't being used, they stuffed into a hydration pack with ease, especially if they were rolled up neatly. Somewhat simple and lightweight by design specific to packability, there aren't many features on the Power Trail pants – just some reflective tabs and reflective logo on one leg, and a small mesh key pocket inside the waist. The cut is specific to cycling with a reinforced seat, pre-shaped knees, and asymmetrical ankle cuffs designed to offer a bit more protection from the weather on the top of the shoe.
Overall, while the lightweight feel of the pants pique a bit of curiosity about their longterm durability over seasons of use and abuse, Gore's Power Trail Gore-Tex Active Pants are a fantastic piece of clothing for anyone flirting with inclement weather out on the bike. As a 'just in case' option, or riding in them all day for days on end in the crappiest of weather(like I did), it'd be difficult to find a better option available.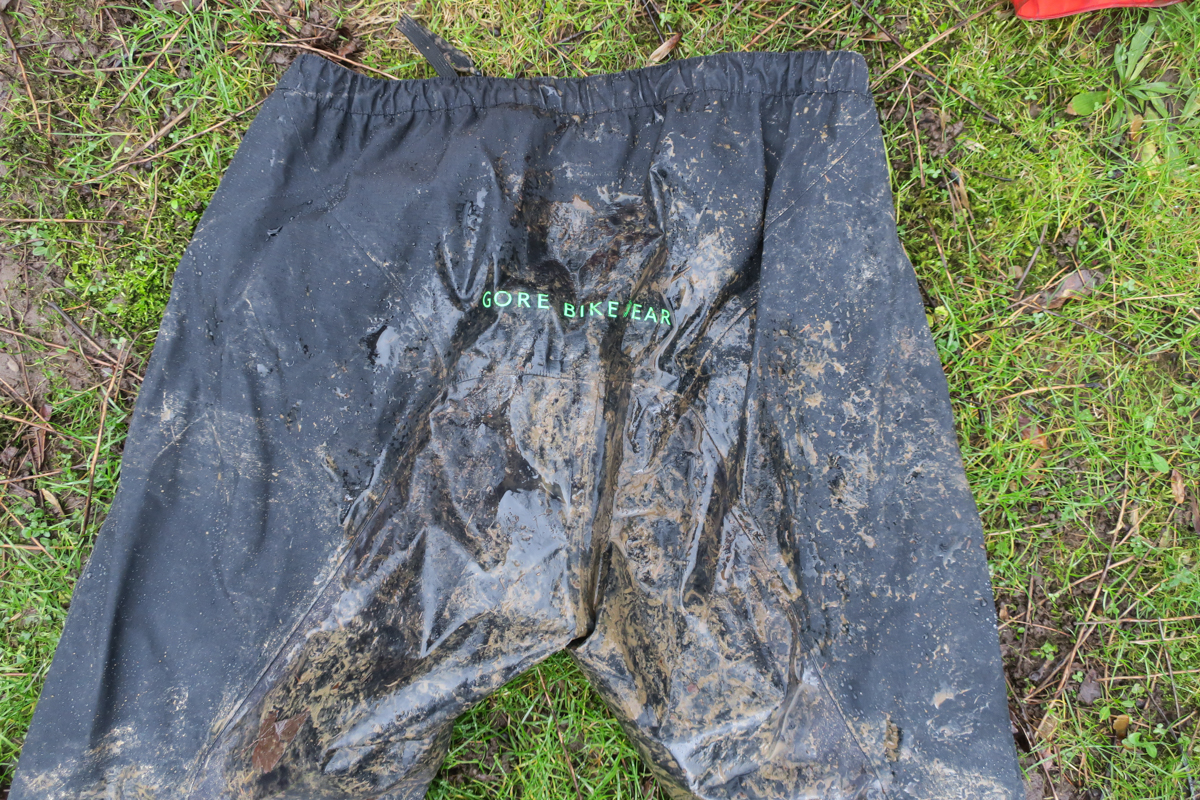 Gore Power Trail Gore-Tex Active Shorts
MSRP $149.99
S, M, L, XL(tested), XXL
See above, and factor in that they're even more packable, are a better option for warmer temperatures, and won't keep you entirely dry for obvious reasons. The Power Trail Gore-Tex Shorts all but disappeared in a 10-liter pack, had the same request of being worn like your grandpa in order to keep the crotch away from the saddle nose, and covered the knee caps with an asymmetrical leg opening. These will probably never leave my pack from here on out, unless the forecast is for truly horrid conditions like those found in English Februarys – in which case they'd be swapped out for the pant version.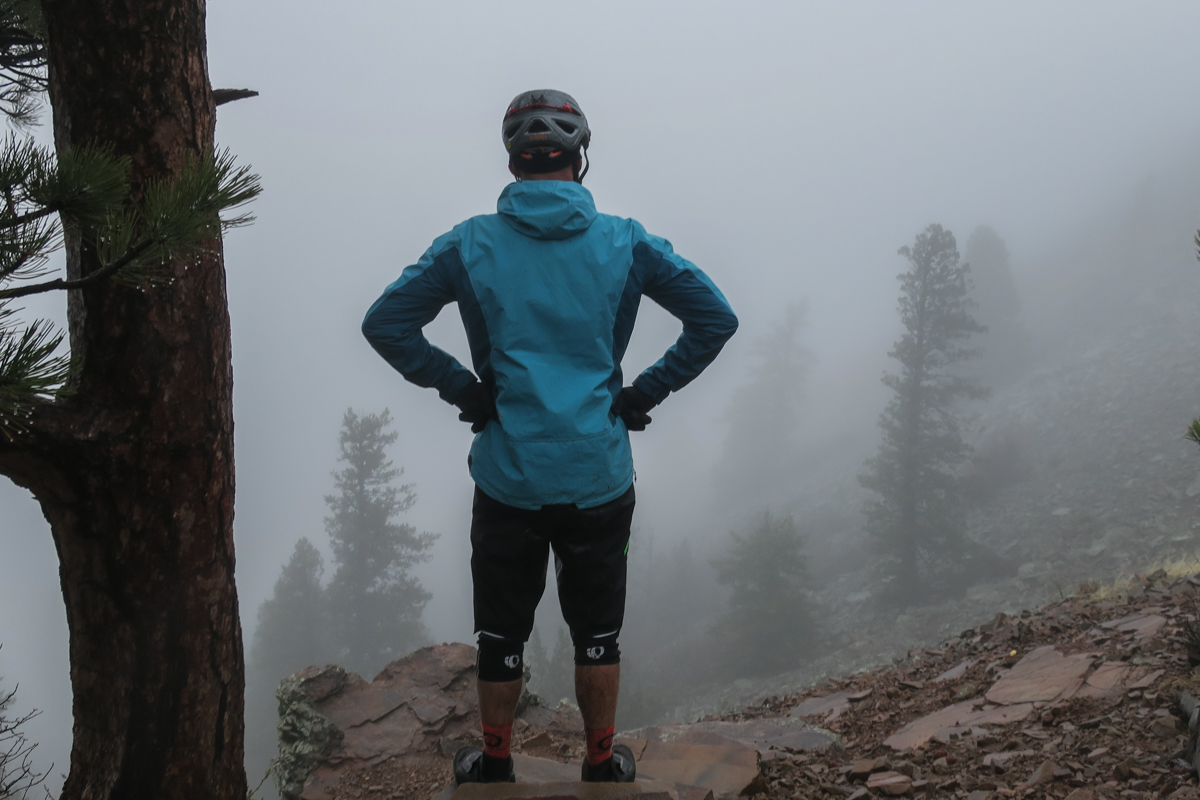 Gore Universal Gore-Tex Thermo Gloves
MSRP $89.99
S, M, L, XL(tested), XXL, XXXL
Gore's naming of these gloves hints that they're not exactly mountain bike specific, which should be noted. Insulated and basically weatherproof, they kept my hands not only functioning in cold, wet and dismal conditions, but kept them downright cozy in these freezing temperatures, to boot. Velcro closures on appropriately long neoprene-style wrists offered the ability to get hands in and out easily, and were low profile enough to easily slide underneath jacket sleeves, creating a great weather seal. A synthetic leather palm has minimal padding and offered good traction on wet grips, and the outer pinky has reflective stripping for those rides that run into the evening. Gore claims the thumb's material is absorbent for wiping away "perspiration", and while it's softer than the rest of the glove's panels, it seemed slightly underwhelming at handling snotty noses.
Possibly a tradeoff for such ideal performance in such abysmal conditions verses ideal cycling performance in general has to do with how the inner Gore-Tex glove is housed.
Essentially a separate and seamless liner, Gore builds the rest of the glove around it, allowing it to basically float inside. The idea is to avoid any break in this membrane for optimum weatherproofing, and chances are it makes a slight difference in some situations. For cycling, and mountain biking specifically, however, this floating layer creates a bit of a sheer effect in that it slightly hinders a solid grip on the bars. Off the bike it feels and sounds worse than it is, but there's no denying an extra bit of throttle-style wiggle with even the whitest of knuckles on the grips. On the bike, and in conditions warranting such weatherproof gloves, this minor issue wasn't cause for loss of control.
Gore Power Trail Gore-Tex Jacket
MSRP $299.99
Sizes S, M, L, XL(tested), XXL
Reviewing a Gore-Tex jacket's performance at battling the elements seems silly at this point. In that arena, there wasn't a soggy, wet, frozen thing thrown at the Gore Power Trail Gore-Tex Jacket that it didn't just sluff off. What's left to critique is fit and cycling specific function, which Gore delivered quite nicely – albeit with some camp-splitting in jacket preferences. For one, the hood is designed to fit under a helmet, with no hope of stretching it over anything larger than a 1970's roadie's hairnet. Some riders love this, while some prefer to cover their helmet, too. Having more personal experience with hoods that cover helmets, standout variations between the two would be that it requires taking a helmet off before covering up with an under-helmet hood, and once the helmet is back on, there's a bit of commitment at keeping it on if stopping isn't desired. In really wet and windy conditions, it's hard to argue against the added coverage and stability of an under-helmet hood as there's no chance that it'll get blown off and leave one's helmeted head exposed. The hood features a drawstring cord to batten it down or simply adjust its size to your noggin.
Another argument the Power Trail jacket sparks is whether pit zips are worth the added bulk and potential weather intrusion. Gore opted to keep this jacket streamlined, and as weather resistant as can be, relying on their Gore-Tex Active fabric's breathability – and the front zipper – for temperature regulation. It packs up quite nicely and easily fit into a 10-liter pack already half full of other gear, and definitely didn't let a drop of rain or sleet in. For better or worse, there weren't any moments where the Power Trail jacket was being worn when the sun came out, so it's hard to say just how well the signature fabric did its job at breathability and temperature regulation before simply needing to be removed. On long, sloggy and soggy climbs in the cold and wet, with sweat dripping down my nose, I never did feel clammy or wet inside the jacket, so at least in jacket-appropriate conditions, I'll give Gore the thumb's up on not providing pit zips.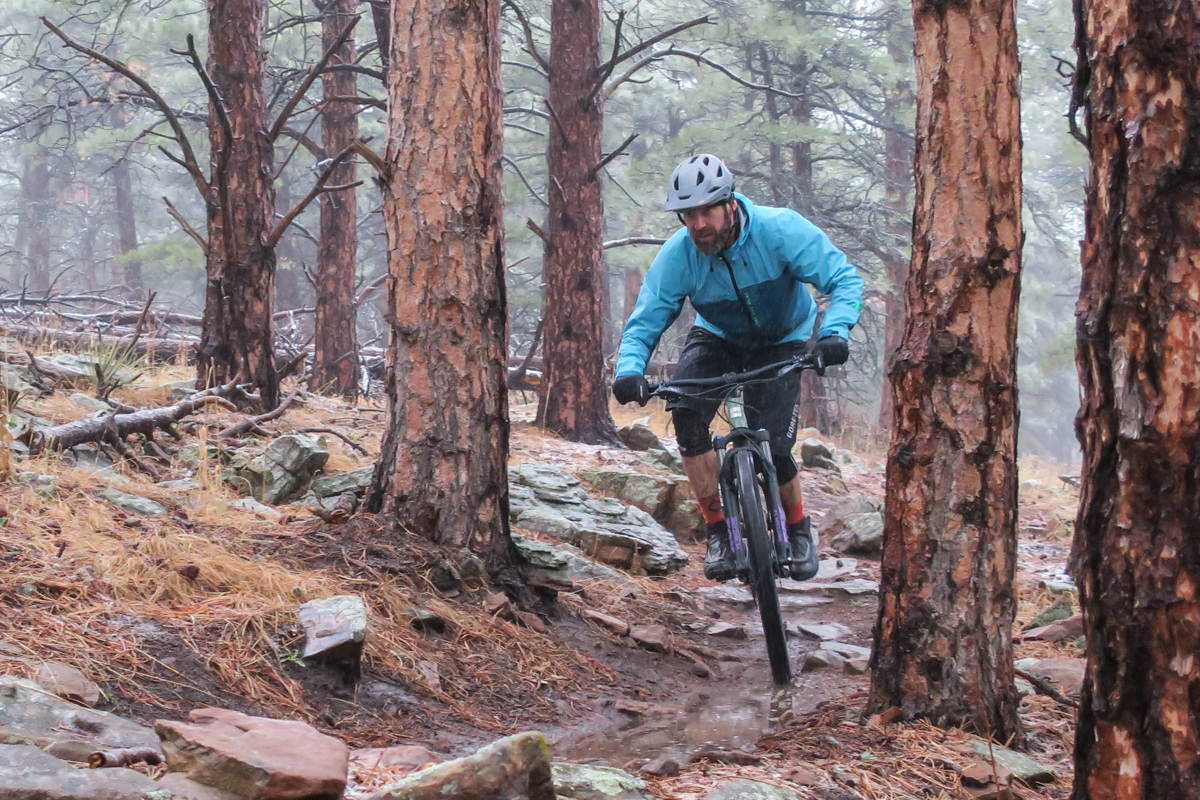 Described by Gore as a "Slim Fit", the Power Trail jacket isn't for everyone. The XL size fit me rather well with plenty of length in the arms and torso, but its chest didn't leave much wiggle room. A bonus to such a fit is the lack of bunching effect when wearing a hydration pack over it, whereas some roomier jackets suffer with sleeve length with a pack cinched over them. A slimmer cut also means less flapping in the wind, and less material to pack up when it's not in use. Basically, if it fits you, you'll appreciate the cut. For those who might find it too snug, there's other options in Gore's line that offer more room.
An appreciated feature is the roomy, zippered, mesh inner chest pocket that sits behind Gore-Tex fabric to keep the elements from getting inside it. That said, the mesh lining doesn't offer any barrier to rider sweat, which is something to keep in mind for anything that shouldn't get steamed up or flat-out sweaty. It's perfect for a trail map, along with a wallet, phone, etc., though heavier items did bounce around a bit out on the trail.
Another small, zippered stash pocket on the left sleeve is great for cash and chapstick, or something similarly small and light – I tried putting my keys in this pocket and quickly realized just how sensitive wrist bones are to things bouncing around on them.
Velcro wrists offer the option to really seal up the perfectly long sleeves over glove cuffs, and an elastic drawstring waist band follows suit and sealing things up. The front zipper houses itself inside a minimal garage when fully zipped, which really snugs the jacket's micro fleece style collar around the neck in a way that's plenty comfy, but further reduces the possibility of weather getting inside.
Overall, having the opportunity to use Gore gear in absolutely horrid conditions was a pleasure. The Gore-Tex Active material is impressively lightweight, weather resistant, and slightly more flexible than traditional Gore-Tex. Gore's take on cycling gear – at least this specific gear – is definitely spot on for such a specific genre', and while it does seem to lean towards leaner riders in regards to jacket fit, that seems a more realistic target audience than making everything fit like a moo-moo. There's obviously less expensive options out there, but it'd be hard to find anything offering better performance over Gore's outerwear.
Author's Note: Yes, the red jacket isn't the same as the blue jacket. A slight sizing snafu didn't get the correct size to me in time for the England trip, but the red jacket is made from the same materials. And, the Gore Power Trail jacket was definitely put though its paces in Colorado.