First ride: 2018 Fox 36
Originally posted on April 19, 2017 at 12:42 pm
Both FOX and RockShox have been moving to larger negative spring in rear shocks, and now we see them moving to forks as well. The 2018 36 has a new EVOL air spring that promises "plushness off the top, extra midstroke support, and more tunable bottom-out progression."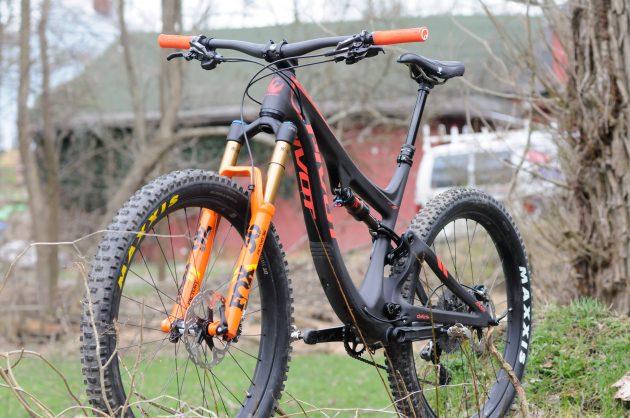 I've been riding a new 36 the past few weeks to check on those claims. I unbolted a stock 36 from the Pivot Switchblade we have in for review and bolted up this orange beast. Unfortunately, this isn't a stock color, and other than sponsored riders and media samples, there won't be many other people riding these forks. I dig the orange.
From the first bit of rough trail, the new 36 was noticeably plusher, without losing mid-stroke support. Since the Switchblade is "only" a 135 travel frame, I expected there to be some mismatch feel between the super plush front and the dw-link rear end, but that wasn't the case. When pushing the bike hard, the mid-stroke support keeps the front end from blowing through its travel, keeping the bike feeling balanced and composed. I installed two air volume spacers and could see sticking a third in for a day in a bike park, or some place with a lot of sustained steepness.
I've got the Factory Float HSC/LSC damper fork, but there will Factory FIT4 and Performance Elite options as well. Five years ago, riding a 36 as an everyday trail fork seemed silly, but with changes to the fork, the bikes it is mounted to and riding styles, a 36 is more and more able to deliver solid performance on just about any trail without feeling like too much fork.
The 2018 36 isn't a huge evolutionary leap for fork performance but is does make an already good fork even better.
Factory FLOAT FIT4 $979
Factory FLOAT HSC/LSC $1,049
Performance Elite FLOAT FIT4 $889
Performance Elite FLOAT HSC/LSC $959