The Fat Frontier: 2nd annual Chugach Fat Bike Bash
Originally posted on April 7, 2017 at 1:29 am
Words by Russ Risdon
When I think of Valdez, I visualize steep, backcountry lines accessed by Heli drop for snowboarders and skiers. It is on the top of every adrenaline junkie's tick list. When I received an email inviting me to come to a festival and ride those same infamous passes on a fat bike, my curiosity was peaked!
In its second year, the Chugach Fat Bike Bash is put on by Levitation 49 in Valdez, Alaska. The event is held over three days and includes many different races and festivities. Competitors have their choice of racing XC, Downhill, a Northern Lights Harbor Race or a Fat Bike Rodeo. The highlight was supposed to be a World Extreme Fat Bike Championship race down the famous Thompson Pass. Thompson Pass is a 2,805 foot high gap in the Chugach Mountains northeast of Valdez, Alaska. It is known as the snowiest place in Alaska. Watching a video of a rider flowing down the pass looked way too fun. I was going.
Valdez isn't easy to get to—it's a six-hour drive in good weather. Flying in from various locales, our merry band of invitees all met up at the Anchorage airport. The group consisted of Trisha Davis (Crank Joy), Andrew Taylor (pro freerider), Simon Bosman, (pro mountain biker) and his family and Eddie Clark (pro photographer). After a stop at Fatback Bikes with Greg, we ate dinner in Anchorage, which set us off a bit later than desired for Valdez on a gnarly, windy, and icy drive. Arriving after midnight at the Sportsmans Inn, we were quite surprised by all the animal heads adorning the walls but were given a warm welcome by our host Mel.
Morning had us breakfasting at The Fat Mermaid and meeting the rest of the crew. Event organizer Lee Hart of Levitation 49 laid out what we had in store for the week. Over breakfast, we got to meet the rest of our crew—Noah Brousseau (pro freerider), Robb Thompson (pro photographer), Harrison Mendel (pro filmer) and some of the guides and locals.
The conditions of our first day on Thompson Pass were quite extreme. Wind gusts of over 80 mph and wind chills of 30 below made it very challenging to be outside, let alone ride. The race venue was way too dangerous, so we opted for another area within the pass that was more protected. We had a talented group of guides that kept us safe and ferried us and our bikes up via snow machine. After a few hours of some epic descents and hilarious wipeouts on variable snow, we headed back to town to warm up and refuel with much-needed food and beers.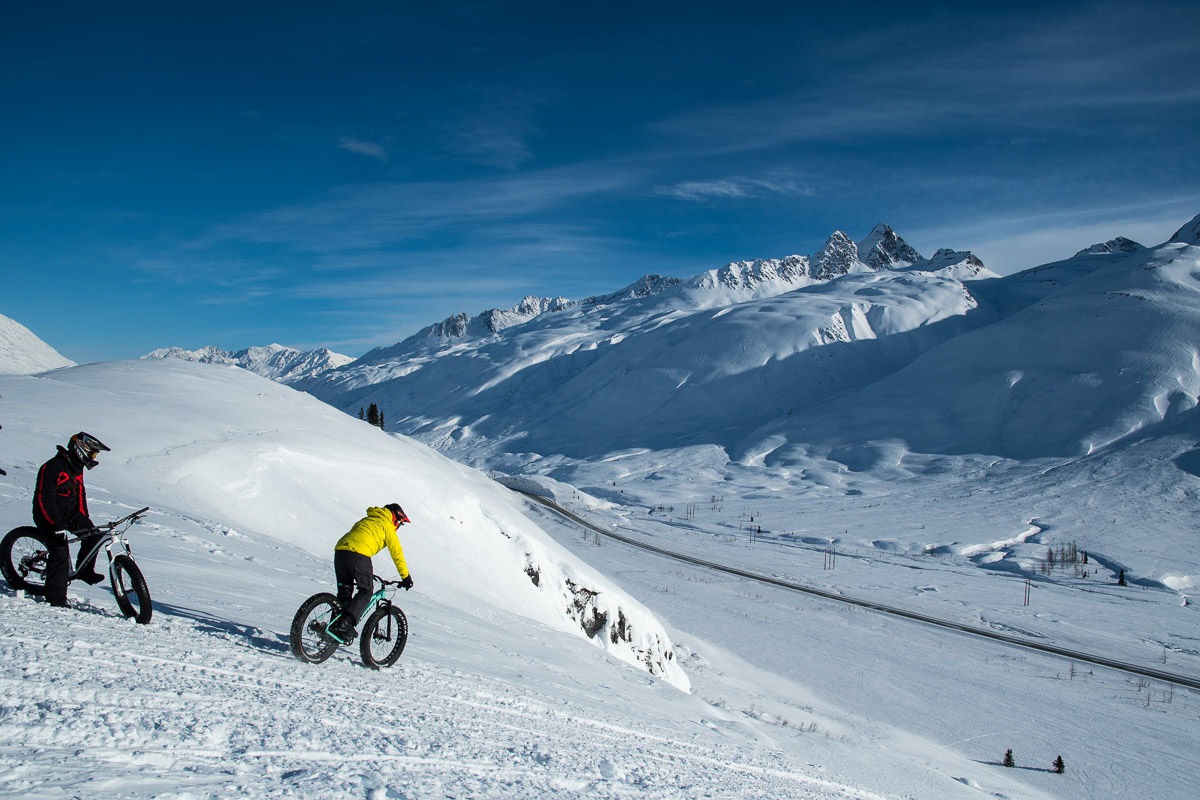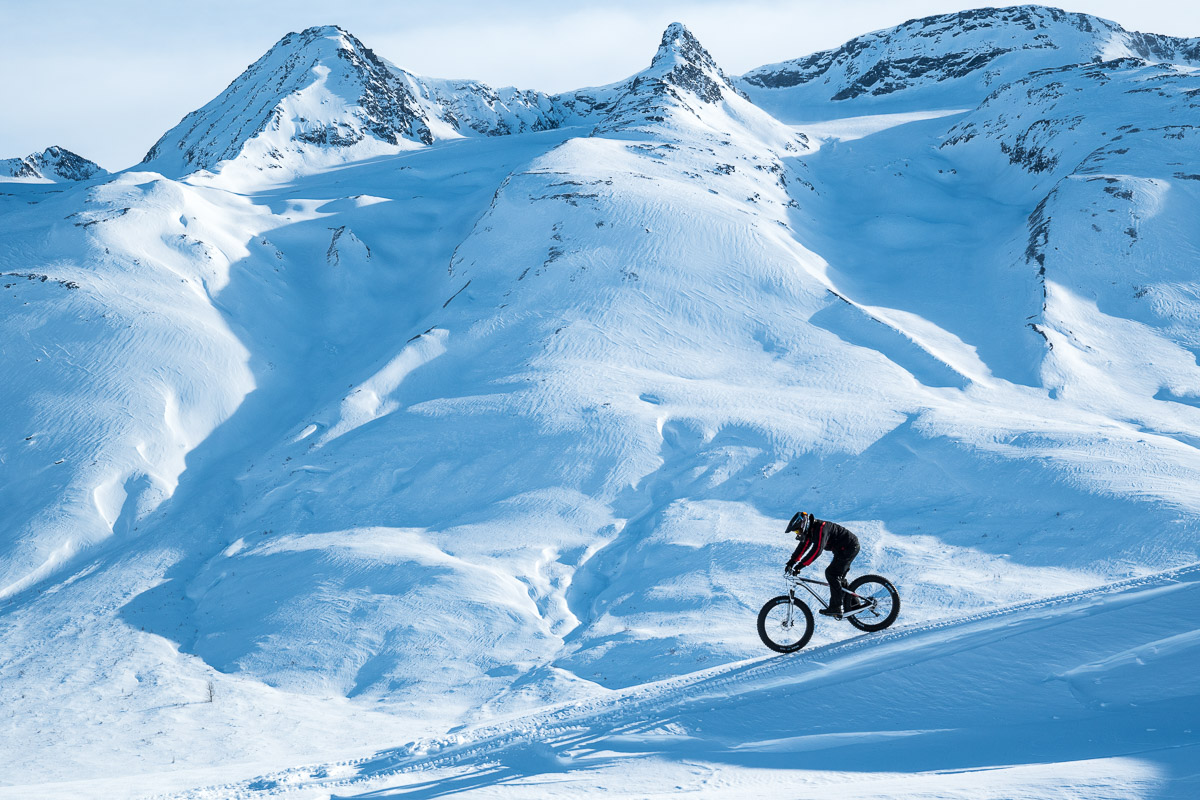 The next two days involved riding and filming in the mountains surrounding Valdez. The jaw-dropping views of the Prince William Sound and the surrounding mountains made for an incredible arena to ride and film in. The scenery was so unreal, it made it hard to concentrate on the rugged, snow spines we were riding down. We were all like kids in a candy store pushing our fat bikes on the snow as far as we thought they could go.
Friday night kicked off the bash with a Community Costume Bike Parade and the Northern Lights Harbor Race, which were two laps around the harbor. Simon Bosman's wife, Juanita, spun fire outside The Fat Mermaid while DJs spun beats inside. The spirits from Ursa Major Distilling were flowing and one of the competitors bought shots for the house. We all knew we were in for a long night!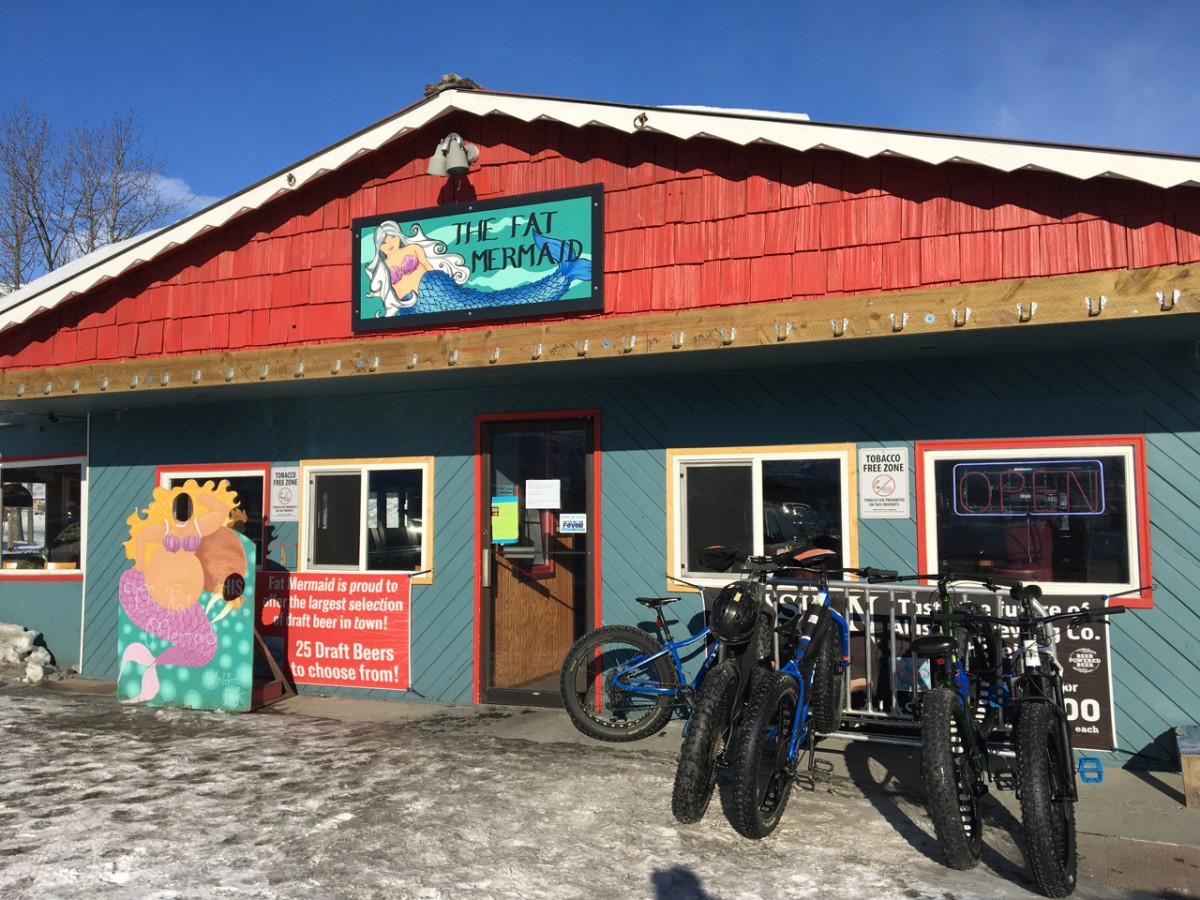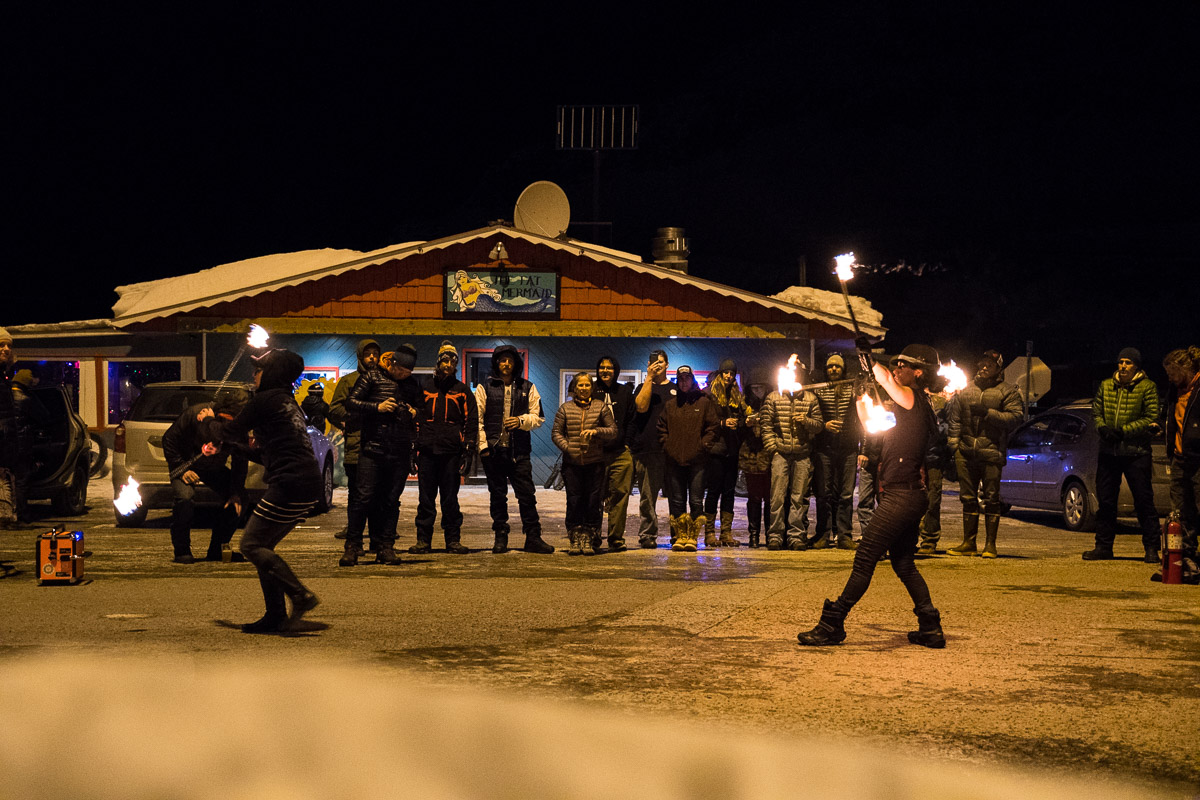 Saturday morning started off with an XC race followed by a Fat Bike Rodeo near the harbor. Later in the afternoon, we snow machined up a groomed downhill course with snow rollers and tabletop jumps. It was a crazy, mass start downhill race where we all enjoyed the groomed course as we sprinted for the finish. As the sun was setting, we were treated to aerial silks performed outside by Teal Rogers, while Noah and Andrew sessioned a wooden gap jump. The night's entertainment was provided by Anchorage band Tanana Rafters and Hoodoo Brewery was on tap.
The World Extreme Fat Bike Downhill race that was slated for Sunday was canceled due to extreme avalanche conditions on Thompson Pass. We made the most of our last morning by exploring the beautiful local beaches and a rad glacier near Valdez. Our drive back to Anchorage was beautiful and sunny. We got to see all the mountains in their glory as the sunset on a great trip to the Fat Frontier of Valdez, Alaska.
For more information on next years Fat Bike Bash and more photos and videos from this year check out http://www.chugachfatbikebash.com.
To follow Russ Risdon's adventures visit https://www.instagram.com/pedalfitruss/
---
Check out more fat bike content on our site here.