Race Recap: True Grit Epic
Originally posted on March 28, 2017 at 14:08 pm
The National Ultra Endurance (NUE) series is dedicated to 100 mile and 100 kilometer mountain bike racing. With over a dozen races across the United States and a newly added race in Costa Rica, both professional and amateur athletes alike have been chasing the series title since its birth in 2006.
For 2017, the NUE series opened in Santa Clara, Utah, with the aptly named True Grit Epic (100 mile) and Marathon (100 kilometer) mountain bike race. Roughly 500 riders made their way to the southwestern corner of Utah to take on some of the gnarliest terrain the series has to offer. I had the opportunity to travel to various NUE races in South Dakota, Ohio and Tennessee last year, and the desert of Utah is by far the most dynamic terrain I have encountered.
My girlfriend Jess and I began our travels by flying into the Vegas airport and hitching a rental car to St. George, Utah. The local shop, Red Rock Bicycles, was the supporting sponsor and packet pick-up location for the event. Since it was a short walk from our motel, it only made sense to have our bikes shipped there (We owe huge thanks to Bikeflights.com for ensuring everything arrived on time!). The friendly staff at Red Rock Bicycles was extremely helpful, giving us tips on the course and providing information on nearby places to check out during our stay. They also generously fixed a complete rookie error on my behalf. When I threaded Jess's chain through her derailleur, I neglected to put the chain on the proper side of the guard, which caused very audible grinding noises. I quickly blamed her bike and all those stupid gears. I was only half correct; the mechanic identified the issue, and I proceeded to shyly walk out with my head lowered and pride no longer intact.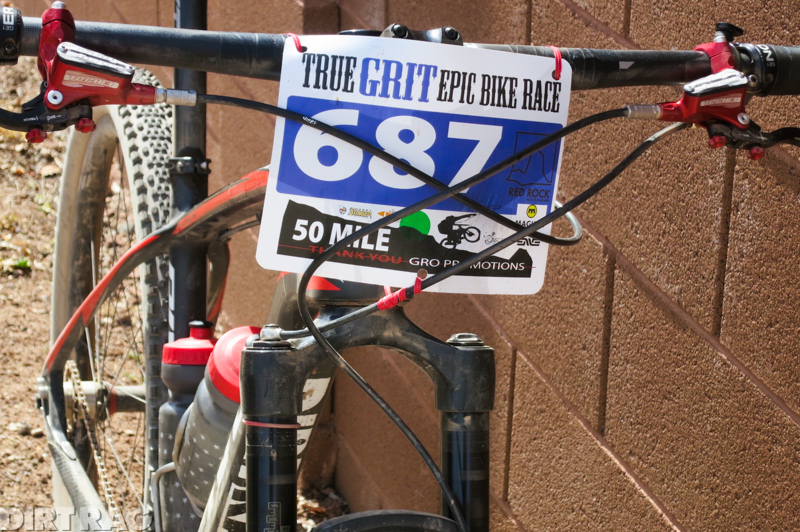 Course Preview
With bikes pulled from their cardboard homes and properly assembled, we made our way to pre-ride the Zen Trail. This would be the most challenging trail of the race and the most technical, so it was heavily advised that we ride this section in advance. At roughly 6.5 miles, with about as many slabs of slickrock as you can imagine, the trail was the wildest terrain I've ridden. Because the "trail" was mostly laid out on top of the slickrock, it was up to the rider to determine his or her line, at least much more so than if you were on a dirt singletrack section. Stacked rocks or a line of rocks with an orange flag were our only indicators of where we ultimately should end up. This was difficult for me, as I'm accustomed to clear lines restricted by both fallen and standing trees and, well, an obvious dirt path. Navigating the technical rock formations was exhausting both physically and mentally. As I told Jess, I think the biggest key to getting through Zen would be to find a local rider and try to stay on their wheel through this section.
On our second day, we decided to tackle the Barrel Roll Trail. This loop is purpose-built singletrack and was hands down my favorite section of trail we rode over the entire trip. Barrel Roll offers 6 miles of super fun and techy singletrack. It had technical sections where some trials-like bike handling skills were required to get through the slabs of rough rock formations, but there was also enough red dirt to not second guess if you were even on the trail. I was pretty excited to later find out that this would be the loop the race would finish on before making our way back into town where we started.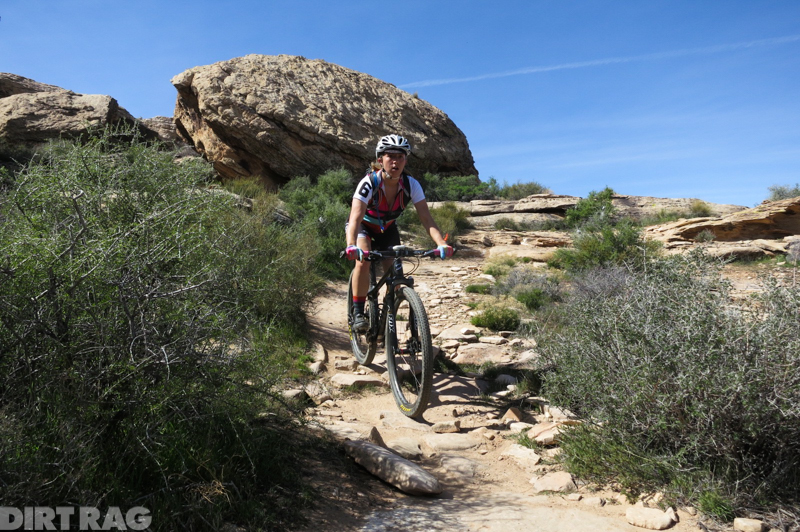 Race Day
It was easily sensed from the looks in our eyes and the abnormal quietness in the motel room that today was race day. The cool 50-degree morning air was crisp, but with no clouds in the sky and temperatures reaching the upper 70s by afternoon, we both knew we would be wishing for the chilled air in a few hours. Jess lined up with the Marathon Open Women who were sent on their way about 6 minutes ahead of the Marathon Sport 40-49 and Single Speeders, which is where I was.
We would start on a 1.5-mile flat road before turning off onto some rolling dirt roads, essentially a single speeders nightmare. Time to line up, take one last nip of water and try to calm my nerves by transcending into the jams coming from my ear bud.
POW! Click, click, click, is all you hear as everyone engages their "power foot" cleat to the pedal. Less than a few pedal strokes in and there it was, the sweet harmonic music of chug, chug, chug as everyone runs through theirs gears finding their smallest cog.
I felt pretty good at this point, I was holding a decent cadence on my gear and feeling at ease with two single speeders around me and a few up front within the lead pack. These guys were of no concern of mine, and I was more focused on Zac, a Red Rock Bicycle employee who was in front me and my ticket through the smooth lines.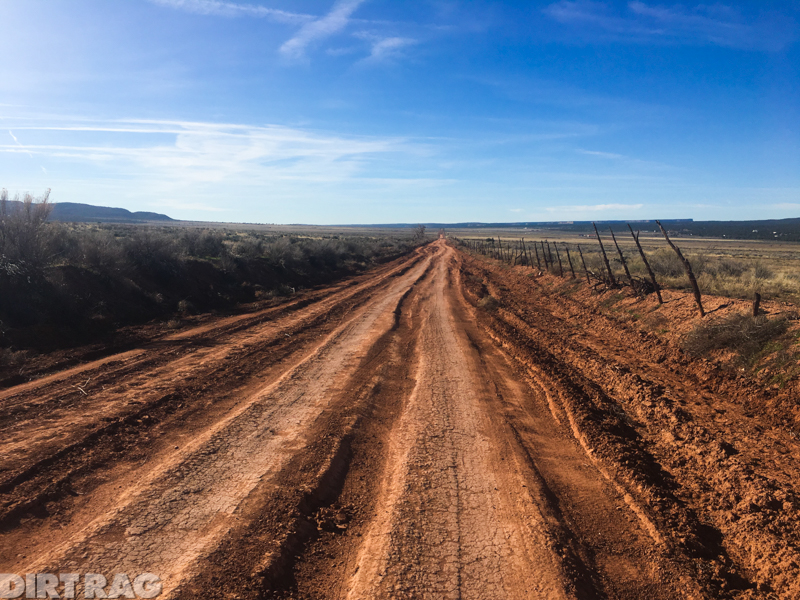 He and I rode together for 30 minutes or so before he put down an effort, which I had no desire to match at that point in the race. I felt very unprepared for this and had no idea how my body was going to respond to the mileage and difficulty of the terrain, especially with the heat in the middle of the desert.
With only mountain ranges and plateaus surrounding me in the far distance, I could tell which direction I was headed, but aside from that had no bearing where I was within the course. Once Zac left my sight, everything was kind of a blur. I kept a cadence (slower than I would have liked) and wondered where the hell I was. It wasn't till about an hour later that I finally realized I was climbing up the Zen Trail. It wasn't necessarily a relief to know where I was, but this at least allowed me to determine we were roughly 15 miles in. My GPS officially called it quits on the pre-ride while in Utah, which made it a bit of a challenge knowing my whereabouts.
As I was coming down the final descent of the Zen Trail, I noticed that my front end felt like it had a bit more play to it than it should. As I continued to push through a few more rocks on the descent, my thoughts were confirmed—a loose headset. I just had to make it to the aid station at the bottom. My brain was pretty foggy at this point, so I took my time at the aid station. I tightened up the headset, consumed some much-needed water and calories and took a little breather from getting bucked around so much.
I left the aid station with Brad from CarboRocket, who was another single speeder that had caught me while I was fiddling around with my headset. From this point on he and I would go back and forth with one another for the remainder of the race. Leaving the aid station, there was a highly-appreciated 2-mile fast rolling descent down Bearclaw (I think). There were swoops, little kickers and various lines to get air time on. It was party time, and I was feeling rejuvenated. It was all smiles til we hit the bottom and started making our way up a false flat for 6 miles. Yet again, my head lowered and I just tried to keep my legs spinning as I thought about how dumb I was to select a 34 x 20 gear ratio. I knew the gearing was going to be troublesome when I saw DirtWire TV's interview with Gordon "Quadsworth" Wadsworth running the same gearing the year prior. Needless to say, it's what I brung.
At some point during this climb, Brad and I picked up Zac, who mentioned he eventually blew up trying to stick with the lead pack. And now there were three of us going back and forth, surging and bonking for the next half hour. I was really hurting at this point and ready to get off the saddle and jump in a cold pool. The course was fast, bumpy and rocky. Every little footprint that was made while the ground was wet prior to the race week was packed in and polished solid, soaking every bit of energy from my body.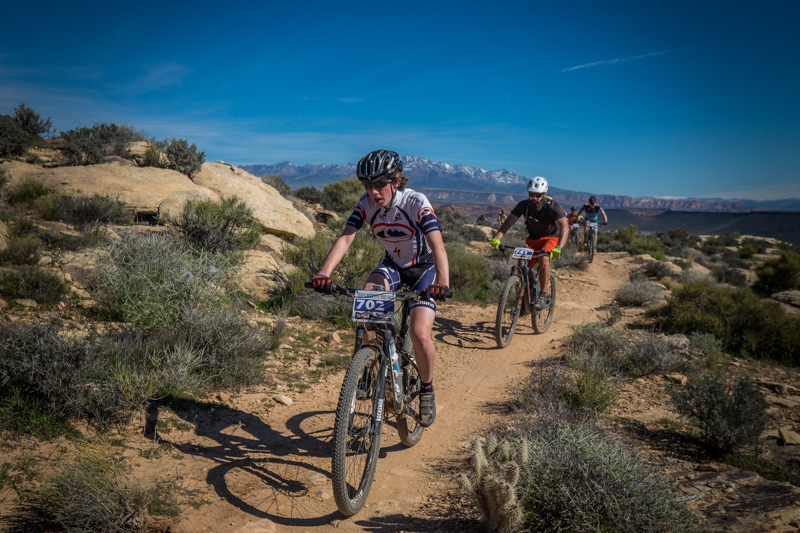 I got another burst of energy and a much-needed sense of relief once Brad informed me we were just about to hit the Cove Wash trailhead. This is the same trailhead where Barrel Roll begins. I chugged some water and dug deep for the last bit of energy I could find. I had no idea what finishing place I was fighting for, but I was fighting for it. Charging up the switchbacks, I could see the gap increasing between Brad, Zac and myself. Although this was uplifting, I was more excited about being on this section of the course since I had such a fun time riding it earlier in the week.
Flying down the back side of Barrel Roll, back into the aid station where the loop began, a little flowy singletrack and road was all that separated me from the finish. After dumping off the dirt road that we started on and onto the paved Santa Clara Drive, the hyperspin commenced. That last mile on the flat felt like it took forever, but approaching the finish line with everyone cheering was such a good feeling. Finishing with a time of 4:28, I was 20 minutes off 3rd place, but walked away with no signs of blood and no major mechanicals. Win.
Celebratory beverages and food truck goodness were consumed in the shadows of the Town Hall in an effort to escape the sun's rays, which had been pummeling me for the last 4.5 hours. I was exhausted but basking in the euphoria following an incredible time on the trails. Neither Jess nor I stood on the podium, but we sure as hell had an incredible time at the True Grit mountain bike race. This is a must-do race in my opinion, and I look forward to escaping the cold and snowy winter once again, only next time I plan to walk away with that awesome trophy.