Recap: Maxxis Summit 2017
Originally posted on March 20, 2017 at 13:13 pm
Mulberry Gap Mountain Bike Get-A-Way lies in the Chattahoochee National Forest within northwest Georgia. It was initially built as a family retreat, but when the current owners stumbled upon the property they had to take a closer look. Once the tour was given, there was no turning back. They purchased the land in fall of 2006 and have continuously put their hearts and souls into the property, helping share the love of the surrounding area. Offering spacious cabins, home cooked meals, quality trails and the "just bring your bike, and we'll take care of the rest" motto, it's no wonder Maxxis chose to hold their 2nd Annual Maxxis Appalachian Summit here. 
My girlfriend Jess and I attended the event representing Dirt Rag Magazine. We left Pittsburgh, Pennsylvania bright and early Thursday morning, making our way south to Elijay, Georgia, where we would be joining industry personnel from Maxxis Tires, Pivot Cycles and various media outlets for an extended weekend.
It was an 11-hour drive to Mulberry Gap, but admiring the ridgelines as we rolled through the Appalachian Mountains helped keep the mind occupied. Upon arrival, we checked in with Bobby Brown, marketing specialist at Maxxis, up at the barn. This would end up being the main hub for the weekend, serving as the communal location where Maxxis had a few tires on display and presentations would take place. Meals were served here and the beer fridge emptied as fast as it was stocked. For those familiar with Mulberry Gap, I am sure you have not forgotten the short, steep hill you must climb to go from the campgrounds to the barn. For those that have never been—it's brutal and it will make even the most "fit athletes" feel short of breath. It's worth it but man, made me feel embarrassed how out of breath I became. Bobby gave us the quick
For those familiar with Mulberry Gap, I am sure you have not forgotten the short, steep hill you must climb to get from the campground to the barn. For those that have never been—it's brutal and it will make even the most "fit athletes" feel short of breath. It's worth it but made me feel embarrassed about how out of breath I became. Bobby gave us the quick rundown of the weekend and told us to head over to the Pivot demo truck to get a bike setup for Friday's ride after dropping our gear off at the cabin.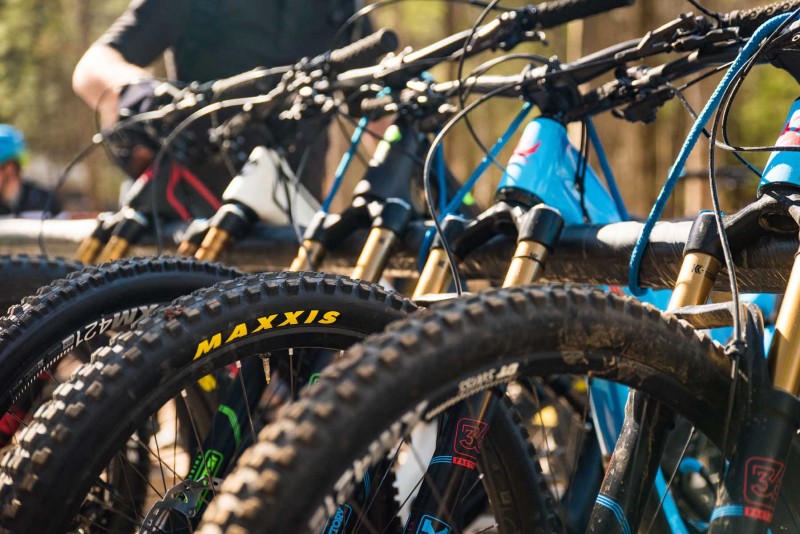 Jess would end up finding the golden ticket and riding the Pivot 429 SL the for the entire weekend.  I've been pushing her to try this bike for quite some time now, so was pretty stoked she was going to be able to get a solid weekend of riding on it. Obviously being a Maxxis event, there were piles of tires for us to swap in and out as we requested. The 429SL was originally mounted with the fast rolling cross-country Ikon front and rear, but wanting something with a little more bite on the front end, we swapped it for a High Roller II.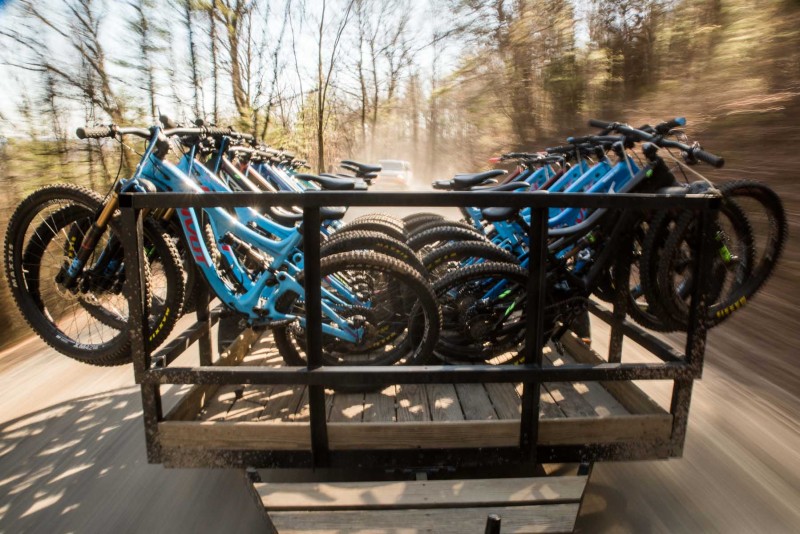 With Friday morning shuttle runs on Pinhoti 2, I opted for the Pivot Mach 429 Trail, which was accented by electric blue paint and equipped with a Maxxis Minion DHF up front and Ardent rear. This is a setup I have been extremely happy with on another bike I've been riding lately, so I left it as is for day one. A full-suspension bike is always a tough adjustment for me coming off a hardtail so figured this would help me make a seamless transition.
Once bike setup was complete, it was time for dinner and socializing. My time as an industry insider has been short so most of the people I had never met before, making me feel a bit out of place. Thankfully, everyone was super friendly and liquid courage was in ample supply thanks to Terrapin Brewing. People continued to roll in throughout the evening as the early arrivers hung out in the barn playing mini-bike Jenga.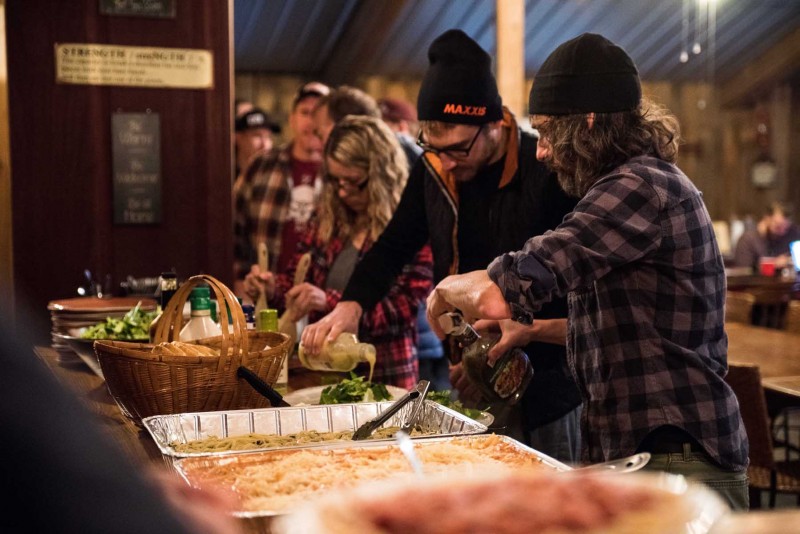 Friday morning came earlier than I would have liked. My allergies were in hyperspeed and it felt like I had been drinking far more than I actually had been. But coffee and breakfast were getting ready to be served and that is not to be missed. All week, the home cooked meals were amazing and never repeated. It was not just amazing for camping—these were as delicious as that hole-in-the-wall diner that you'd travel 11 hours for. Post breakfast, the shuttles were to load up and take us up to Pinhotti 2. P2 is a fun
Post breakfast, the shuttles were loaded up to take us up to Pinhoti 2. P2 is a fun 3.5-mile long singletrack trail that runs downhill along a ridge for roughly 20 minutes. The trail swoops back and forth between trees with little speed humps and naturally banked turns that let the rowdiness emerge.
On my second run, getting a little too confident with the 429 Trail's ability to soak up the chatter, I twisted the throttle a little more and tried popping off the speed bumps into the corners. This was a ton of fun, and the DHF and Ardent combo was spot on for the hard packed trail conditions. I was able to lean the tires into the corners with confidence and allow the outer knobs to stick like velcro.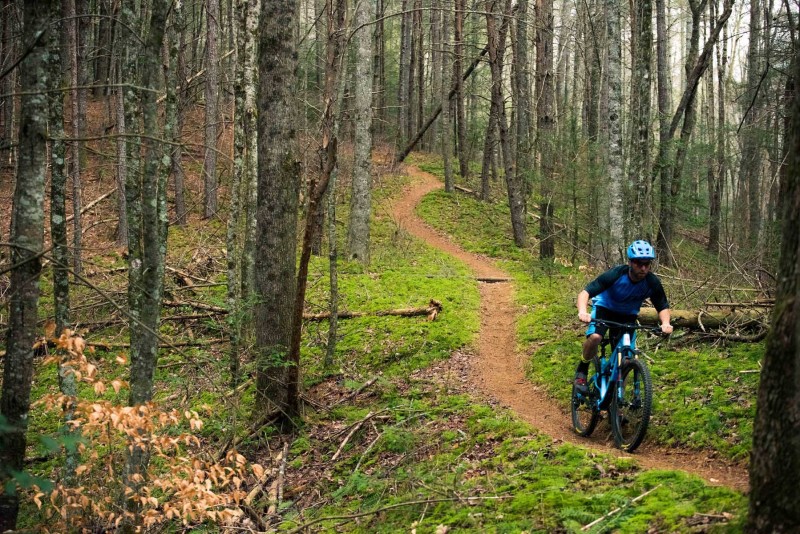 Post-lunch, Friday afternoon's ride involved more shuttle runs, this time on the Bear Creek trail. After talking with "the most irrelevant part time single speeder Rich 'Dicky' Dillen," we decided to add more saddle time to our day by riding back up to the top of Bear Creek for the second run rather than being shuttled. With more saddle time, some climbing, and fast flowing downhills, this would turn out to be my favorite ride for the weekend. The Bear Creek trail is not technical by any means, but it is a lot of fun and has plenty of natural berms to rail into and a few stream crossings to keep things interesting. We also ended up choosing to ride back to base camp and linking up to P2 for another run as we made our way back.
Friday evening had another presentation served with dinner, which was washed down with more Terrapin beverages. The energy of the barn was loud and full of laughter as most were re-living the day's rides or just simply enjoying each others company. The atmosphere reminded me a lot of the Frozen Fat event I did a few weeks ago, in which I was submersed in a crowd of people I had never met but felt at home right away. There were evening rides planned, but once the sun went down and temperatures dipped into the low 40's, no one wished to leave the comforts of the barn.
After breakfast on Saturday, we boarded the shuttle to head up to Mountaintown. The mountain roads narrowed in places, with debris blocking portions of the road. It made for an interesting view for anyone sitting next to the window, as they could see the 6-inch gap between the vehicle's tire and a 1000-foot drop-off. Talking to a few locals on what to expect I opted for the Pivot Trail 429 Trail in its  27plus setup this time and I am glad I did. Mountaintown had a backcountry type of feel to it with multiple deep creek crossings and some fallen trees resulting in bushwhacking and hike-a-bikes.
After talking to a few locals about what to expect, I opted for the Pivot Trail 429 Trail in its 27plus setup this time and I am glad I did. Mountaintown a backcountry feel to it, with multiple deep creek crossings and some fallen trees, resulting in much bushwhacking and hike-a-bikes.
Pinhoti 3 (P3) was on the schedule for Saturday afternoon's ride after lunch. Dicky, Jess and I yet again wanted to add some saddle time and earn our descent, so we decided to climb up P3 only to turn around to descend it. As we geared up in an attempt to beat the shuttlers to the top, we picked up a few more interested parties, including one of the Maxxis engineers.
The climb up P3 traversed the ridge with a few very tight switchbacks, but overall, it was nicely laid out, purpose-built singletrack. As we started to make our way to the summit, we were about 100 yards short when the shuttlers made their way by us, hooting and hollering. At the top, we were greeted by the Cohutta overlook. The vista offers breathtaking panoramic views of the Chattahoochee National Forest and to show our respects, we raised a celebratory beer as we all soaked in the views.
Our group of eight stuck together on our way down P3. As I mentioned, there were some really tight switchbacks where if you were not expecting it or took the wrong line, you were going to be in the world of hurt. P3 is 3.7 miles of pure bodacious singletrack fun. The only thing that separates the bottom of the P3 from base camp is a little gravel road, a newly built jump line and pump track.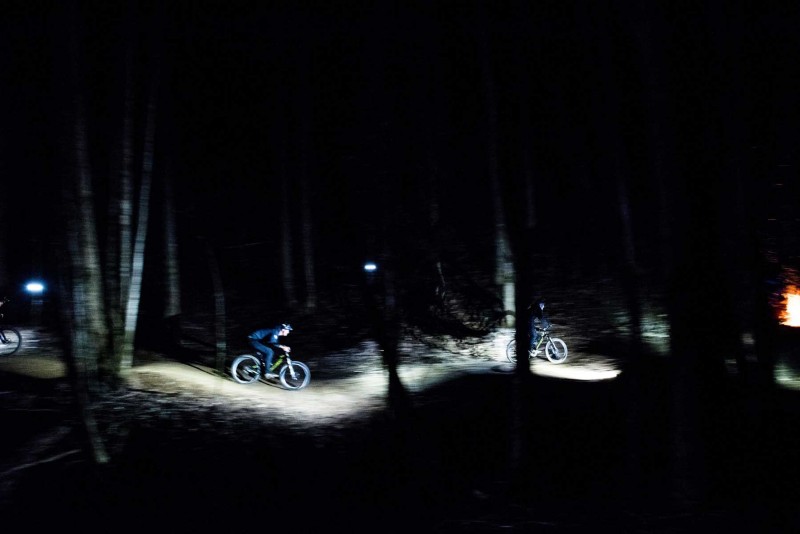 I was thinking about heading to the showers after the ride but saw a large gathering up the hill. Where there is a gaggle of onlookers, there is the instant desire to be part of whatever is happening or about to happen. More people were making their way up to the barn, myself included. Phablets, phones, cameras, all types of media capturing equipment became fixated on Aaron Chase as he climbed up to the barn's roof. Hucking off the roof probably felt like just an ordinary day for the all-mountain legend.
Afterward, the gaggle of media cameras dispersed with the exception of a few of us. We remained on the pavement, BS'ing before dinner was served with a presentation on the various tire compounds.
Maxxis finally caught on and realized that if they wanted us to leave the dining hall at any reasonable hour, they were going to have to force us out using the only leverage they had—beer. The fridge ran dry and they told us the rest of it would be down the hill at the bonfire.
At the fire, an evening of entertainment and tomfoolery commenced. We enjoyed lighthearted conversation, Shaggy riding around in his blue sumo suit and a few riders having some fun jumping over an adjacent (smaller) fire. It was a solid end to the weekend, one which I heavily paid for the next morning.
Totally worth it.