Gravel Grinding Essentials: An Open Mind and Good Beer
Originally posted on March 22, 2017 at 1:11 am
Words by Jeffrey Stern
No longer a fad, but a full blown discipline covering a wide range of mixed surfaces such as dirt, sand, pothole-littered pavement, grass and of course, gravel. Events are springing up across the country featuring long courses, winding through relatively untraveled roads in the most remote corners of states. Gravel grinding, as it's affectionately being called, is the new king.
Roadie and mountain pros dabble in these events for fitness, good cash purses and let's be honest, because they're interesting and fun in a completely different way. Sanctioned, underground or anywhere in between, these events are helping all types of riders push the boundaries of their skills and equipment, and are driving new innovative technologies developed specifically for this type of riding. It's new, fresh and different, but still on the thing we love most: two wheels.
We sat down with a couple gravel pros to get their feelings on skills required, easy changes to turn your current road bike into a gravel-grinder and more. Ryan Steers of the Giant Co-Factory Offroad team gravitates towards these events and has utilized his technical mountain bike skills and endurance to find success, most recently taking third at what many consider to be the king of all gravel events—the 225km with 13k feet of climbing Cervélo Belgian Waffle Ride in San Diego, California last spring.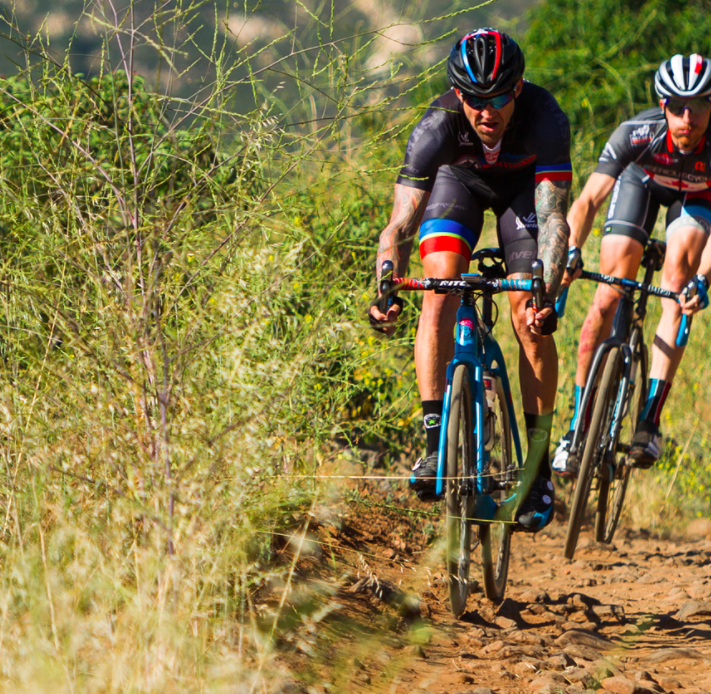 He offered a few tips to increase the comfort of your gravel rig, "I've been running Schwalbe Pro One tubeless 28s for several thousand miles and have yet to have a puncture that a little sealant won't fill. I think tubeless tries are the biggest asset on the dirt. You can run a lower pressure and not worry about pinching on a sharp rock. Get rid of that paper thin bar tape and swap it for something with more cushion. Your hands will thank you."
After getting your bike set up to join one of these mixed-surface adventures or venture off on your own, preparing mentally for the new challenges is nearly as important. Scott Lundy of Thousand Oaks, California and Serious Cycling took second place at BWR just ahead of Steers and had this to say: "There's some uncertainty in leaving the pavement behind, but we're riding mixed surfaces to make our events more entertaining and to introduce some variety we wouldn't otherwise have had. The best attitude is to keep it positive! With few exceptions, we're doing this as a hobby and as something we enjoy, so we have fun with it."
Lundy echoes a vibe we've often felt at events like these across the country. Yes, riders are there to compete and push themselves, but the general aura of the event is enjoying the suffering and celebrating with new and old friends alike once out of the saddle.
Steers also reminds us to keep cool even when the surface changes. "There are the riders who hit the dirt, freak out, and slow down to a dead crawl because they don't know what to do. It takes a lot of practice to figure out how your bike is going to handle on a different surface. When you ride a road bike in sand the laws of physics go right out the window and unless you have a point of reference it's a weird feeling. Keep your distance around the other riders and stay in your comfort zone. Keep your cool. If you ride with controlled confidence, you'll be amazed at what you can do."
The best tip we've ever received is to let go and let it flow—allowing your bike to float over the loose surfaces is key. It's very difficult to steer in the deep stuff, so it's best to keep your weight back, a loose grip on the bars and your eyes up and looking ahead. Guide your front wheel through the gravel or sand; don't force it.
Ultimately, experimenting with new challenges and pushing the limits of your skills to further your cycling experience is something everyone should experience, no matter their level. It's event's like the BWR, the Crusher in Tushar and countless Roubaix-styled weekends that are captivating the current North American cycling scene.
"These events are blazing a different trail than conventional road racing. The serious and official have been replaced by something unexpected, possibly altogether wacky, but it's all part of the adventure," Lundy said.
The gravel scene is a huge part of spreading the passion for all things two-wheels in one dynamic package. And let's not forget all the beer and amazing eats at the after party. There's something to be said for the social environment and camaraderie among competitors that these events bring to the table, creating the complete cycling event in one package.