Adventure: It's what you make of it
Originally posted on March 13, 2017 at 21:06 pm
I think today more than ever, it's easy to get caught up in the belief that our own lives are mundane.
The internet constantly throws articles about traveling to far-off lands in our faces. Instagram makes it easier than ever to see a lot of beautiful people doing amazing things. Every single day, our news feeds are filled with photos of exotic places and people enjoying them.
I went through a bit of a funk for a while because of this exact phenomenon. I was obsessed with a number of different blogs written by people who essentially lived on the bike, wandering the world. The simple lifestyle appealed to me—a lifestyle free of cars, mortgages, an excess of belongings, and essentially, any responsibility except survival and making enough money to continue to support the pleasure of exploring via bicycle.
There was a part of me that wished to pick up and adopt this lifestyle. But as is the case for many people, it's not realistic, at least not right now. Sure, everyone has the power to abandon their lives and set off to explore the world. But many of us have other obligations that are important to us—family, kids, animals, communities, jobs we like, reasons to stay rooted. Most of us just can't take off for weeks or months at a time on a regular basis, but that doesn't mean we can't still adventure every single day.
Adventure, after all, is what you make of it. It's all about attitude, a willingness to explore and learn, and step out of your comfort zone, whether it's a mile or a thousand miles from home.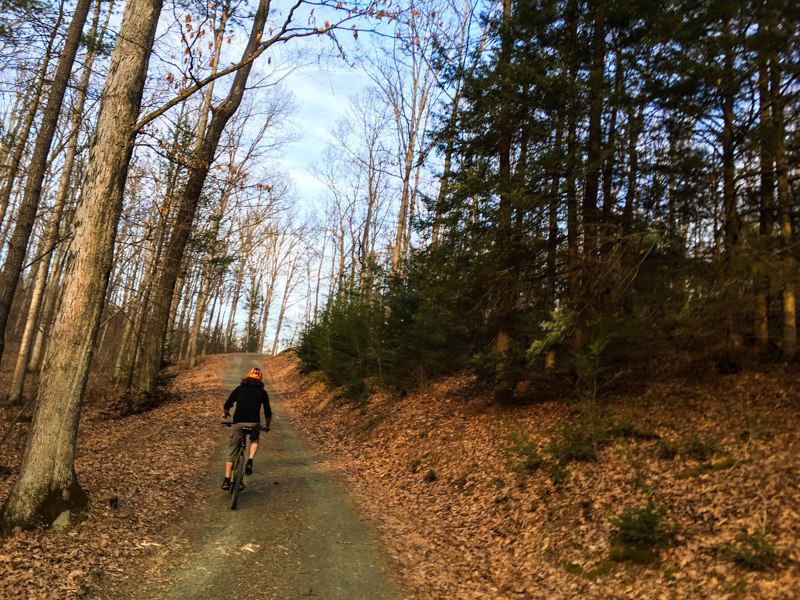 A couple weeks ago, my husband and I set out for an after-work ride from our house. We live in rural central Pennsylvania, an area characterized by the juxtaposition of forests and farms, valleys and ridgetops. We are incredibly lucky in the sense that in addition to these contrasting and varied landscapes, we have hundreds of acres of State Forest and public lands only minutes from our door. There is a particular area of nearby woods, just a few miles from our house, that is criss-crossed by a countless number of dirt roads, grassy doubletrack, and random trails that don't exist on any map.
The microtopography there is incredible—hills and hollows that result in relatively short but steep climbs and descents. Every time I ride in this area, I discover a new place, a new trail, and add even more to my "to do" exploration list.
My hubby had done a solo ride a few weeks prior and discovered some great trails that he wanted to show me. It was warm for February, shorts weather. We set out on our cross bikes, riding paved roads briefly until we reached our portal into the woods.
From here, it was a game of "left or right?" at every intersection. We retraced his steps from the previous ride to an extent, but also found ourselves in unknown territory. The beauty of this little haven of woods is that you can get lost, but not really get lost. You'll always come out on a main road before too long.
It's a great place to practice being an explorer, venturing into the unknown, going down uncharted trails, unsure of where exactly it will lead or what the journey will be like.
Some of the trails were almost the limit of what I thought I could tackle on my cross bike and remain upright. That was an adventure in itself—navigating the obstacles on 40mm tires and drop bars. I impressed myself with what my bike and I were capable of.
We finished the ride with a climb to the top of the ridge behind our house for sunset, and rolled into our driveway at dusk. We were out for about two and a half hours, and yet, it is high on my list of fondly-remembered experiences. I'm finding that so many of my favorite rides have actually been these nearby adventures, leaving from my house on my bike to somewhere new and back again.
I am no longer as envious of the globetrotting folks. Sure, I love to travel, and plans for longer trips involving bikes are a must in my future. But I've come to appreciate all there is to explore in my own backyard, and I've learned that incorporating microadventures into daily life is an opportunity to make the everyday existence one rich with new experiences, fresh air, and continuous challenge.