No Whining, Bitching, or Moaning: Frozen Fat '17
Originally posted on February 25, 2017 at 16:13 pm
Words by Scott Williams
Frozen Fat is a fat-bike-only weekend held in Huntingdon, PA, or more simply, Central Pennsylvania. As evident as it may appear from the event title, I would be willing to bet there are quite a few individuals who ask, "Do I need a fat bike?"
The short answer is no, but you probably should just leave your 29er or cross bike hooked up to your Zwifter unit and stay home anyway. After all, this is a fat bike event and the #1 rule is "No whining, bitching, moaning or any other sort of negative ballyhooing."
First and foremost, this is not your typical race. It even feels wrong referring to it at all as a "race". This is an event focused on camaraderie and having fun with other like-minded people. At its essence, you can bring any bike you want and would be welcomed; you just may not have a whole lot of fun.
I personally first caught wind of this event a couple years ago but never quite welcomed this fat bike craze that stormed the industry. Perhaps I am becoming less of a curmudgeon, or maybe it's simply due to the fact that I now work with the mastermind behind this event and somehow mistook the Kool-Aid for a friendly post-ride beer. Regardless, I became fat-curious and signed up for the 6th edition of Frozen Fat.
For 2017, the schedule included camping within the State Forest next to a warming hut, a Friday night ride to the local bar with a shuttle return, a 15-and 30-mile epic ride through Rothrock State Forest, and a "Sunday Funday" group ride at the Allegrippis Trails with the Salsa demo truck providing the newest and greatest fatties to rip-the-grippis on.
Now, all I needed to do was find a fat bike. Thankfully, Rothrock Outfitters, a bike shop located in the heart of the small town of Huntingdon, offers a plethora of Salsa bike rentals, including the new Mukluks, which would fulfill the suggested 'fatness' requirements.
As Frozen Fat weekend neared, the weather waffled more than usual this time of year. Within a single week it went from 60 degrees and beautiful sunny skies to blizzard-like conditions resulting in roughly 6 inches of fresh pow. With no idea what to expect weather-wise, I performed a final check for the weekend one day out. Friday, mid-20's. Saturday, starting in the low 30's but climbing fast to a high of mid 50's and a warm bluebird sky. Sunday, mid 30's and rain. Interesting…. As I sat on the edge of the bed gazing into the abyss of cycling gear, I finally settled on what layers to bring—all of them! With bags packed and the car loaded up (with what looked like enough for a weeklong trip as opposed to just a weekend jaunt), my girlfriend Jess and I were on our way from Pittsburgh, PA to Central Pennsylvania.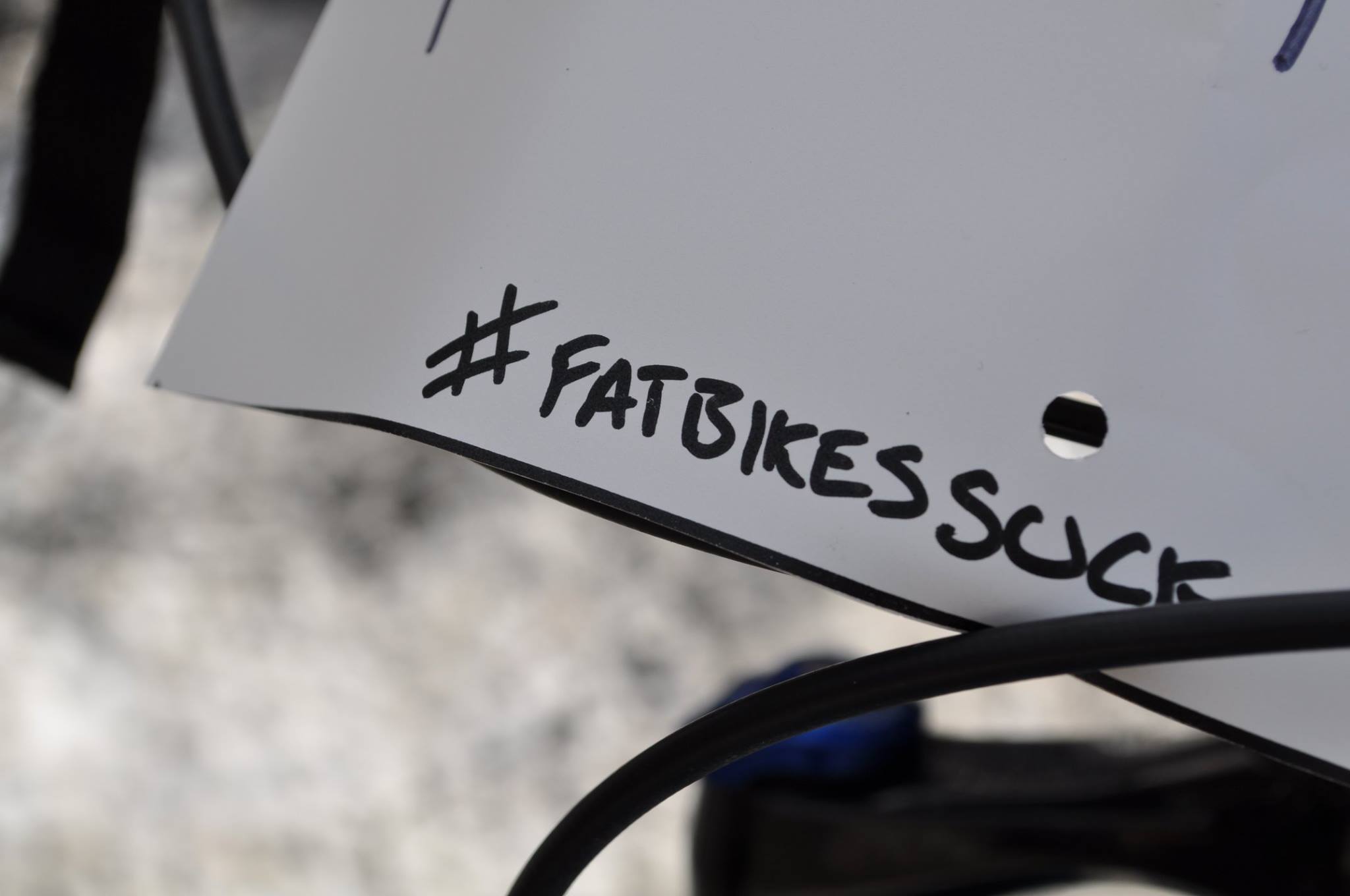 Friday
The plan was a 6pm roll-out from base camp (Greenwood Furnace State Park) to make our way to McMurties Tavern for check-in and course map distribution. We had a good group of riders (I would guess around 15 or so), tons of energy and all smiles. It was evident from this point that this weekend was not about who's faster or how much your bike weighs; rather, it felt more like a well-organized group ride amongst friends. Everybody just wanted to have fun and ride bikes because, well, that's what we do, we ride bikes. Evan led the group up the un-winterized Turkey Road. We chatted away as we climbed and somehow started talking about the evening's Snow Moon, which we learned is just simply a full moon in February (knowledge is power!). After descending Turkey, we took a series of back roads before arriving at the Tavern, where everyone scattered to grab some grub and beer before before it ran dry. It should also be noted, this would end up being my first real ride on a fat bike, which I will touch upon later.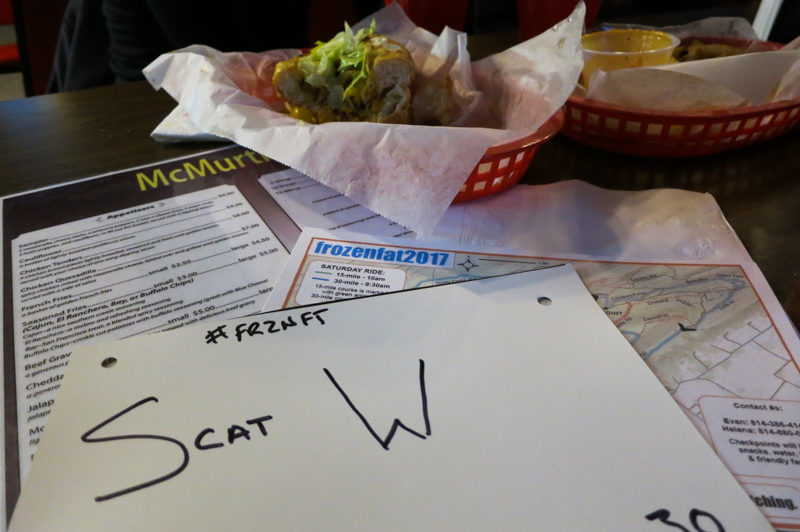 The event organizer, being the swell guy he is, was kind enough (or smart enough) to arrange a shuttle for all of us and our bikes to return back to base camp to resume the shenanigans. The fire was rekindled and we all huddled up in the shelter, where the banter of old and new friends continued. As the night progressed, the conversations dwindled as each individual ever so quietly stepped away in search of their tents or cabins for some shut-eye before a long day ahead. While some braved the elements all weekend, Jess and I took the easy way out by staying in Dirt Rag's Central PA Office (aka Evan and Helena's house).
Saturday
On Saturday, the holy grail ride of the weekend, there were two waves—the 30-miler and 15-miler. Either way, it was a full day of saddle time. As the 9:30 start time approached, Jess, myself and the rest of the 30-mile crew lined up to make our way out of the park towards the much anticipated Wallace Trail climb, which would easily take up the first hour of our ride. Prior to reaching the top, Jess and I both had to shed layers and were down to only t-shirts, which we would end up riding in comfortably for the next 2 hours. It's been such a crazy winter this year. We also found ourselves going back and forth with three other riders—Ian, Rylan and Jeff,  whom we would ride with for the remainder of the day. Even though the five of us were a mixed bag of strengths, we all banded together to keep spirits high through laughter and camaraderie. And although this did not come till much later in the day, misery also loves company.
Once we hit Lingle Valley Trail, one of my favorite sections of the ride due to an abundance of rhododendron,  I knew the first checkpoint was close, just up a quick climb … er … hike-a-bike. The five of us were greeted by a roaring fire, home-made cookies and various other sugary treats. After about a half hour and a lot of friendly nudges to get us to leave, onward we rode. It would end up being roughly another 3 hours before we hit the next checkpoint of sugary goodness.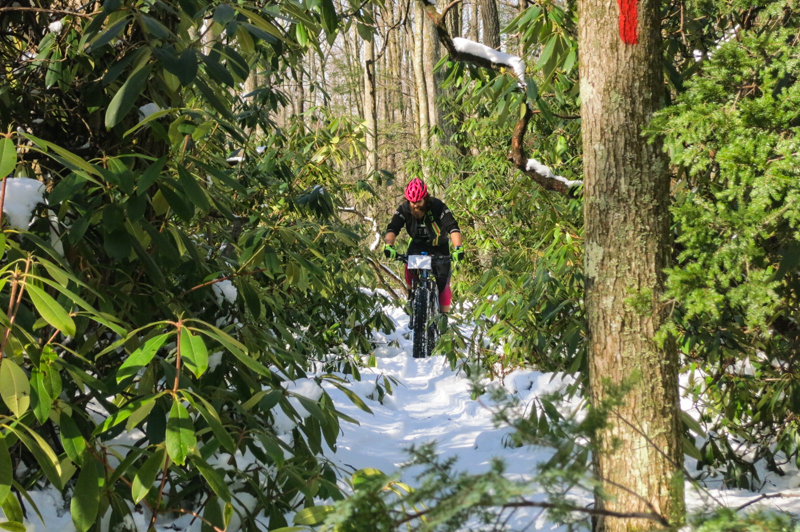 At this point in the day, conditions were getting challenging, with a mix of slush, mud and cold puddles of melted snow. As my knickers became saturated, my energy levels plummeted and all I could think about was reaching checkpoint #2 to dry out. Just as my eyes began to roll back and my posture slouched lower with each pedal stroke, I noticed Jess to my left, passing me, up a hill, through the mud, looking spritely as can be. What the deuce, that's a first. Realizing that the simple fact she caught me was enough and I certainly wouldn't hear the end of this regardless, I let her go, enjoying her moment.
At the end of Flat Road (which is definitely not flat), we were able to dry out next to another roaring fire and grab some donuts and hot coffee from the Standing Stone Coffee, a local roastery out of Huntingdon.
"Almost there, hot pizza is waiting for you," Evan said. I ask how long he'd guess it would take. He takes a gulp of his drink, shrugs his shoulders and says, "Maybe an hour and a half; you got Pigpile Trail, which is a nice climb, and then Sassafras Trail down." Another 30 minutes spent at the checkpoint and away we went, chasing the the scent of fresh pizza.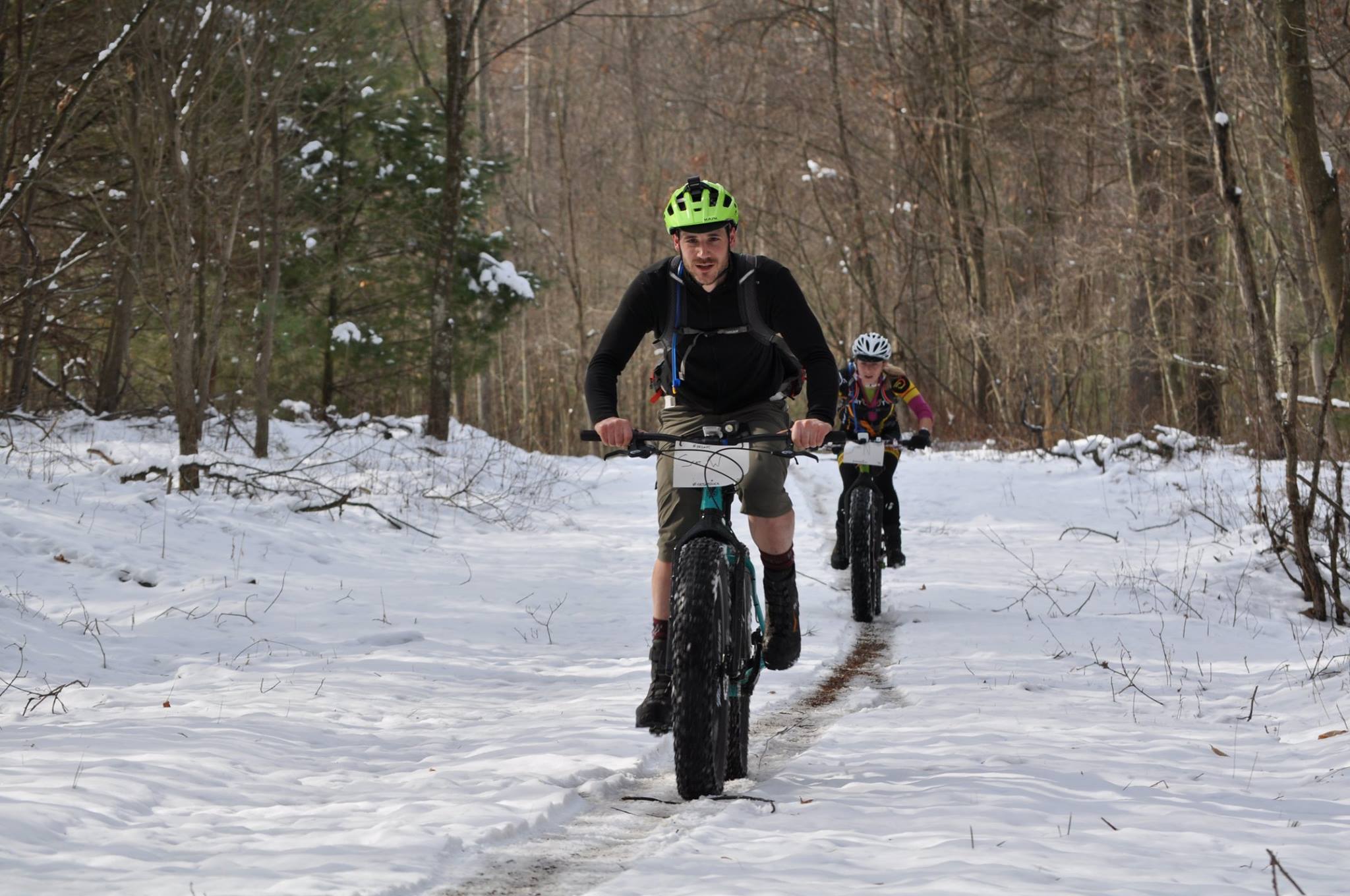 At the intersection of Pigpile and Sassafras, spirits were about as high as the sun at this point. As much as I would have loved to take in the view of the valley from Milligan's Knob, we were chasing daylight and needed to give one last push.
After making the long descent down Sassafras, Evan met us at Rag Hollow Road with two hot pizzas he'd snagged for us to devour as we rolled the last mile and a half back into Greenwood Forest State Park, where we were greeted by a jubilee of cheers. Finishing at roughly 8 hours for the day, we were able to catch the last few rays of sun as we beelined our way to the fire to dry out and warm up.
While everyone huddled around the fire, the smorgasbord of wood fire pizza and other potluck goodness was passed around and devoured as quickly as it was spotted. The atmosphere was loud and energetic; everyone was laughing as stories of the day's adventure were shared.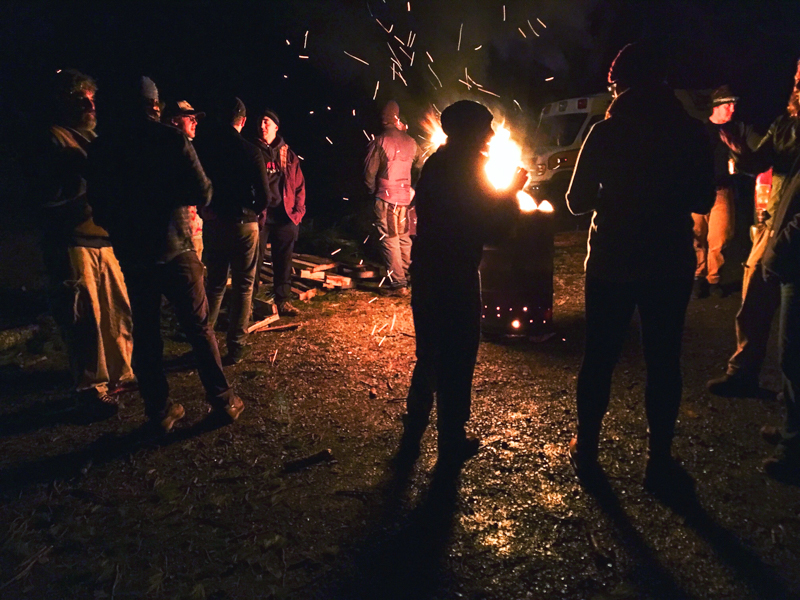 Sunday
Rothrock Outfitters opened up their doors just for Frozen Fat participants and welcomed the haggard group in for some fresh-brewed coffee and a bagels-and-lox breakfast spread. Unfortunately, this is the point where our Frozen Fat Weekend ended. Although excuses as to why Jess and I bailed on the Allegrippis ride are in ample supply between exhausted bodies and soaked boots, they are still just that, excuses. As we made our rounds saying goodbye to our new friends, they were getting ready to head out into the mid-30's and rain to shred some Allegrippis trail.
I can not speak highly enough of this event and the number of kind hearted individuals who I met throughout the weekend and am already excited for the reunion of friends and surprises the 2018 Frozen Fat will provide. Although fearful of what I wish for, I do hope it snows more next year. Does this sound like something you would want to get behind? Enjoy a long day trudging through challenging terrain on your fat bike? Find out more here.
Don't like it, don't come!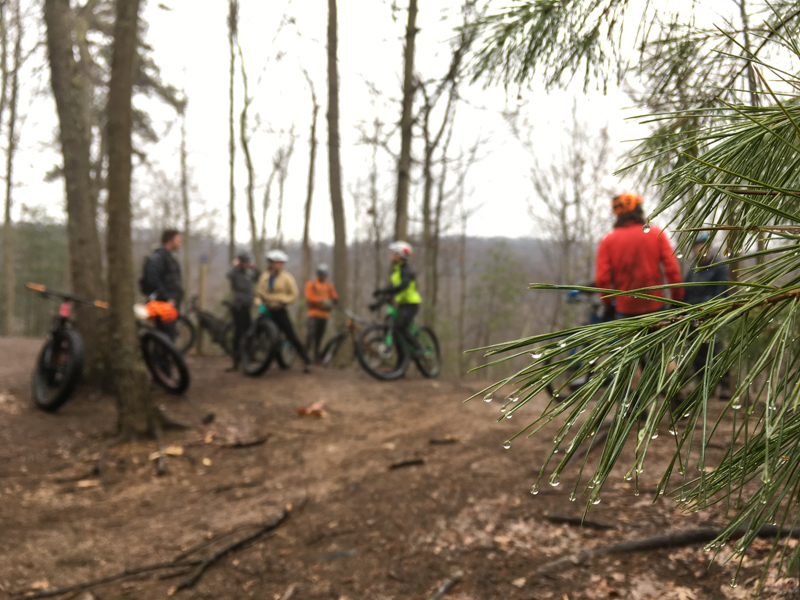 ---
Author's Note:
As I mentioned earlier, this would end up being my first time aboard a fat bike. Stock up with milk, bread and toilet paper because it's about to get weird. I had an absolute time of my life monster truckin' aboard the 2017 Salsa Mukluk NX1 with 45NRTH's Dillenger 5s. While the fat bike may not be the fastest and may allow you put less thought into line choice, those two things don't really matter. The days you're going to grab your fat bike are the days when the elements are fighting their hardest back at you, when there's so much snow or mud that a "normal" tire may work but you're only having fun because you're too stubborn to admit otherwise.