Stan's-Kenda Elite Women's Team Announces Roster for 2017
Originally posted on February 9, 2017 at 12:14 pm
"Our mission has always been to advance women's cycling while also racing at the highest level," said Stan's/Kenda Women's Elite Team Co-Manager Jennifer Smith. "We are rider owned and operated and represent a powerful combination of professionalism and passion for cycling."
Fellow Co-Manager Sarah Kaufmann said, "We are proud of the longevity of our team and the loyalty we have fostered among our partners and sponsors. Our team aims to brightens the future of the sport we love."
The team includes returning riders Alexis Skarda, Vicki Barclay, Nina Baum, Smith and Kaufmann. Original team founder and former racer Shannon Gibson serves as Equipment Liaison while Myles Overstreet handles team mechanic duties.
"As part of our ongoing commitment to women's cycling, we're proud to support the dedication and hard work of the Stan's/Kenda Women's Elite Team," said Kenny Wehn, Sponsorship Coordinator at Stan's NoTubes. "We appreciate the role that they play in the cycling community."
2017 Stan's-Kenda Elite Women's Team Roster
Vicki Barclay (State College, PA)
Nina Baum (Redding, CT)
Sarah Kaufmann (Salt Lake City, UT)
Alexis Skarda (Grand Junction, CO)
Jennifer Smith (Gunnison, CO)
About the Riders
Skarda was hired as a development rider for 2016, in what would become a breakout season for her. She earned podium finishes at several Pro XCT races, including third place at the Chili Challenge Angel Fire. She also placed second at the Grand Junction Off Road and won both the Iron Horse Classic and the Rumble at 18 Road. With her sights set on making the 2017 World Championship team and competing in several World Cups, Skarda hopes to continue her upward trajectory through the elite ranks.
Smith comes of 2016 success in Leadville, where she won both the Leadville MTB Stage Race and finished third at the Leadville 100. She also was second at the Gunnison Growler and made the podium at both the Carson City off Road and in the overall Epic Rides series.
Kaufmann captained a team of three junior women to the win in the open women's category at the 24 Hours in the Old Pueblo. She was the GC winner at the Vietnam Victory Challenge Stage Race, winning all three stages.
Barclay won two stages at her hometown race the Trans-Sylvania Epic. She placed fifth at the Kenda Cup East Gnar Weasels race and won three rounds of the Mid Atlantic Super Series.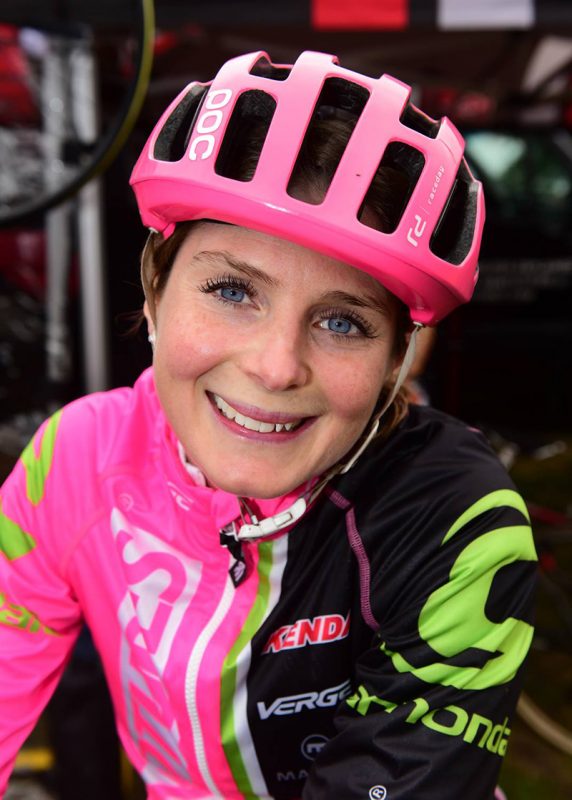 Racing underway
The team made its 2017 season debut at the Fat Bike World Championships in Crested Butte, Colorado where Smith, Skarda and Gibson lined up. Smith and Skarda were fourth and fifth, respectively. Gibson won her age group category.
Riders will compete at the following races: El Reto de Quetzal Stage Race; Moab Rocks; various Pro XCT and US Cup events; The Sea Otter Classic; Whiskey Off Road; Trans-Sylvania Epic; Grand Junction Off Road; Carson City Off Road; U.S. Cross Country and Marathon National Championships; Go Pro Games; Beti Bike Bash; Leadville MTB Stage Race and 100; and the Park City Point 2 Point.
Partnerships
In 2016, the team was highlighted in two REI Outessa women's weekends through Cannondale. The team also hosted 10 group events through respective team members' local Cannondale dealers. The events were geared toward women and girls but were open to the public. Stay tuned for more such weekends coming in 2017.
The team will again partner with Crankbrothers through their ongoing initiative to pair athletes and teams with a fundraising cause. The gO Girls program under Griggs Orthopedics in Gunnison Valley, Colorado, is the lucky beneficiary. Last year's efforts led to the purchase of a bike for the program.
The Stan's-Kenda women will ride Cannondale Scalpels and F-SIs, including the new women's specific Scalpel with 27.5" Stan's NoTubes Valor and Crest MK3 wheels. All 2016 sponsors have recommitted their support including Stan's NoTubes, Cannondale, Kenda, Griggs Orthopedics, Magura, GU Energy Labs, fi:zi'k, Verge Sport, POC, ESI Grips, Crankbrothers, ZOIC, DeFeet, BikeFlights.com and Altra shoes.