Mountain Bike Trailer Park: eSAD—I Need A Fix
Originally posted on February 3, 2017 at 16:38 pm
Ed. Note: MTBTP (Mountain Bike Trailer Park, not Toilet Paper) is a regular column written by Uncle Dan that appears monthly on the Dirt Rag Interwebs. If you missed his previous columns, check them out here. 
I have eSAD. That is, end-of season-affective disorder.
Okay, maybe that's not an actual disorder. Maybe I made it up. But it's a real thing. It happens.
It's kind of like post-Christmas depression. See, when I was a kid, I'd start looking forward to Christmas right after Thanksgiving. The decorations would come out, the lights would go up on houses in the neighborhood and Christmas music would start on the radio. (Nowadays, the holidays bring out a completely different reaction in me, but that's another story).
As a kid, I'd revel in the whole holiday season. All the cookies, TV specials, Santa lists, and all leading up to the big day itself.
Christmas morning! With all of the family around, taking turns opening gifts and eating chocolate and picking at our smorgasbord breakfast all morning until we tottered off to get dressed for church, joy-drunk on the holiday.
Then came December 26. A day of what? Nothing? Emptiness? The whole season was over. The buildup had finally climaxed and there was nothing left to do but clean up the wrapping paper and put the new sweaters away.
This was the first time I felt eSAD. It's a feeling of aimlessness and letdown. Not letdown that Christmas hasn't lived up to expectations, but that it is over. As I aged, eSAD set in earlier every year, sometimes even before church on Christmas, because I knew that the much-anticipated event marked the close of a happy period. At some point, I started to be sad on Christmas Eve.
As an adult, I have experienced the same ennui with ever more regularity.
Most recently, it has happened after—and even during—big races and events.
Let me give an example. In a four-week period this summer, I had three big races: a half ironman (I know triathlon, shut up), a six-hour race at a local trail, and the Shenandoah 100. All year, these events had been on my radar. They were my motivation to get out of bed early and to train, even when I was tired or the weather was bad.
I obsessed. I read training articles and blogs, I followed Facebook pages, I talked about these events ad nauseam with anyone who'd listen. I surrounded myself with like-minded people who were similarly excited. I trained and trained.
And then the races happened, one after another. After each one, I had a pang of anxiety. It was over. But I could still train for the next one, right?
Then, during the Shenandoah 100, during the race, I started feeling the letdown. This was it! This was the last event! What would I do with myself? What could I look forward to? How would I fill my time?
In the weeks that followed, I continued training, but it was empty. I was slow, mindless, unmotivated. It even bled into my work and home life. I felt listless, purposeless, and unengaged.
That's when I realized I had eSAD.
But what could I do about it? I suppose I could have sought psychiatric help. But that's a can of worms that I'm not eager to open. So, for help, I turned to other race junkies, some friends who are accomplished athletes and coaches. I wanted to know whether they fought the same symptoms after big events and how they deal with it.
At the IMBA Summit, I was able to grab professional trials and MTB legend Ryan Leech, who was presenting on the topic of mental fitness in mountain biking.  He generously offered to answer a few questions.  He is, after all, the nicest guy in MTB. Ryan now offers online coaching and skills lessons, and has faced the end of season blues himself.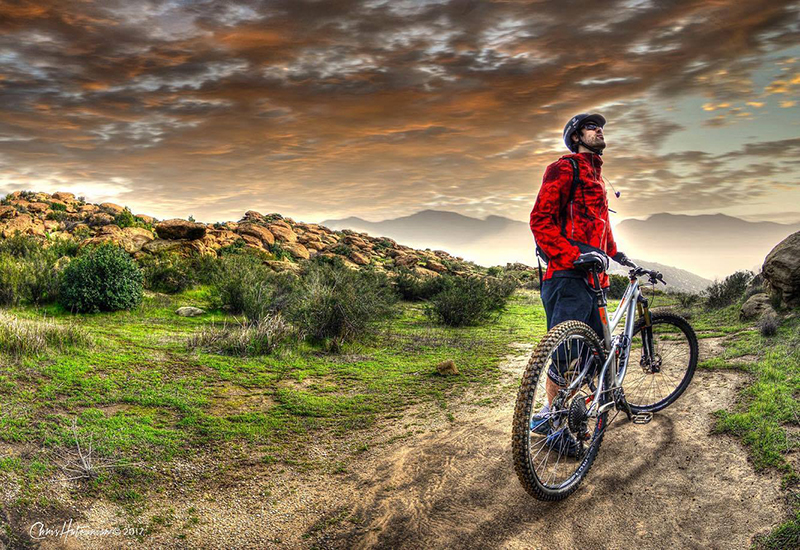 For Ryan, post-race blues often struck after a movie launch (back before the days of youtube), like this.
Ryan confided that the "buzz of a movie premier was part of the drive to keep things progressing into the future, it was an incredible sensation" and when it was finished, the question was always "what's next?"
But often, he wasn't feeling inspired to do another movie project.  Ryan would begin to question his career as a pro. It was a balancing act—was the incredible physical risk of these projects worth the reward?  But what would he do if he wasn't performing, and would the sponsors continue to support him?  Ultimately, these questions—and avoiding examining them—led Ryan down a path where he was beginning to resent riding bikes—not good!  Every racer faces this challenge at some point—the demands of training can suck the joy out of riding and even make riding an unpleasant endeavor.
As a coach, Ryan well understands how the drive to train and then how the inability to rest can be unhealthy.  So, he strives to understand what motivates a rider, while keeping them connected to the sport they love.  Ryan tries to help athletes maintain well-being and love for the sport by finding "a connection to a more positive and inspiring drive that fuels their training in more healthy and sustainable ways."  This often means that a rider needs to understand why he is riding in order to stay motivated and avoid the "bummer" tipping point.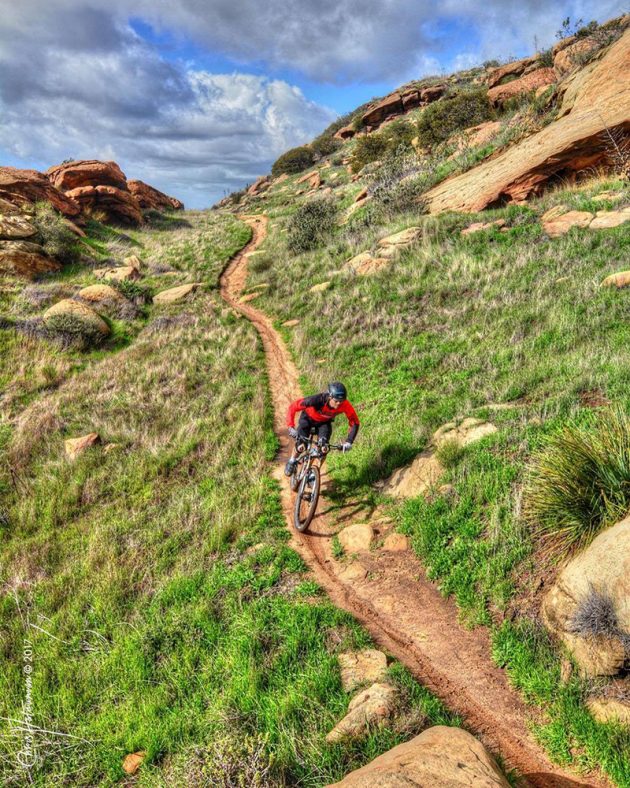 Ultimately, Ryan sees training addiction as a net positive. "It's all part of a process of learning about ourselves and our drives and what they mean" in the bigger picture of our often-complex professional and personal lives.  Ryan recommends having a coach who is qualified to help you work through the "mental fitness dynamics" of the sport, such as the post-season blues.
Fortunately, I know a couple coaches, who are also racers, and they were happy to answer questions too.
First, I spoke to Jeff Rupnow, an Ohio MTB hero of mine, and a coach.
Jeff experiences the post races blues too, particularly after big events that he has looked forward to for a while—most recently after the Breck Epic in Colorado.
Jeff has a couple of strategies for beating the post-race blues.  First, he recognizes the need for rest. He says it usually takes nine full days to recover after a 100-miler, for instance.  So, he makes this downtime a part of the plan. He schedules other projects, like needed home repairs, to keep busy during the break. And he looks forward to a couple days of bad eating (i.e. pizza) after a big event. (As a side note, if you have ever seen Jeff eat during one of these days, you're probably smiling. It is amazing how much food he can put down).  After a week or so of rest, Jeff is ready, refreshed, and eager to get back on the bike.
I like this approach, which I refer to as "mindful rest."  That is, you still have structure and a plan, and this approach recognizes that rest is part of training.
Second, Jeff never signs up for more than one race at a time. That way, his training is discrete and targeted.  Once one race is done, he's not in a panic or at a loss. Instead, he's targeting and working for the next race.
Another local coach familiar with the post-race blues is Dan Wesley. Dan is primarily a triathlete and coaches national-level competitors.  Dan's first experience with the post-race blues was after his first Ironman race, and his most recent was after his team finished the Race Across America (RAAM) in 2016.
After RAAM, Dan experienced a whole different kind of post-race withdrawal. He had been training and planning for the event for 18 months, with the same crew of people. The only thing he talked about with friends (sometimes to their confusion) was RAAM.  The team of eight riders shared common goals, common training, and non-stop planning often five times per week leading up to the event.
But then, after the event, it was over. Dan went into "camaraderie blues." There was a void among the eight team members—the event that had bound them so tightly was over, and now they were just eight people living their own lives again. But after the blues dispelled, Dan experienced a wave of compounding relief. The race planning and training had been a huge endeavor, and all of that work was behind him. In many ways, completing the event was freeing and Dan could get back to all the things that he had ignored.
But there was still race withdrawal to deal with. Dan is a self-described "type-A,' who feeds off the process, structure, and adrenaline that racing offers. And the folks he coaches tend to fall into two categories when he orders rest: those who have to be forced to take time off and those who ask "what do you mean start back up?" For Dan, it comes down to a simple question—how much fun are you having in the event, and is it worth the sacrifice? Like Ryan, Dan's goal is helping riders achieve a healthy balance.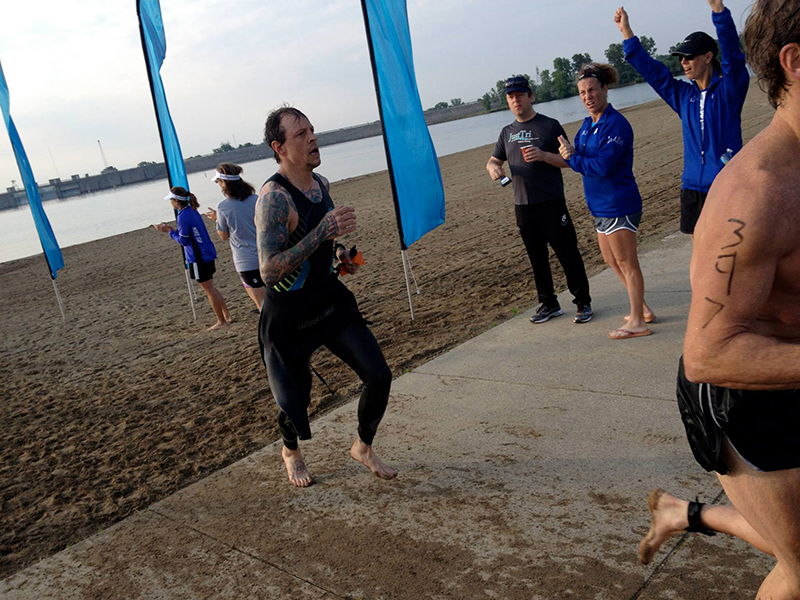 Another aid for getting past the blues for Dan is watching racing.  Seems odd to me, like it would make me want to get out and ride myself, but it is a habit shared by my final interviewee, Jen Malik.
Jen Malik is a professional cyclocross racer and one of the best cyclists to come out of Ohio in a while. Last month, she competed in the Cyclocross Nationals, where she raced in the Women's Pro and Collegiate Divisions (so cool to watch) and she even nabbed a podium step for Ohio State!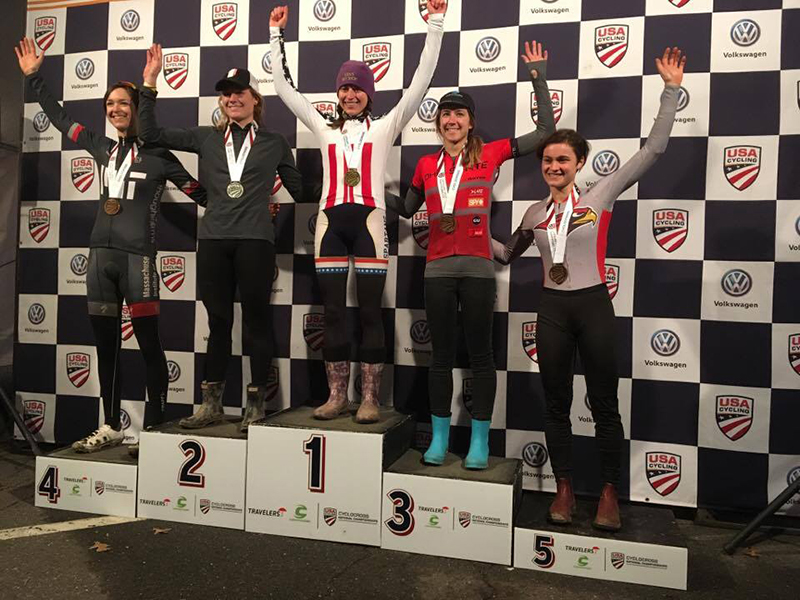 Cyclocross racing has a pretty clearly delineated season, and Jen's training is built around that season. When she's off the bike, it's usually on coach's orders. And she's no stranger to the post-season blues. Jen made it to the collegiate nationals her first season racing. She made it a target, and worked really hard to get there, training and competing in the "holy week" of New England cyclocross: Rapha Super Cross Gloucester, followed by Providence's KMC Cyclocross Festival, and the Night Weasels Cometh in Shrewsbury.
After these events though, she started feeling the letdown already on the way home. And, as each season has ended, the feeling has gotten worse. There's a month of resting, Netflix, and on-line streaming of races ahead. Every time she gets the itch to get back on a bike, her coach will ask "do you think that's a good idea?"
So, how does Jen cope? She fills the down time with catching up on the rest of her life. Her academic advisor likes it, because she's back in town and available. Her family likes it, because she has usually missed seeing them on Thanksgiving and the holidays. And the dog likes it, because he gets more walks. She invites over "non-cycling friends," does school work, and "plays a lot of nerdy engineer games" on the computer. But she admits to needing other outlets for her energy too, like reorganizing the apartment.
So, what's my takeaway from all of this?  First, eSAD is a good thing. You get perspective on your motivation and a gut check on burnout. Downtime isn't a bad thing either. It gives you a chance to pay attention to other areas of your life and to indulge in a little rest. If you look forward to those things, and build them in, it will probably promote a healthier and happier you. Finally, don't think about each event as an end to your season. Instead, think of events on a continuum, making bite-sized and forecastable goals.
Still, I want to go ride. Time to pull out the calendar and start planning for the next race!
Be brave and rest.