Riding, Racing, and A Can of Beans: Surviving Ecuador
Originally posted on January 28, 2017 at 1:08 am
Words by Eric Porter. Photos by Scott Markewitz.
This story originally appeared in Dirt Rag #186.
"Pull over! It's burrito time!" snarled Scott as he reached his breaking point. Throughout our entire time in Ecuador, he had been carrying a bag of tortillas and a can of refried beans that he brought from the U.S. Riding with them in his pack, along with his cameras, rain gear and water, he had been saving them for that one moment when an energy gel would no longer do after you had already consumed six that day. This was mile 68 of a two-day mountain bike race around the base of Cotopaxi Volcano, and this was his can of "Liquid Schwartz."
When thinking about Ecuador while growing up, I had always imagined lush jungles filled with all kinds of amazing animals and rainforests. That wasn't the part of Ecuador we traveled to, although I'm told it does exist and is amazing. We spent our entire trip above 9,000 feet in elevation, so not only was there a lack of monkeys and frogs, but there was also a serious lack of oxygen. As a huge fan of big mountains, though, I was excited to be here, surrounded by giant volcanoes that were mostly dormant, but in reality could still erupt any time they wanted.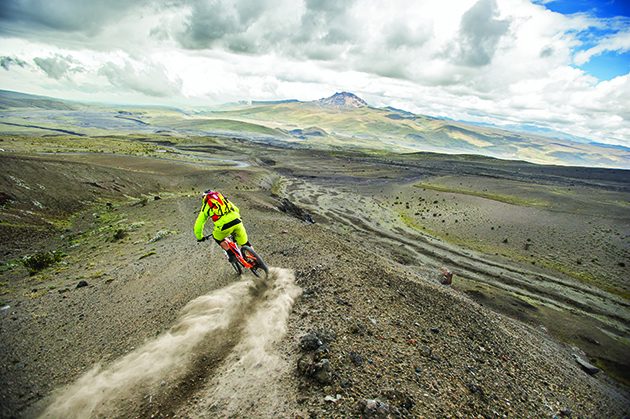 We were doing our best to check off all the best rides around the capital city of Quito (which, at 9,200 feet, is officially the highest of them in the world) before heading 30 miles south for the aforementioned race, the famous Vuelta al Cotopaxi, and we were blown away by the variety and awesomeness of trails so close to a huge city. We started off the trip at Cikla, a bike shop owned by local cycling advocate Daniel Espinosa, who, in his mid-thirties, sports a massive scar across the top of his clean-shaven head from when he was hit by a car and almost died. Daniel grew his shop from a small hole in the wall to a large, beautiful business on a busy street right next to Parque Metropolitano, which is chock-full of fun trails. We quickly bonded over a fresh cup of espresso from the local roaster, Vélez, which he serves in his shop. He has a diverse clientele, made apparent by a surprise visit by the president of Ecuador, who just happened to be shopping for a new bike for his son. We were blown away to actually meet the president of a country in a bike shop, and even saw him out on the trail later that afternoon.
One thing we quickly learned that first day is that we were there during the rainy season. Quito is literally on the equator, so the days are roughly 12 hours long the entire year. The only difference in seasons is wet or dry: During the dry season, there's almost no rain for about six months, and during the wet season, it usually rains a few hours every day. Early to mid-afternoon thunderstorms roll in daily, and when they do, they hit hard. The first reaction is to put on a rain shell and look for shelter, but as soon as you embrace the wet, the day gets more fun. Soon we were charging trails that were almost axle-deep with water. It's one of those times in life that make you feel like a kid again—aiming for the deepest puddles you can find and smashing them! Although after about 45 minutes of this, the excitement begins to wear off as the cold sinks in.
The next day, we rode from our hotel to the shoulder of a volcano where there's a network of trails. Most of the local communication and TV antennas are up there, so it has a nice road climb that goes 4,000 feet to the top. The downhill run started out snaking between the antennas and down steep, sketchy steps, with small sections of trail linking them together. It then opened up into a superfun high-speed singletrack. We were blazing through the forest, flat-out hopping logs and slashing turns. Once to the bottom, we pedaled back through town, dodging cars and buses, hurrying to make it to the hotel before the afternoon storms came.
That night, we got to meet another pillar of the local riding community, Christian "Crosty" Medrano. Christian is one of the fastest downhill racers in Ecuador, even travelling to Norway last year to race the masters World Championships. Crosty has a bicycle-themed bar and restaurant named La Cleta. This place is a cyclist's dream; everything is made from bike parts, including the furniture, lights and tables. Even the artwork on the walls is bike themed. This was also our first introduction to canelazo, a traditional Ecuadorian hot drink that became a nightly theme. The closest thing I could compare it to would be a mulled hot apple cider. Each place we had it was completely different, because everyone has their own family recipe. Most of the time it's spiked with sugarcane alcohol, which helps keep you warm on those cold nights.
On day three we met at the teleférico, a gondola that leaves from the edge of town and goes several thousand feet up Volcano de Pichincha. From there we climbed another thousand feet until the clouds started to move in and close out visibility. At this point we were up around 14,000 feet, right at cloud level. All of a sudden we started hearing thunder, putting our odds of being struck by lightning pretty high, so we pinned it back to the teleférico, blasting past hikers and trying not to lose our wheels in some of the nasty rain ruts littering the trail. As exciting as a steep, brake-burning downhill trail with jumps can be, the real adrenaline rush was bombing the city streets back to the hotel, weaving in and out of cars, trucks and buses navigating through the Spanish streets without the benefit of speaking Spanish, all while rushing to beat the afternoon drenching from the regularly scheduled thunderstorms.
Ecuador had been amazing so far, but we had no idea how incredible the next place would be: a trail that wraps around a lava dome in the caldera of Pululahua Volcano. This is one of only two inhabited volcanic calderas in the world. And it was full of farms. The crazy thing is that it almost never rains there, but thick fog rolls in during the early afternoon each day, providing enough moisture to water the crops. Our ride started the usual way: gradual climbing on some dirt roads while weaving through farmers' fields, then transitioning to a singletrack climb. When it was time to go down, though, it was unlike anything I've ever ridden. The trail is an Incan path that is more than 1,000 years old and worn down 15 feet deep in places by people, horses and erosion. It felt like riding a dirt bobsled course, ripping around massive berms that have formed in this in-ground, ancient trail.
With only one more day free day left before the race, we headed to Volcano Ilaló for another big ride. We waved down some cargo trucks for a shuttle, hooked front wheels over the tailgate and headed off. We drove until the road got too muddy and then hiked from there for about an hour and a half before reaching the summit, with another 4,000-foot descent ahead of us. On the way down we were ripping a scenic ridgeline above Quito, with the city in sight the whole time while we passed farmers working the fields. So far, everything had fallen perfectly into place without worry. Until…
Gurgle, gurgle, gurgle. I was suddenly experiencing unmistakable grumbles from my gut, signaling that I had consumed a South American parasite that my stomach was not accustomed to. Everyone had assured me the whole trip that the water was safe to drink, but many trips down south over the years have trained me to drink bottled water anyway. So who knows where it came from, but its timing was terrible, as the hardest race of my life was starting in about 16 hours. I quickly took some Imodium to head it off at the pass and hopefully enable myself to ride the next day without stopping for trailside blowouts every 30 minutes. Part of me wondered if it was just the traditional race-day nerve shits that everyone gets before a big event, but then the cold sweats and nausea quickly kicked in to assure me that this was, in fact, a microscopic bug ready to ruin my day and possibly my race.
After a long night of shivering, sweating and running to the toilet for an exorcism, I woke up feeling surprisingly OK. I was able to get some food and liquid down and get on the bus to the race start. We were about to ride through the stunningly beautiful Cotopaxi National Park, around the base of a volcano and then camp out with an assortment of likeminded people.
When the race started, we all settled into an excited but steady pace, eager to knock out some miles. We had about 45 miles to get to camp, with more than 6,000 feet of climbing, and there were checkpoints we had to get through by a certain time or else be pulled from the race due to safety concerns. If you couldn't get over the big pass in time, then you wouldn't make it to camp before dark, was the reasoning. Three or four hours into the day, as we gained more altitude, the rain and sleet started to come down, so we donned our full rain gear, pants included. We saw people putting on latex gloves, garbage bags, bread bags over their shoes—anything was game here. People were just doing their best to stay dry and continue the adventure. This was as much a mental test as it was physical. "Just keep pedaling" was all you could tell yourself; don't think about how cold your fingers and toes are, how much more you have to climb or how hungry you are. Once we crested over the top of the pass, I finally got my reward with a long, fun downhill. For some reason, Scott and I had the idea in our heads that camp was at the bottom of this descent, and technically it was, but only after another hour of riding through barely downhill tundra fields with a million stream crossings and soft, slow, power-sapping grass. It was a haul, but we made it. After shoveling down as much food and water as possible, we climbed into our tents and passed out; we knew we still had another big one in front of us the next day.
Waking up in the shadow of 19,347-foot-tall Cotopaxi was amazing; it's such a breathtaking mountain. After packing our tents away and jockeying for a spot in the port-a-johns, we were ready to go. Definitely feeling the day before, we brought extra food and water to get us to the finish. This day had us following a scenic river along with a lot of high-alpine cruising. It definitely had some hard climbs, but nothing like the hours-long ones the day before. Between not being used to the altitude and stopping frequently for photos, Scott and I were yo-yoing between dead last and bottom third. We were damn near last place again, and Scott was riding with his full camera pack; we were maxed out. That's when we pulled over and he whipped out the can of beans and bag of tortillas with a big grin on his face, ready to plow through some backcountry burritos.
"You got a can opener?"
"Uh…no. I thought you did."
All I could offer was to pull out my knife and literally stab open the can of beans. This was survival mode and those beans gave us one final boost of energy to get over the top and down to the finish line. While we originally planned to take the next day off bikes and just be tourists before flying home, our curiosity and desire to explore got the best of us, and we hired a taxi to drive us as far up the Cotopaxi as he could; we'd hike it from there. Since we had already ridden around it, now it was time to ride down it. We hiked with our bikes nearly to the bottom of the glacier before being forced into retreat mode by fast-moving, terrifying thunderstorms—thusly making this the perfect, and obvious, end to our great time in Ecuador.