Mountain Bike Trailer Park: The (mini) Van Life – Part Two
Originally posted on January 5, 2017 at 5:13 am
Here's Part Two of Dan Fausey's mini-van adventure to Arkansas for the IMBA World Summit. Read Part One here.
Every two years, a different city plays host to the Summit.  This year, the city of Bentonville took the Summit as opportunity to showcase the town and trails.  They had vied for the Summit in 2014, but were passed over for Steamboat Springs Colorado.  But IMBA told Bentonville what it would need to deliver in terms of infrastructure and support for the 2016 Summit and Bentonville delivered in spades.  It's amazing, but no wonder how they got so much done so quickly.  See, there's an influential family in town, the Waltons.  They run a little chain of general goods stores known as "Walmart."   Perhaps you've heard of it?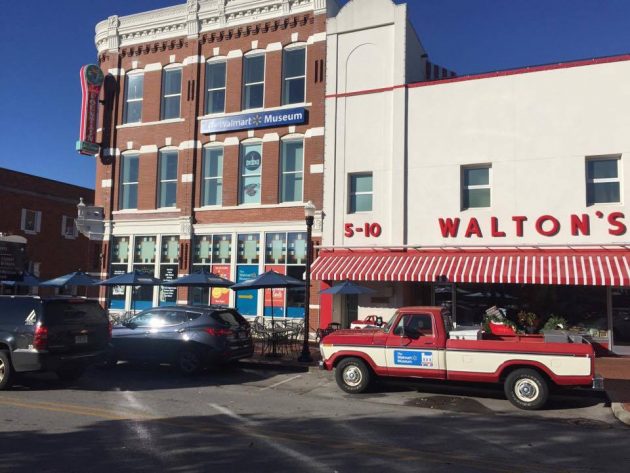 Walmart is headquartered in the small town of Bentonville which, in many ways, faced some of the problems that much of small-town America has seen – loss of jobs, migration to the cities, and lack of opportunities.  Indeed, the quaint town square and local charm reminds me of one of my favorite Ohio towns – Chillicothe, only without all the meth.  Chillicothe also has the potential to be a hub for mountain biking.  But Bentonville has one huge difference: the Waltons.
Bentonville was a town in decline and the Waltons faced a choice – either move their headquarters or reinvest in Bentonville to make it a destination.  They chose the latter.  (It doesn't hurt that Tom Walton is a cyclist).
The Waltons recognized that a charming small town, surrounded by amazing outdoor infrastructure, would enable them to attract and retain talented employees and other businesses.  And, they realized that additional tourism dollars would roll into the town and keep the infrastructure sustainable.
As I sat in Bentonville's posh, new whiskey bar, the first two people I spoke proved the payoff of the Waltons' gamble.  They both had been drawn to Bentonville by the outdoor life.  The first – the bartender – had recently finished a through-hike of the Appalachian Trail and was still buzzing from the experience.  After the hike, she sought a place where should could constantly be connected to the outdoors, and Bentonville was just such a hub.  A little later in the evening, after sufficiently lubricating my tongue with some nice Irish whiskey, I started chatting with the guy on the next barstool over.  He was a young professional who recently had two job offers – one in Milwaukee and one in Bentonville.  Ultimately, the opportunity for outdoor recreation in Bentonville won him over and he took that job.
Their stories aren't uncommon – look around major outdoor destination cities and you will find the same migration.  Coffeehouses in Telluride and outfitters in Whistler are staffed by PhDs, who choose lifestyle over salary.  Studies show that Millennials and Baby-Boomers alike are looking for places to live where quality of life comes first.
I can see why they come to Bentonville.  The city has doubled-down on cycling.  Indeed, I could do a whole column about the local trails.  Suffice it to say that between the Slaughter Pen trails, the Back 40, Bella Vista, the All American Trail, and the Coler Trail, there are at least 75 miles of amazing trail that you can ride to on your bike from Bentonville.  The City has kept Progressive Trail Builders and its local President Nathan "Woody" Woodruff busy here for at least five years, building high-quality bike-optimized trail.  The brand-new Coler Trail is a showcase in trail building, with a central hub offering eight different lines down the hill.  It's a pick-your-adventure system – do you want rocks, flow, or jumps?  It's all there.
In nearby Rogers, Arkansas, the Railyard Bike Park offers a chest-pounding slopestyle experience.  At first, I wasn't sure if such a bike park was for me (I usually keep my wheels on the ground), but after an hour and a half of laps, Chuck had to drag me away for the next event.  Right behind the Railyard are 20-plus miles of singletrack known as the Lake Atalanta Trails.
The rest of the area is stacked too.  Just three hours south are the IMBA Epic Ouachita and Womble trails and Syllamo is about the same distance away to the Southeast.  Really, you'd need at least a week to just get a taste of the Ozarks.
Besides the trails, the restaurants in Bentonville are top-notch, the locals are friendly, and the public art and the Crystal Bridges Museum are worth the trip by themselves.
If I had one small reservation about Bentonville, it is the same unease that I often feel in destination towns – they're perhaps a little too whitewashed for me.   In the TACO, with my grubby jeans and cheap sunglasses, I felt a like a dirt bag among the luxury-SUV and Ralph Lauren set.  This was Arkansas after all – where were the "Go Hogs!" sweatshirts?  And the only snap-back hats I saw were Patagonia.
I suppose it wasn't too surprising, in retrospect.  When any place becomes a desirable community, property values shoot up (see, e.g., Sedona AZ).  And, believe it or not, Northwest Arkansas has more billionaires per capita than anywhere in the US.  Bentonville is, after all, Walmart's small town.
Simply put, Bentonville is the Mercedes Sprinter of mountain bike towns.  Or maybe even the limousine.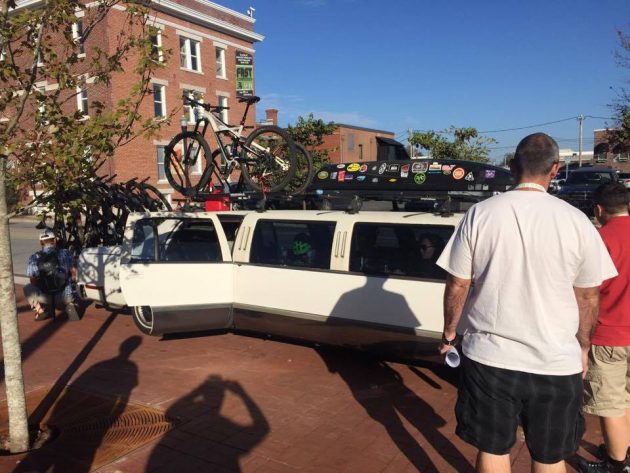 I thought about all of this on the drive home.  But we still had one more trail to ride, O'Bannon Woods.  This system near Corydon, Indiana has a little bit of something for everyone – from rocky gnar to machine built flow trail with big berms and tabletops to old school Midwest single track.  And the nearby town reminded me that not all good trails need to be near destination towns.  In Corydon, The TACO felt like a limo.
I live in Ohio, where TACOs roam free.  I am a part of a group of folks trying to bring the outdoor destination concept home.  In particular, the Central Ohio Mountain Biking Organization (an IMBA Chapter) and a group of local MTBers, have joined with city leaders, hotel owners, large employers, and the local Chamber of Commerce and Visitors' Bureau to try and breathe fresh life into Chillicothe by making it a place where people want to relocate or retire.  Cycling infrastructure and outdoor places are key to this goal.  Chillicothe has all the ingredients – it has a wonderful small town feel, about 20,000 citizens, and some of the best topography in Ohio at the foothills of the Appalachians.
It neighbors a huge state forest, with trails and gravel roads, called Scioto Trails.   Also nearby are two large state parks (Great Seal and Tar Hollow), with rugged hills, and on-site camping.  Great Seal is one of my favorite trails ever.  If you're near central Ohio, give me a holler and we'll load up the TACO for a trip there.
What we lack in Chillicothe is a willingness on the part of the state land owners to grow and develop outdoor culture.  True, they are understaffed and resources are thin.  And state forest is viewed as a revenue source for timber, while recreation is a "secondary" use.  Still, there's an obvious disconnect between the state land owners and the City and County residents.
So, I'm a little jealous of what Bentonville has been able to accomplish.  I wish we had a Walton family.  I wish our Governor saw the value of outdoor destinations for drawing talent and tourism, like Arkansas' Governor Hutchinson has (he even spoke to us about it at the Summit).  But that doesn't mean we're giving up.  The IMBA Summit and the City of Bentonville have inspired me to continue pushing – to help reach that dream.  But, until then, Chillicothe, Ohio will have to remain the Town and County minivan of mountain biking.  And that's not all bad.
Be brave, and hit the road in a [mini] van.  If you enjoyed this column, check out more from Uncle Dan here.