First Ride: 45NRTH Naughtvind winter clothing system
Originally posted on December 18, 2016 at 12:00 pm
photos by the author and 45NRTH
It is December. In some parts of the U.S. that means a relief from the heat. In other parts, such as Crosby, Minnesota, it can be dangerously cold. That doesn't stop a lot of us from riding, and 45NRTH is working to make everyone more comfortable when out in the elements with its new line of Naughtvind clothing.
Naughtvind uses a lot of very expensive materials, and the price reflects that. So let's get the sticker shock out of the way first.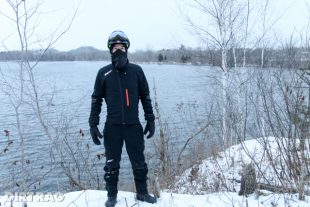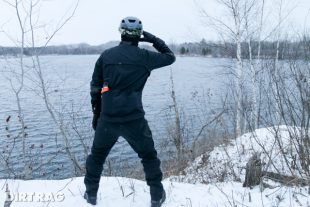 Naughtvind softshell jacket -$350
Naughtvind softshell pants -$275
Naughtvind 4/5th bib tights -$295
Yes, real money, but cheaper than Specialized's 686 and similar to Bontrager's winter clothing. I know guys that ride in jeans, a cotton hoodie and a drunken stupor all winter, too. They probably aren't reading about these clothes. If you just cracked your knuckles in anticipation of firing off some pithy comment about not needed to spend this much money on clothing to ride, I would recommend reading this instead for info on cheap clothes to say warm.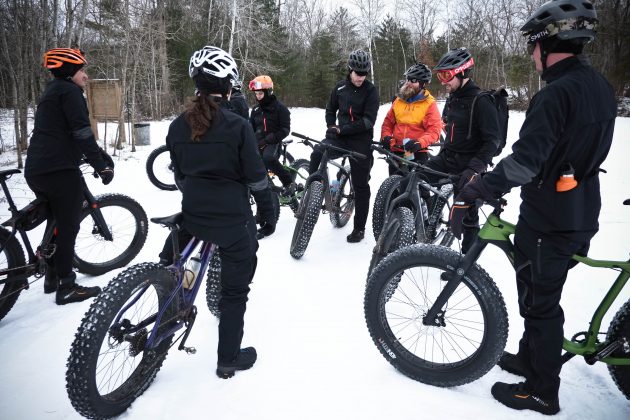 That out of the way, 45NRTH got lucky with the weather for this trip. So far, the winter was mild, but as the small contingent of media types prepared to travel, cold weather hit. We saw wind chills in the single digits and a few inches of snow on the rolling trails of the Cuyuna Lakes. We stayed in the cabins at True North Base Camp, making it easy to roll right out the door and onto the trails.
Jacket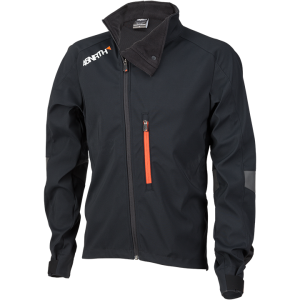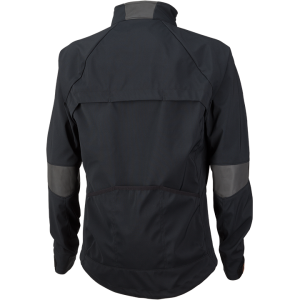 The jacket (and pants) are made from Schoeller soft shell material. The feedback I've heard from everyone wearing Scholler stuff (and my own experience) is something very close to "It is really expensive, but it is so nice". Nice as in: great feel, great stretch, great durability, great breathability, and great weather resistance. The gray panels on the back of the collar and back of the elbows are reflective, something all winter jackets should have. Real pit zips (not the silly chest/rib vents that seem to be popular now) and a back vent work to dump heat and keep the weather out. There are there jersey style elastic back pockets, and a single zip chest pocket that is deep enough for a big phone, a big flask, or even a pretty big point-and-shoot camera.
The asymmetrical front zip keeps the zipper away from your chin, and the button keeps the flappy bit of collar pinned down when you are pinning it on the trails.
Pants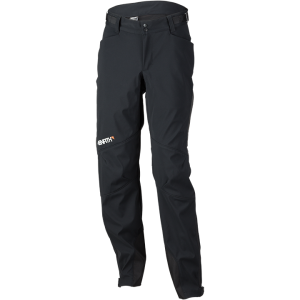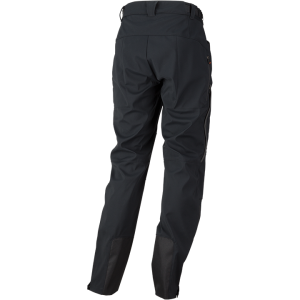 The jacket doesn't have any hand-warmer pockets, but the pants make up for it with big fleece-lined pockets. There are also deep zipper pockets that open on the side of the leg. These pockets are great for keeping food warm. There are zip vents on the inside of each leg, something I've grown more and more fond of every time I am lucky enough to ride in pants with these vents. They might not seem like much, but they can take you from over-heating to comfortable pretty quickly.
The bottom of the pants have zippers and snaps. They fit well over 45NRTH boots but don't open up wide enough to pull the pants off if a layer needs to be shed trailside. The waist is adjustable, with an elastic buckle system, and a zipper fly and double top closure keeps things closed.
Bib Tights/Knickers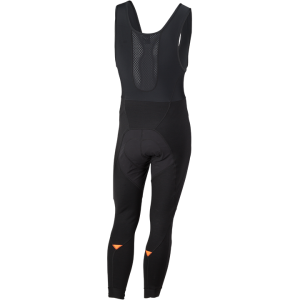 These might be the real sleeper hit of the 45NRTH line up. There are lots of jackets and pants on the market with somewhat similar features to the Naughtvind, but few if any like these bibs.
45NRTH calls them 4/5th knickers and that is pretty accurate. The shorter length helps to prevent the bulk that can happen with thick sock and tights trying to fit into the top of boots. Even with some pretty thick socks, there was plenty of space in the Wolvhammers I was wearing.
The length is just the tip of the iceberg here. Terrible puns aside, these aren't just an undergarment. Scholler fabric covers most of the front of these bibs, which means they work fine as an outer layer. Insulation is by way of a poly/merino wool blend that work well to keep you toasty and dry. There is a really fancy chamois in here as well. I am kinda torn on chamios on winter tights. I often just layer a standard pair of shorts underneath chamios-free tights. It is fine to wash things once a week, but if you are riding a lot, washing tights like this after every ride can be tedious.
The upper part of the bibs has a mesh back and poly/wool front. The zip is long enough to take care of business, barely. There are also reflective bits on the back, never a bad idea in the dark days of winter.
Ride Impressions
It's been a pretty mild winter around Dirt Rag HQ, so the cold was a shock to the system for me. I was a little nervous heading out into the cold with untested stuff. Maybe not as nervous as tossing my carcass down the mountains around Retallack Lodge a few months ago on unfamiliar bikes, but still nervous nonetheless.
The fit might be best described as "cycling=-specific". For reference. I am 5'11", around 160 pounds and I am wearing a size medium in all the Naughtvind pieces.
You can see with the picture above that the jacket is snug around the waist and chest, but plenty of sleeve and leg length to deal with all the contortions the happen when riding bikes aggressively. The tights felt a little short in the torso when I first tried them on, but are supremly comfortable while riding.
To be clear, these are not waterproof items. This seems to bother some people, but at the freezing temps these are designed to be ridden in there is little need for true rain coat-style waterproofing. The random puddle or spray from passing cars it dealt with just find with the softshell material. The real key here is the breathability. I wore my own Bontrager wool longsleeve base layer and a Woolistic jersey. I unzipped the vents mid-ride, the pace was brisk enough to get heated.
After lunch, we suited up for another ride. Yours truly had to cut it short, as I fell in a creek about 25 yards from camp. I skipped out on the ride, butI stayed outside another half hour, at least, and was impressed how warm I was, even while pretty damp. With a dry pair of gloves I could have comfortably finished the ride. In fact, I didn't really get chilly until I went inside and the water that was frozen stiff started to thaw out.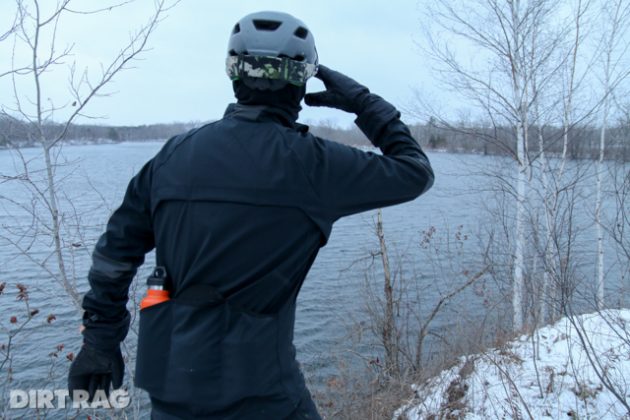 I was skeptical of the back pockets, but they performed well, keeping everything in place even in my fall off an icy bridge.
Conclusions
For riding off-road in the winter, this system is well thought out. We'll have a full review soon, as one ride and one dunk in the creek isn't enough to really be conclusive in our conclusions. I will say that for commuting this system might need a more windproof layer, as even on a short blast up the road had me feeling chilly.
---
Other Thoughts
45NRTH really packed a lot of info into this trip. Here are some of the other things:
Fat bike geometry is getting so much better. This Mukluk was fun to blast around on the twisty and bermy trails around Crosby. Now we just need more dropper posts that work better in the cold.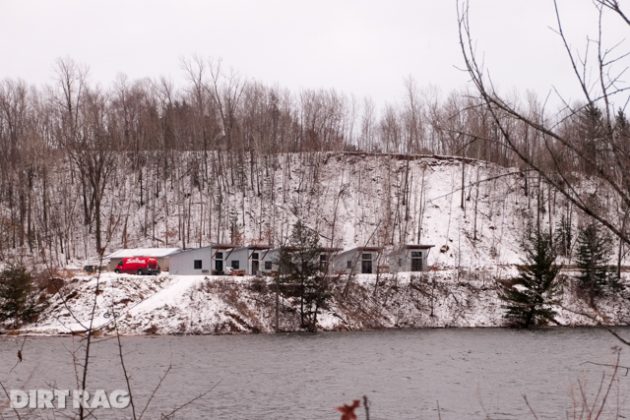 True North Base Camp was pleasant and most importantly, warm and cozy. It was bitterly cold and windy outside, but inside these little cabins are snug and draft-free.
Zander and Heidi from the Cyclist's Menu cooked up a storm of local goodness.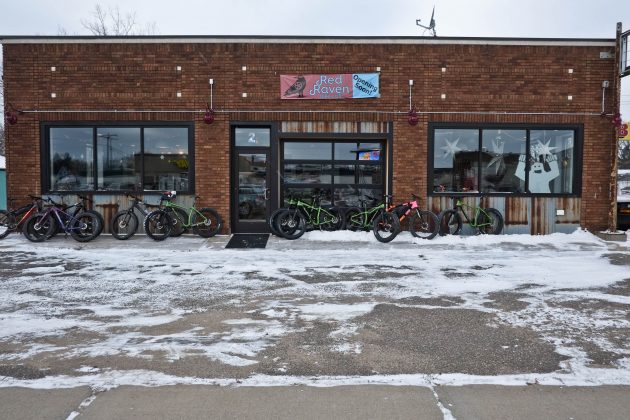 Crosby is a tiny town, but has two new businesses (Red Raven (just opened!) and Cuyuna Brewing) about to open, based mostly on the influx of mountain bikers. An economic study recently completed predicts that there will be 21 MILLON dollars injected into the local economy, per year, when the planned 75 miles of new singletrack is completed. This is amazing for a town this size. When the mining moved north, Crosby was left in the lurch, but mountain bike trails built on mine tailings are turning those lemons into lemonade.