Mountain Bike Trailer Park: The (mini) Van Life – Part One
Originally posted on December 9, 2016 at 10:09 am
In Part One of The (mini) Van Life, Dan Fausey travels…in a mini-van…to Arkansas for the IMBA World Summit. Read Part Two next week!
Germans do a few things right.  One of them is language.  See, Germans keep it simple – when they lack a word for something, they make a new one by putting together a few existing words.  For instance, nipples in German are "Brustwarze" which means "breast wart."  And "Schadenfreude," (what a great word) literally translates to "damage joy."
My favorite German combination-word is "Wanderlust." Germans so love to travel that the concept of Wanderlust is actually woven into the fabric of their culture.  Some of my ancestry is German, so the affliction is in my genes too.  Wanderlust usually strikes me mid-week, mid-day, as I am sitting at my desk.  It invariably leads me to websites (on my lunch hour, of course) about exotic mountain bike trails, and more recently, posts about "van life".
The "van life" meme boils down to the romantic notion of shedding your job and most of your possessions and stuffing what's left into a van, which becomes your mobile platform for outdoor adventures.  My theory is that van life is the inevitable outgrowth of a generation of kids that watched a cartoon about a group of mystery-solving teens and their dog who traveled the world in their van.
This leads me to the other thing Germans do right – vans.  The original archetype was the Volkswagen Westphalia (the "Westy").
But the Westy has been unseated by the holy grail of van life – the Mercedes Sprinter.  My buddy Andy just got one, and I am jealously engrossed in his process of making it adventure-worthy.  I imagine myself owning one of these vans, all tricked out with insulation, custom cabinetry, beds, and a mini kitchen.  Maybe even a commode.  Everything I would need, so my imagination goes, just to pack up and head off for a life of non-stop trail riding adventures.
A couple of months ago, I met a guy who lives the van life, Craig Bierly, who has been riding trail from his van since 2008.  Read more about him here.  I met Craig in Ohio, where he was riding the local (to me) and awesome 25-mile singletrack loop at Mohican State Park.  Seems he and his van are famous, and he travels to virtually every big mountain bike festival and event.  I saw him again a few weeks later at the IMBA World Summit.  What a life!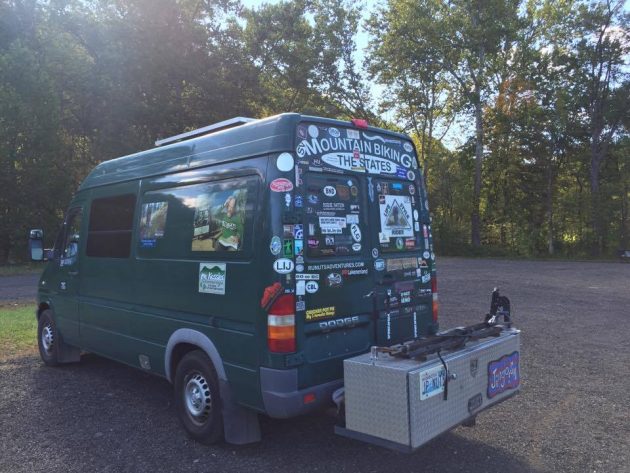 Of course, ultimately, when the fever of wanderlust breaks, I find myself at my desk again.  And that's where I should be.  I have a job and a family.  As tempting as it is to pack up and disappear, I have responsibilities to tend to, and a lovely wife who likes having a roof and indoor plumbing.
So, I live a modified version of the van life.  I call it the "minivan life."  The minivan life has its advantages though.  Let's start with the van.  There's nothing exotic about the Chrysler Town and Country.  And that's the beauty of it.  It comfortably seats seven and, with its stow-and-go seats, the cavernous back of the van offers up plenty of space for bikes and a couple of cots.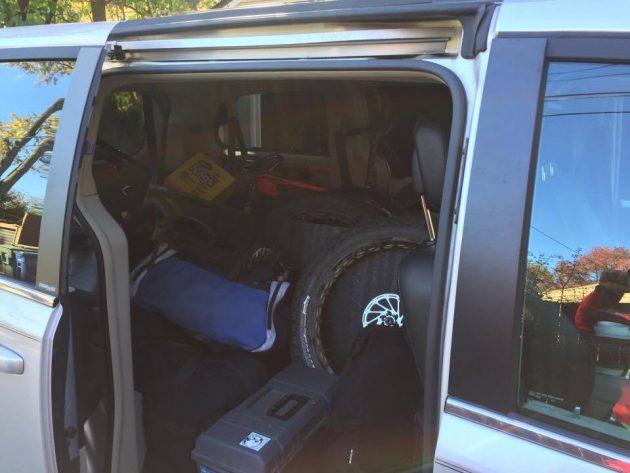 Add a cooler, and maybe a pee jug for those cold nights (don't tell my wife, please), and you're all ready for an adventure.  Plus, it's ubiquitous – it blends into traffic on the highway, parts are cheap, and any small town mechanic can work on it.  Ask one of your Mercedes-owning friends if they can say the same.
The Town and Country, or TACO, as I call it, was the perfect choice for the week-long pilgrimage that Chuck and I were making to Bentonville, Arkansas for the IMBA World Summit.  So, we loaded up Chuck's TACO and hit the road.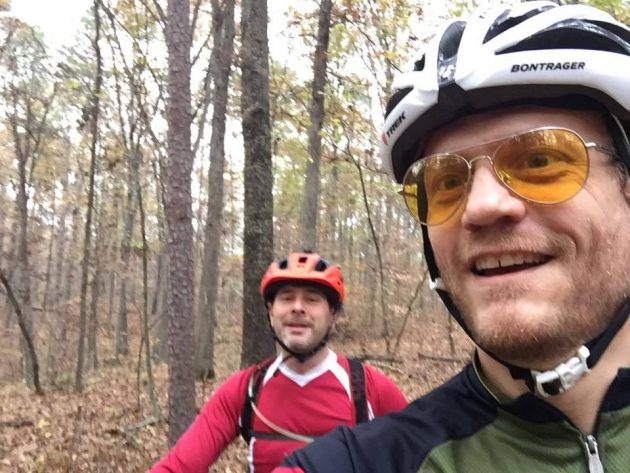 Now, I must confess, I was a little nervous at the start of our trip.  I had never met Chuck before.  He had responded to my open invite for this trip on my blog.  Chuck is another IMBA Chapter leader from Ohio, and our only communication thus far had been via email.  Would I be able to handle a week with him?  What if he was a serial killer, or even a Trump supporter?  Who would cheer with me (or console me, as it happened) as the election results came in during the middle of our trip?  At least if he was a serial killer, I wouldn't have to suffer the next morning.
Turned out, Chuck was a great companion and we gabbed all about local mountain bike advocacy on our drive.  We didn't talk politics until election night, and even then, not much, because I barricaded myself in my room with a bottle of Jameson's and my subscription to Netflix.  (Watching the results roll in live proved too stressful for me from the very start).
Anyhow, our first stop was the Berryman Trail in the Mark Twain National Forest near Potosi, Missouri.  This trail, a former IMBA Epic, was a fast and fun 26-mile loop.  Berryman offered little in the way of technical riding or real flow.  Still, it was a nice, intermediate old-school trail.  I was happy to find out that Chuck and I had pretty similar fitness levels and we rode along at about the same speed.  This was ideal, because we were going to spend a lot more time riding together.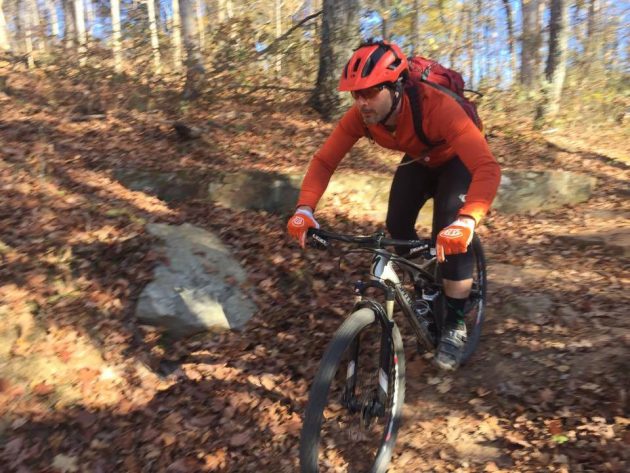 After Berryman, we had a gas-station lunch and I bought some cheap trucker sunglasses (I always forget something on these trips) and then we headed to Bentonville, Arkansas, where the IMBA Summit was taking place the next day.  Small towns in Missouri have some amusing names, and as we were driving through it, we discovered that after Bourbon comes Uranus.  Naturally.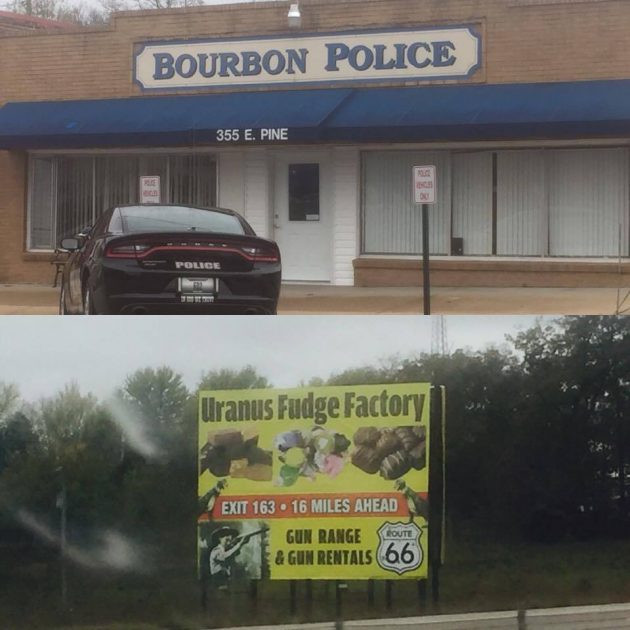 I had been looking forward to the Summit all year.  It's heaven for MTB nerds like me – a convention for trail builders and mountain bike advocates, with breakout sessions covering everything from eBikes, to trail building, to fundraising, to good non-profit governance.
If you are involved in building and maintaining trails, the Summit is a must-attend event.  It's a chance to network with leaders from industry and advocacy, other mountain bike organizations, and even meet mountain biking celebrities like Danny McAskill, Dave Weins, Ryan Leech, Gary Fisher, and Hans Rey.  I'm pretty sure Danny had a sprained thumb by the end of the Summit from all the "thumbs-up" selfies he was pulled into.  I got my own share of gratuitous selfies too.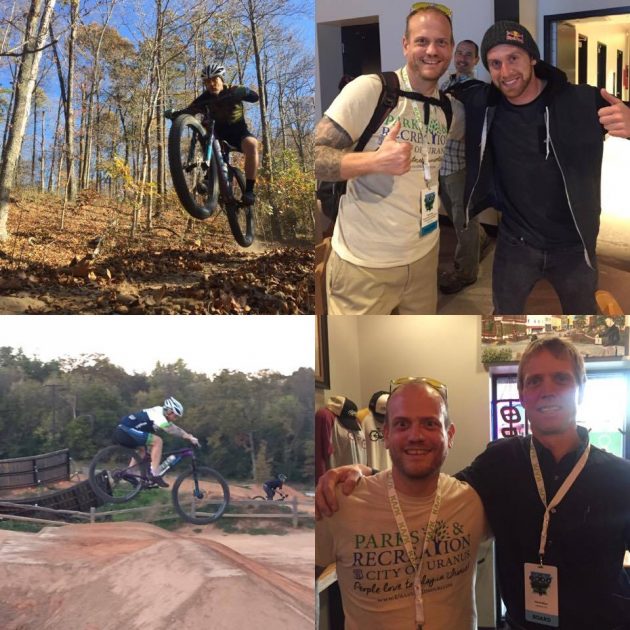 And I met some like-minded compatriots from all over the US, like my new besties Butch and Doug from Cincinnati who shared a flask and a couple rides with me.  Funny that I had to travel to Arkansas to meet other Ohio mountain bike advocates.
The Summit is a festival as well, with social mixers, local beer, amazing demo bikes, and organized rides.  In fact, there was so much fun stuff going on outside, that it was often hard to sit still in the educational sessions, knowing that there were high-end bikes and trails just a block away.  I'll admit it, I played hooky on one occasion myself.
If you don't get a fire in your belly for mountain bike advocacy after the World Summit, then it's probably time to hang up your bike and take up rollerblading instead.