Two Cool (And Very Opposite) Riding Kits
Originally posted on November 28, 2016 at 12:04 pm
Conation Collective

Conation Collective is a new, Colorado based boutique clothing manufacturer that specializes in high-end "western" look apparel. While the brand sources top quality materials from France, Italy and Australia, it's all sent to the U.S., where the clothing is designed, printed and constructed.
Founder Matt Hayes is a long-time industry veteran with the oft common background of working in bike shops, racing collegiately and then moving on to a bike company. Hayes says he initially began sketching ideas for his clothing company while working at said bike brand, shooting for designs that were unlike anything else on the market at the time. After a few false starts finding fabric and printers, Conation Collective finally became a reality when he found a printer on the East Coast. The reason, he said, is because most print shops are set up to print by the piece with a business model that relies on printing T-shirts and hoodies. Conation needed a place that could print the design on a whole roll of fabric, which requires the printing machine to be about 6 feet wide instead of the size of the chest on a shirt. Additionally, the machines that can sew technical fabrics, and create the right stitching with the right tension on the threads, and the workers to run those machines are very difficult to find within America's borders.
Currently Conation has eight garments comprised of two western snap-front shirts, two merino wool technical T-shirts, two shorts, a synthetic mountain bike-specific bib short and a merino wool mountain bike-specific bib short. Attention to detail is awesome: This design is a hand-painted flower pattern, and an American print shop transferred the artwork to the material. Additional touches include plaid highlights on the right jersey sleeve, under the collar, inside the collar and under the right pocket flap.
Vintage western shirt: Hayes's reasoning for his designs is to make high-tech riding apparel for cross- country oriented riders who want to look good on the bike as well as off—be it in a coffee shop or pub—without worrying about sitting around wrapped in racing-style Lycra. This $160 jersey certainly hits that mark dead center. It's lightweight and breathable with a snug, tailored fit so it won't flap around when you're riding. This same cut gives it classy, form-fitting lines off the bike—it looks so good I've probably worn it as much off-the-bike casually as on the singletrack. The material is four-way stretch with pearl snaps and cuffed sleeves. Additional touches include plaid highlights on the right sleeve, under the collar, inside the collar and under the right pocket flap.
Pinstriped baggy shorts: These $140 bottoms are ultra simple, super comfortable and very light for summer riding. Conation eliminated all the variables such as zippers, buttons and snaps. These are elegant, lightweight shells that fit nicely over your favorite bibs. The key is super stretchy fabric with unlimited range of motion and a comfortable waistline in the cycling position. The inseam is cut high so they never snag on your saddle, and the fit is flattering. I ordered a very snug fit and it paid off, but if you need a bit of extra security the shorts have belt loops. Artistic attention to detail includes tiny vertical pinstripes and pink plaid highlights to match the jersey.
Conation is truly a small brand (and Matt wants to keep it that way) with a very unique, low-production product that looks smart and fits well. As such its prices reflect that. If these ideals fit your wants, style and pocketbook, then it's certainly worth it.
---
Louis Garneau Custom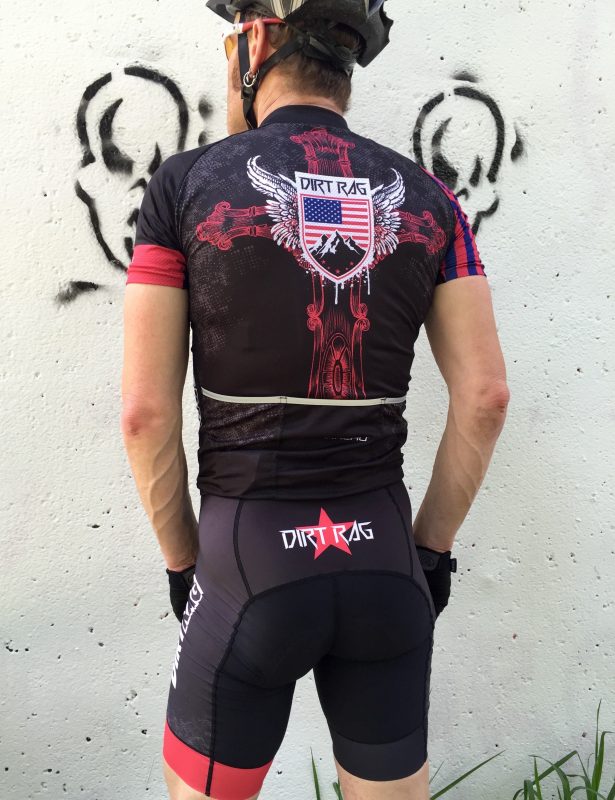 Usually considered just the domain of race teams and cycling clubs, custom kit graphics are now easily accessible thanks to Louis Garneau for those who want more (or less) than standard off-the-shelf graphics. Its custom program includes any available clothing—ours came in top-of-the-line Lycra, but all of Garneau's collection of loose fitting/baggy/enduro mountain bike styles are available at all price points. The newest feature that the clothing maker wants to highlight is that they don't have any quantity order limits: You can get as little as one custom designed piece, which is rare.
Though Garneau is based in Québec, Canada, its custom garments are made right here in the U.S. out of the brand's Derby, Vermont, facility. Once design and graphics are approved by the customer there is a four-week turnaround.
Obviously you can do all your artwork yourself or use existing graphics for team or corporate orders. Garneau wanted to showcase what its design staff could come up with on their own for customers who aren't sure of direction.
First, I sent our magazine logo and then was asked these questions:
Animal/mineral/vegetable?
What's your favorite song/singer/group?
If you were a country you'd be?
If you were a color you'd be?
Based on my answers Garneau created the design you see here. Sure I was a little concerned at first that it might come back too over the top, but once I received the final product I was completely stoked on the design—for me, they nailed it. I also can't help but think how cool this would look on a 3/4 sleeve enduro jersey and baggy shorts, as well as a long sleeve winter jersey. If custom customers do decide to order additional items the design remains on file.
Pricing varies with quantity. The Equipe Pro jersey shown here is $178 for a single piece, but the price drops dramatically as numbers increase (2-5 are $124 each, 6 to 11 are $79 each and so on). Same with shorts and bibs.
As a kit, the Equipe Pro jersey and Lazer Cut bibs are every bit as high quality as the price demands—it is every bit a pro level jersey and bib. Fit, materials and moisture control are perfect, and the chamois is expertly designed for all day riding comfort. Plus, it just feels good to wear.
The quality of Garneau's product, the artistic results of the custom graphics and the fact that it's made in Vermont makes this a top choice for individuals, teams, clubs and corporations who want custom cycling apparel.