First Ride: 2017 Liv Hail and Pique
Originally posted on November 14, 2016 at 10:18 am
Words: Karen Brooks
Photos: Sterling Lorence
Women's brand Liv doubles down on the women's market with two fresh new models.
A group of 20 female journalists from around the world got to sample the all-mountain/enduro Hail and the XC/trail Pique on beautifully rugged trails around Sedona, Arizona, led by Liv celebrity coaches Lindsey Voreis and Leigh Donovan. We enjoyed lots of good riding, some valuable instruction, plus some hippy-dippy stuff like yoga and meditation (complete with crystals) atop one of the town's famed vortices. We nicknamed the event the "UN Summit of female cycling."
There has been much debate about the supposed benefits of women's bike models — check the excellent roundup by Kate Skrainka titled Coming Up Short from issue #189 for more on that.
Liv has jumped into the fray with both feet, offering a comprehensive lineup of women's bikes since branching off from parent company Giant Bicycles in 2014. The new Hail and Pique represent a bigger commitment than ever before: both are the result of a "clean slate" of from-the-ground-up design process and several years of intensive R&D, and both models offer no-compromise top-of-the-line versions. Whatever your opinion on the need for women's specific bikes, it's exciting to witness a large company investing so much in the women's market.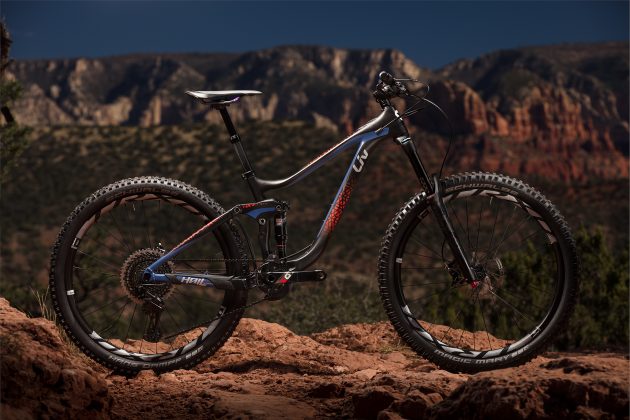 First up, the Hail: Liv claims it to be the first 160 mm travel enduro race-ready bike made specifically for women. There are four models, the Hail Advanced 0 and 1 based on carbon frames, and the Hail 1 and 2 built on aluminum frames. The top model, the Hail Advanced 0, costs a cool $8,000 and sports all the latest bells and whistles: SRAM Eagle 1×12 drivetrain, RockShox Deluxe RC3 shock and Lyric RCT3 Dual Position fork, 27.5 wheels with carbon tubeless-ready rims and Boost hub spacing, and of course a dropper post. Its claimed weight of 27.75 pounds for a size small is respectably light.
But what makes the Hail a women's bike? The answers are interesting. The old claim of women's fit issues being caused by shorter torsos and longer legs in comparison to men has been repeatedly challenged (although Liv's website says its database of body measurements still bears this up), but clearly there are other differences. Chief among them are that women have a lower center of gravity, with more strength concentrated in their legs and less in the arms, and they tend to weigh less than men.
Given these differences, Liv bucked the enduro trend of ever lower and slacker for the Hail: it has a steeper head angle than the nearest men's equivalent from Giant, 66 degrees compared to the 65 degrees of the Reign Advanced, to prevent floppy steering during slow-speed maneuvers and to allow women to more easily lift the front end. The Hail also has a slightly higher bottom bracket, as Liv's research shows that women tend to stall more since lighter weight equals less momentum, and the extra BB clearance allows extra pedal strokes at critical moments. Donovan, a former World Champion in downhill and dual-slalom, said that these same alterations were things she used to request for her custom race bikes back in the day.
Perhaps more important are the alterations to the proven Maestro rear suspension. The rear shock mount is trunnion style with the upper link attached directly to the shock body, which allows a longer shock to fit in the same space. The larger volume gives a lower leverage ratio, a more linear curve and better rebound control, all good things for lighter-weight riders. That curvy upper link, found on all the Hail and Pique models, is constructed via what Liv calls "Advanced Forged Composite Technology," basically a way to make it lighter and stiffer.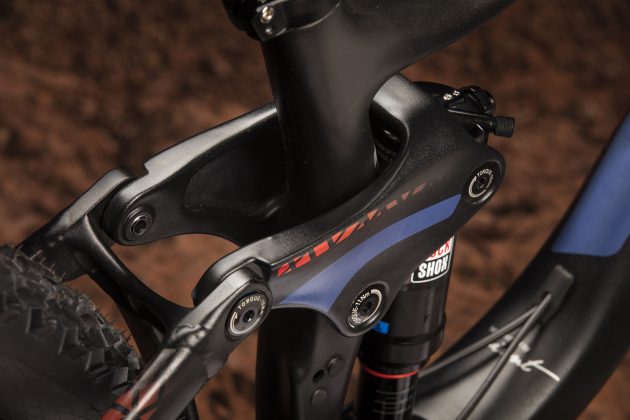 I rode the Hail Advanced 0 on the first day. Our ride was part coaching session, with Voreis encouraging us to play around and get the most out of the 160 mm of travel, taking every opportunity to jump off the many rock ledges and swoop up onto natural wall rides. It's not always wise to push things on unfamiliar trails and bikes, but the Hail proved to be an ally. The suspension felt butter-smooth on both small bumps and big hits. I felt nicely balanced between the wheels, not too high up or stretched out, and easily able to move the bike around underneath me. RockShox has its act together as far as tuning for the lighter end of the rider-weight curve — I was pleasantly surprised to have some leeway with the air pressure and rebound, as I typically need to set both "all the way low" for a bike with more than 140 mm of travel.
Sedona trails have many short, punchy climbs to reach techy descents and I was impressed with the rear suspension's agile climbing feel. The Lyric fork's dual positions came in handy — dialing down to 130 mm for uphills allowed me to get forward more easily. I tried out the dinner-plate-sized large cog on the Eagle cassette, just to say I did, and found it way low for my needs that day, though no doubt there are some trails it would be perfect for. The bike's pedal clearance allowed me to rock-crawl over plenty of sharp ledges and boulders. Altogether the Hail offered a ton of fun both up and down.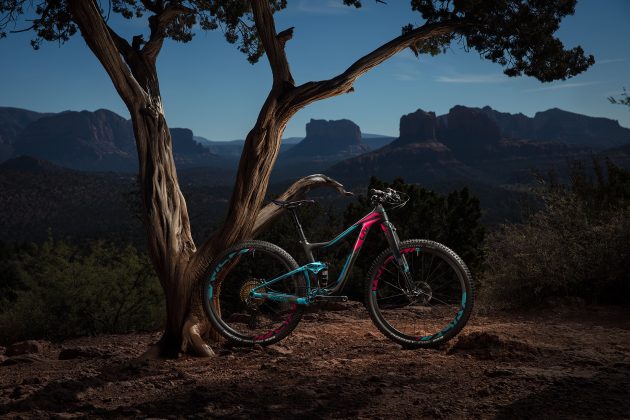 Day two we were on the cross-country-oriented Pique with Donovan. The Pique is intended to rise to the challenge of the more aggressive race courses becoming popular lately with 120 mm of suspension front and rear, 20 more than Liv's previous full-sus XC platform, the Lust. (Model names are much better this time around, too.) There are six versions to choose from: the Pique Advanced 0, 1 and 2 with carbon frames, and the Pique 1, 2 and 3 with aluminum frames. As with the Hail, the top-of-the-line Pique really hits the high notes, sporting a SRAM Eagle 1×12 drivetrain and Level Ultimate brakes, SRAM Rise 60 carbon wheels and RockShox RS-1 fork. Claimed weight for a size small is 23.5 pounds. It's nice to see more aggressive trail touches like a dropper post and Boost hub spacing included. Liv also offers a Pique Advanced SX, which adds a 140 mm travel RockShox Revelation RL fork.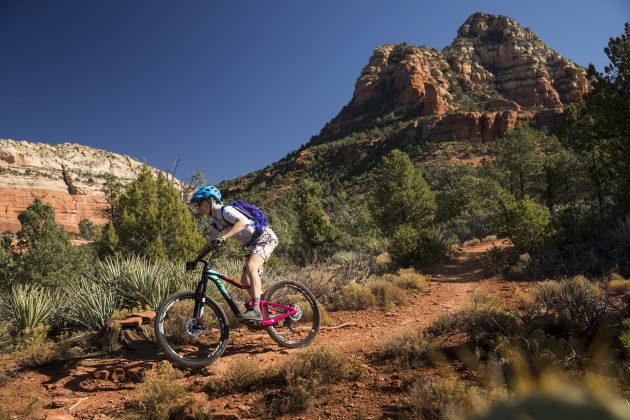 I rode the Advanced 2 and both Donovan and Voreis said that they felt this new bike had better pedaling efficiency than the previous Lust; I spent a day aboard a Lust last year (borrowed from Voreis at a women's camp) and going by my memory of it, I have to agree. The tweaks to geometry and pivot placement have paid off. Scrambling up more rock ledges and fields of bread-loaf sized rocks, I had plenty of pedaling power. The RockShox Revelation fork initially felt a bit bouncy, but dropping air pressure mostly fixed that; I snagged an Advanced 0 for one trail section and its RS-1 was definitely an improvement. Both front and rear suspension encouraged me to play with mini-hucking opportunities rather than merely taking the edge off the bumps.
Together, the Pique and the Hail platforms represent a huge improvement in the women's market. Kudos to Liv for going all out for us ladies — I hope other brands are inspired to do the same. We'll all benefit.