Specialty Files: J. C. Higgins Klunker
Originally posted on October 20, 2016 at 1:01 am
Editor's note: This story first appeared in Dirt Rag Issue #154, published in February 2011. Words and photos by Jeff Archer.
---
Recently, I was asked by a local high school student to be his mentor for his senior project. Jordan needed 15 project hours, which included activities such as building bikes, attending our IMBA Trail Care Crew clinic, trail work, and a Trek demo day. He then wrapped it all up with a report. A couple of the questions for his report were about "firsts," including the first mountain bike.
We discussed the challenge of defining the term mountain bike. Joe Breeze is acknowledged as the first person to build a mountain bike from scratch using all new components on a purpose-built frame. Before the first Breezers, mountain bikes were just older bikes with varying levels of modification. Some owners just removed the chain guard and fenders while others added gears and hand brakes.
For a list of modifications to this J.C. Higgins, I'll let Joe Bruman, the original owner/builder, describe them:
"In 1967, a friend at work told me of a remarkable experience on a backpack trip where he had encountered a couple of fellows on 10-speed bikes. I thought this over, then went to a shop and bought a J.C. Higgins (made by Puch) kids' bike for $5. The frame had been bent by bumping over curbs, but it was otherwise sound, with a 3-speed hub. I replaced the rear sprocket with a 46-tooth front sprocket, bought new rims with 2 inch balloon tires, installed a heavily reinforced seat, welded extensions on the arms of caliper brakes to get more leverage, replaced the rubber brake shoes with chunks carved from a piece of truck lining, and constructed an Earles-type sprung fork.
"With this outfit, I began to tour foot trails in the San Gabriels and the Sierras. The appearance atop San Gorgonio was met with amazement; people asked to take photos. I did all the fire road routes such as Mt. Wilson and Josephine Peak. Twice up to the last steep part of Telescope Peak, once via the foot trail, another time by the steep road that continues from Mahogany Flat to a radio relay station. A couple of times from Horseshoe Meadows up to Cottonwood Lakes, and once via Treasure Lakes above Rock Creek to the old mining camp, from where I climbed Mt. Morgan.
"In the 20 years since then, mountain biking has become so popular that in some areas it is a nuisance, and authorities now restrict bikers from using popular routes, such as the road around Saddlebag Lake."
With enhanced brakes, low gearing, suspension fork, and 2 inch knobby tires, this would fit most definitions of a mountain bike. If Mr. Bruman had gone into production, maybe we would be getting ready to celebrate the 45th anniversary of the mountain bike!
This bike can be seen at the Museum of Mountain Bike Art & Technology in historic downtown Statesville, North Carolina. If you can't visit in person, check out the collection at www.MOMBAT.org.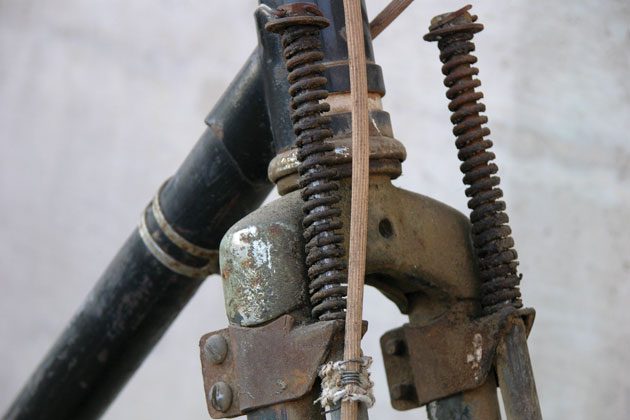 Frame: Lugged steel
Fork: Homemade Earles-type suspension fork
Hubs: Sturmey Archer 3-speed rear, steel front
Crank: Cottered Higgins
Rear Cog: Single 46 tooth sprocket
Brake Levers: Steel touring style
Brakes: Steel calipers, modified for increased leverage
Shifter: Higgins 3-speed
Size: 21"
Serial number: 503 46 260