Review: 661 Evo Am MIPS helmet
Originally posted on October 19, 2016 at 8:00 am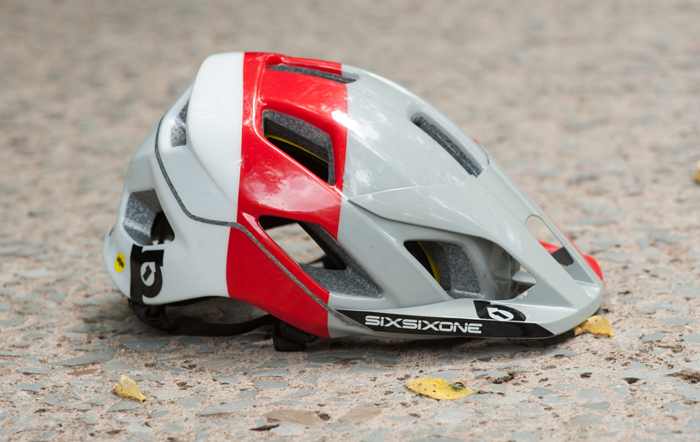 Tester: Jon Pratt
Price: $200 (MIPS), $150 (non-MIPS)
Sizing: XS/S 54-56 cm, M/L 57-59 cm, XL/XXL 60-62 cm
Helmets are meant to keep you safe, and the 661 Evo Am MIPS helmet relies on two modern technologies to do just that. First, 661 uses Contego EPS foam instead of the standard EPS foam. Contego incorporates a softer foam around the head and an overlapping harder foam near the outside of the helmet. The idea is that in a low-energy crash, or at the beginning of a high-energy one, the softer foam will crush before the harder foam and soften the blow to your head. This could lessen the crash forces on your noggin, reducing the possibility of head trauma. Contego foam is being used by several helmet manufacturers.
In addition, the Evo Am incorporates the more widely known MIPS system to further reduce the amount of energy transferred to your precious gray matter. The helmet also provides good coverage for the back of your head. All good things in my book.
Safety is important, but the helmet has to also fit and function well. Because heads come in many shapes and sizes, I highly recommend you try a helmet on before buying it. A small helmet from one manufacturer will not fit the same as a small helmet from another. That being said, the Evo Am fits me well, and I came to appreciate some design choices 661 made with this model.
The helmet is relatively light and features 15 large vents that did a great job of keeping my head cool on the even the hottest days. The Evo's removable visor is very sturdy and adjusts into two positions. I found the higher position a bit better as it kept the visor out of my field of vision. It also features a soft anti-microbial liner, which is very comfortable on my buzzed/balding head.
A lot of us wear gloves when we bike, especially in colder climates, and sometimes helmets can be a pain to adjust or secure when we've got our digits covered. Not this one. Six Six One smartly uses a BOA system to tighten the helmet and a magnetic closure on the chinstrap, which are both incredibly easy to use with or without gloves.
Six Six One did a great job with the Evo Am MIPS helmet. No hesitation recommending this one. The Evo comes in multiple colors and also in a non-MIPS version for $150.