Review: Paul Components stuff
Originally posted on August 26, 2016 at 7:00 am
Tester: Stephen Haynes
Paul Components has always struck me as a company born in the wrong era. They are the stuff of old school fabrication like Fender Stratocasters, Zippo lighters and straight six engines. Simple, well-designed products made to last a lifetime that have the added benefit of being easily serviced, providing you had the knowledge or gumption to do so.
While this may sound backwards and short-sighted to our disposable, 21st century ears, especially in an industry that loves to outdo itself twice annually, it is refreshing to know that Paul Components is out there making bits and bobs they hope you'll never have to replace.
Boxcar Stem
Price – $90
The Boxcar stem is no exception. A classic in its time, the Boxcar is made from 2024 aluminum for its high strength and low brittleness and has been through 1,000,000 cycles on a fatigue testing rig with no problems.
Its enduring appeal is deceptively hidden behind low-key cutaways, hinting at something verging on an art nouveau sensibility. Though design-wise that's all rubbish. According to owner and namesake, Paul Price "I've always felt it's more of an engineering ethic. When I design the parts my main goal is figuring out what they should do, what is required by the customer to install and adjust, and how will they work with their related parts, i.e., brakes with levers."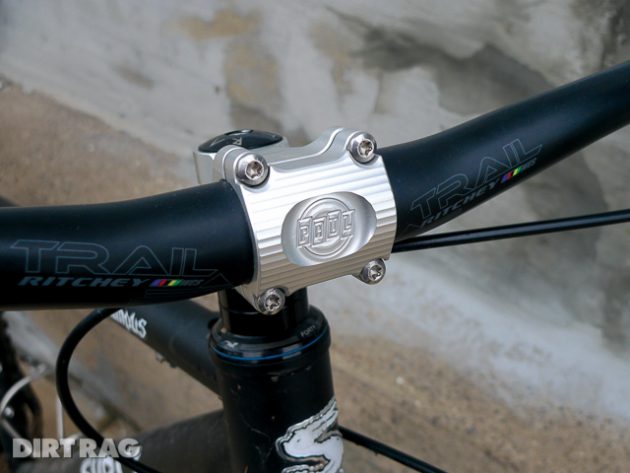 As far as my own use of the Boxcar is concerned, I've had no problems with it. Keep in mind that I'm a 200 pound dude and the stem was mounted to a rigid singlespeed for the whole of my six-week test period. My only problem is that I have to give it back.
Available in three different lengths—50 mm, 70 mm and 90 mm—the Boxcar stem can be employed on myriad bikes for use in myriad situations. The 70 mm and 90 mm varieties are available in either 0 or 15 degree angle but the 50 mm is limited to 0 degree angle. All three come in black, silver or polished finished and have standard 31.8 mm bar clamp diameter and fit 1 1/8 inch steerer tubes.
Klamper Brakes
Price – $179
The Klamper brake is Paul's answer to mechanical disc brakes and as far as I'm concerned they've just re-set the standard. Now, to be fair, from a performance standpoint, I can't discern a great deal of difference between the Klampers and other well-bred mechanical disc brakes like Avid's venerable BB7s. The Klampers provide a super stable platform from which to apply brake force and, like the aforementioned BB7s, stop you and your bike just fine when you need them to.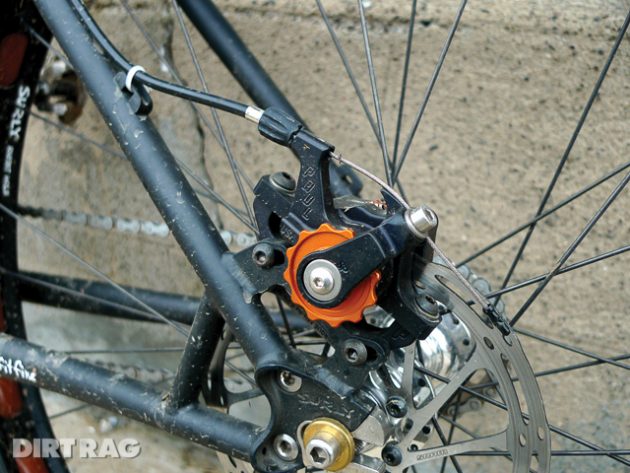 Where the Klampers set themselves apart, however, is in the craftsmanship, detail and user-friendliness. Not to mention being born and bred in the good ole' USA. Oversized aluminum (not plastic) inboard and outboard pad adjusters make trailside fiddling super easy. There are also barrel adjusters for fine-tuning cable tension, both of which aren't uncommon features, but here they've made the touch points friendlier to fondle.
Inside the caliper the tried and true ramp and ball system is employed, just as it is on the aforementioned BB7. Here Paul has hardened the steel contact surface of the ramps and increased the size of the balls for smoothness and increased pad travel. Flat needle roller thrust bearings have been used in place of plastic thrust washers on the pad actuator as well for additional smoothing, and the extra attention here pays off.
The directness of mechanical disc brakes is something that appeals to me. While less plush than hydraulic brakes, I like the linear increase in brake power, as well as the ability to field service them.
Paul suggests three easy rides with moderate stopping to bed the pads well. After that, all systems go. I found this to be the case and have been stoked with the brakes since. Long, sustained downhills didn't see any decrease in stopping power or result in pulsing of any kind.
Available in either black or silver with a number of mounting adapters to fit your bike's needs. The Paul Components Klamper brakes will fit any rotor, except 140 mm in the front.
Love Lever
Price – $128
The Love Lever is one of Paul Components' best selling products and for good reason. Adjustable in all the right ways, the Love Levers can be set up to fit just about any individual's needs and are an exceptional match for the Klamper brakes but will work with any long-pull cable operated brakes.
Oversized barrel adjusters make for easy cable tension tweaks, even with heavy winter gloves, and the 5 mm set screw in the side of the lever perch lets you adjust the lever reach where it best fits your hands. Standard 22.2 mm clamp diameter means they'll fit just about any mountain bike bar, and the levers come in two different lengths: Compact (two finger) and 2.5 (three finger) varieties.
The distinct, oversized lever pivot is made from stainless steel and provides a smooth swing and reduces play. Also fully serviceable with parts available directly from Paul Components. The Love Lever is available in either black or silver finish and will add precision and beauty to any ride.