Catching up with Greta Mudflap
Originally posted on August 25, 2016 at 7:01 am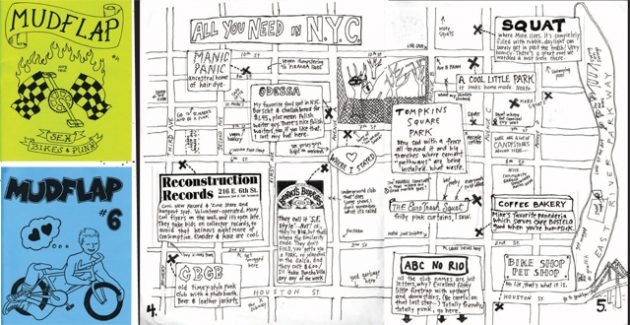 As told to Stevil Kinevil
Illustrations: Greta Mudflap
Originally published in Issue #192
I'm Greta Mudflap. You may or may not have heard of me. What you are about to read is 100 percent true, except for the parts that aren't, and even those are.
MUDFLAP WAS PUBLISHED FROM 1990 TO 1995, SEVEN ISSUES IN TOTAL.
Equal parts comic book, scrapbook, reviews, interviews and accounts of my personal adventures as a punk-rock bicyclist. Mudflap was one of many fanzines that emerged in a weird spike, during the death throes of the Xerox era. This kind of thing happens in waves—an economy of "arte povera" provides a fertile wrack line of outdated technology, and magic can happen.
Kinkos was open 24 hours, punk rockers across the nation got scantily supervised jobs there, and a publishing network flourished. In my case, a scavenged Xerox machine appeared in the warehouse I shared with six other people in San Francisco's South of Market, and suddenly there was no reason not to make a fanzine. Unlike most of my punk-rock friends, I was never musical. So mine was a fanzine of cycling.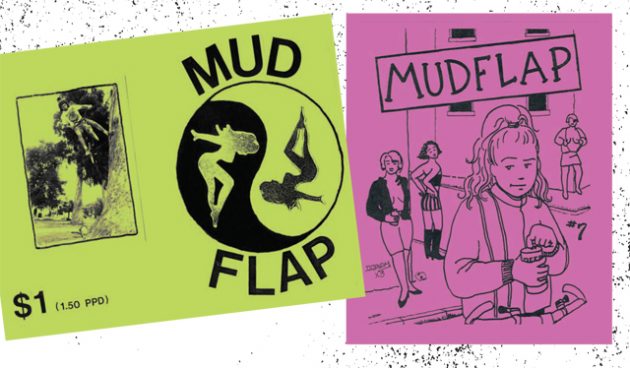 IT SOON BECAME APPARENT THAT MUDFLAP WAS PART OF A DIY CYCLING CULTURE ZEITGEIST.
In fact, the week I printed the first issue, two other bike zines came out among my circle—Mess Press and Mercury Rising. Others included Craps & Betts, Raw Vulva, X-tra Tuff and Biker Pride. We were passionate about experience and freedom but not products—we couldn't afford a lot of fancy biking stuff anyway. None of us were racing, either. But because everyone was either a messenger or too poor to have a car, everyone did everything on bikes and it was awesome.
These homemade papers were our social media. We wrote about riding. Riding in the rain; riding to shows; group rides; riding events; parties; hookups; breakups; tattoos; essays; bands; photos of things we saw; interviews with people who rode, organized cycling cooperatives or a crazy accident.
MUDFLAP WAS TRADED AND SOLD ON THE SIDEWALK AT MUSIC SHOWS, AT POETRY READINGS AND WHENEVER WE WOULD RUN INTO EACH OTHER WHILE OUT ON A BICYCLE.
There was also an extensive network of alternative bookstores that would stock it. In the heyday, I particularly enjoyed doing a version of "upcycling"—in whatever town I was visiting, I would place five copies of Mudflap on a bookstore or record store shelf and frequently get letters or orders weeks later. Tower Records was a big buyer of fanzines, too. It wasn't a living, but a fanzine person could always count on bringing a few issues to the bar and getting beer money at the very least.
ONE OF MY FAVORITE THINGS TO DO FOR MUDFLAP WAS MAPS.
Cycling on a daily basis (especially back then when only hardcore people cycled regularly) gives you a kind of proprietary view of your town. You spend a lot of time alone and a lot of time outside. You have landmarks, shortcuts, favorite places, hidden drinking spots, places that only you would notice and appreciate from the vantage point of a bicycle.
Customized maps became a way to organize and claim our own geography and also to lay down historical markers for economically vulnerable institutions—the diners, bars and waste grounds that will inevitably be erased in the distinctly American propensity for Disney-fi cation of the urban landscape.
I WAS NEVER A MESSENGER, BUT MANY OF THE PEOPLE IN THEIR EARLY 20S RIDING AROUND TOWN AT THAT TIME WERE.
Women and men, and the rain fell just as hard on everyone. Let's face it, San Francisco is not a hospitable place to cycle, even now. It is hilly. It is cold and foggy. There are few proper bike lanes and many angry drivers. Train tracks. Millionaires. Buses. Wind. Thieves. It's no Portland.
THOSE OF US WOMEN WHO MADE CYCLING FANZINES NEVER CONSIDERED BOUNDARIES OR LIMITATIONS— WE COULD DO WHATEVER WE WANTED.
We could write whatever we wanted, and there was a sense that only our friends were reading these things anyway. There were no glass ceilings in our marginal world. There were no advertisers, no bosses. We had no one to serve but ourselves. Of course we would write about sex, because we were having it as much as possible! My generation had become sexually active during the first wave of the AIDS crisis, and we were comfortable and adept with condoms, and communicating about sex in general. I got a lot of practice drawing naked people in Mudflap.
Turns out there were a few other people reading these things, though. I once got interviewed by Time magazine about the so-called "fanzine revolution," and I am sure I gave some completely incoherent anarchist screed about underground media. I got invited to do reviews of fancy mountain bikes by Bicycling magazine, which was awkward but a kind gesture. My most amazing accidental achievement was to get a request from the Small Books collection at the San Francisco Public Library (on a postcard!) to have copies of Mudflap for its archive. That is still an amazing, humbling thing.
MOST PEOPLE DIDN'T KNOW IT, BUT MY OTHER OBSESSION IS MAKING ART MOVIES.
(My first fi lm screening was at a messenger party at 555 Fulton, where a fight later broke out and a person lost an eye.) I got a three-month teaching gig at an art college in Southern California, and when I came back, a bunch of people had died or moved away, and Christopher from Epicenter, the collectively run record store and "punk rock community center," had retired from punk rock. Scenes come and go, and that's OK.
Mudflap's purview was so personal that when I started graduate school and got into a long-term relationship, there was no more of the drinking, traveling and hooking up that made the stories readable. I am no writer so I hung up my Sharpie pen and moved on. Punk rock was never about permanence to me, anyway.
NOW I MAKE AND SHOW ART MOVIES AND I TEACH CINEMA AT SAN FRANCISCO STATE.
I think I enjoy cinema's ability to be spooky, ephemeral and less literal. I am still a total bike nerd. I belong to a women's cycling club, where my road cycling buddies enjoyed persuading me to use cleats and ride in "100Ks." I am obsessed with the Velocast, a Scottish cycling podcast, and I have Nairo Quintana jammies.
---
These days Greta spends less time burning both ends of the candle in a copy shop, yet the two-wheeled adventures that initially inspired those efforts continue forevermore.