Review: Ryders Eyewear Face GX Glasses
Originally posted on August 19, 2016 at 7:00 am
I've been riding with a set of Face GX cycling glasses from Ryders Eyewear for a while and felt it was about time I shared my experiences with them, with you. Besides fitting great (fit is always subjective) these unique glasses have several features that are worth discussing in detail.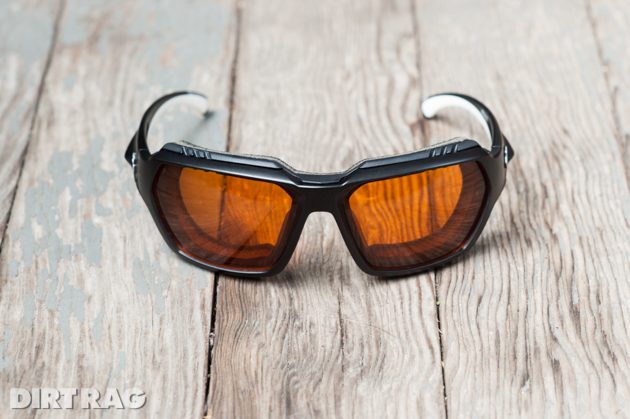 First, and most importantly, the lenses. The Face GX's lenses are photochromic, meaning they automatically adjust their tint to increase or decrease the amount of light that the lens lets pass through to your eye. This is measured as a percentage called VLT, Visible Light Transmission. The higher the VLT percentage, the more light reaches your eye.
A clear lens has a VLT of 100 percent. The Face GX that I tested, with the orange lens, has a VLT rating of 47 percent – 15 percent, so they are meant to be used in conditions ranging from overcast to sunny.
The Face GX is also available with a yellow lens, which has a VLT rating of 76 percent- 27 percent, so they are meant for darker conditions, as they are able to allow more light to pass through. Both yellow and orange tinted lenses filter out blue light and are meant to enhance depth perception, as well as provide more contrast in flat lighting conditions. This helps you see varying trail surfaces in woods, at dusk, or in other low light environments.
In practice, it really works well. Objects on the trail have a more defined edge, so they easier to navigate, especially under the cover of trees.
In addition to the tint, the lenses feature two beneficial technologies. On the inside of the lens there is a coating Ryders Eyewear calls antiFOG. This coating is hydrophilic, which means it attracts and absorbs water. This limits the possibility for fogging to occur, by drawing the water droplets away from the suface of the lens. The front surface of the lens is treated with a hydrophobic coating which sheds water more easily than a non-treated lens. The coatings are permanent and do not need to be reapplied.
Both worked incredibly well for me. I experienced no lens fogging, even in the most humid conditions. The only time I needed to take off the glasses and wipe them was when sweat would build up inside the lenses. The gasket helped alleviate a bit of that, which I'll touch on next.
Obviously you'll have to clean the fronts of the lenses every so often, but the coating seemed to lessen the need. Not to be overlooked, the lenses are rated UV400, which means they block rays with wavelengths up to 400 nanometers. That includes all harmful UVA and UVB light, and that's good.
Ryders Eyewear makes two models of the Face, one with and one without a foam gasket. The GX model features the gasket which is designed to provide protection against dust and scattered light coming past the edges of the frame. While the gasket didn't provide a complete seal to my face it did reduce the open space between my skin and the frame, which undoubtedly kept out particles that might have made it into my eyeballs with non-gasketed eyeglasses.
As I eluded to before, the foam also did a good job of absorbing some of the errant sweat that might have gotten into my eyes or clouded the inside of the lenses. Because it is foam, the gasket will break down over time. Ryders Eyewear sells replacement gaskets for $30 if you find you need one.
The gasket is easily removable, but does leave a screw in the bridge so I wouldn't recommend using the GX model without the gasket installed. If you get sick of the gasket, you could always just remove it and the screw and you'd have a perfectly fine pair of glasses to wear.
The only real negative thing I have to say about the Face GX glasses is that the temple and earpiece do not have a rigid internal structure, so you won't be able to bend them to fit a head that is narrower or wider than they were originally designed for. That being said, I have a big head and they were pretty snug on me, but not uncomfortably so, while my girlfriend has a petite head and they fit her well too.
The Face GX costs $160 and carries a 3 year manufacturer's warranty along with 3 year crash replacement coverage. Check out the Face GX, and all Ryder Eyewear's glasses.