Feature: No Rest for the Weary
Originally posted on July 15, 2016 at 7:00 am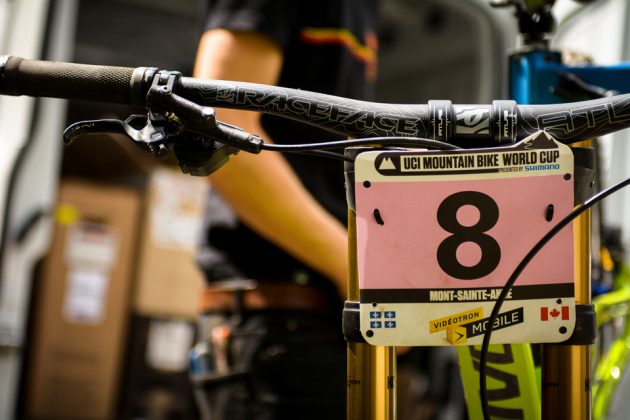 Words and photos: Brice Shirbach
Originally published in Issue #191
For most of us, the UCI World Cup downhill series is a somewhat nebulous arrangement, largely unfolding by means of online media, live video streams and an assortment of social-media posts from the athletes themselves. While fans of the sport are well aware of what happens against the clock and between the tape, there's much more to the process than what is conveyed through the various multimedia morsels we're fed throughout race week.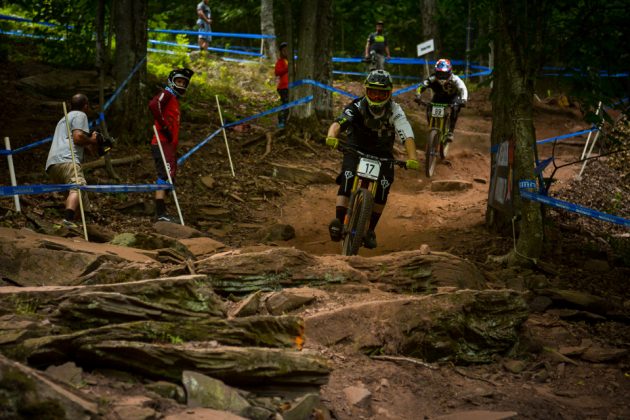 From the start of the season, fans are glued to computer screens and phones, desperately seeking out anything they can find that will quench a thirst for knowledge of course conditions, suspension setups, injury updates and which riders are in top form on any given weekend. While all that information makes for compelling narrative, there's a nuance to race week that goes unnoticed in the quest for big-ticket storylines.
For professional downhillers, there's much more to their existence than just seven World Cup Sunday races. Strict training regimens, suspension and bike testing, contract negotiations and constant self-promotion are required in order to have a job, and that's before the first race of the year.
Dirt Rag was granted the opportunity to spend crunch time with the Pivot Factory Racing team last August while they prepared for the lone American stop on the World Cup circuit. Made up of team manager and lead rider Bernard Kerr, as well as former motocross racer Eliot Jackson, Swiss national champion Emilie Siegenthaler and team mechanic Jack Noy, this squad of twenty-somethings is loaded with world-class talent. Here is a firsthand account.
---
Day 1: Track Walk
The team arrived in the town of Windham, New York, late on Tuesday evening, having spent the week prior in eastern Quebec, Canada, for the 25th annual Mont-Sainte-Anne leg of the season. Wednesdays are typically the first day of the World Cup week when it's cross-country and downhill combined. Teams are permitted to walk the course as often as they want within a strictly defined time period. Practice runs on the bike won't come until the following day, making initial track walk critical in shaping each rider's approach to the rest of the week.
Emilie
Dislocated shoulder the week prior at Mont-Sainte-Anne
I've been doing physiotherapy in the mornings and [racing this weekend] is on me. I need to see how I feel. It's all about tomorrow's practice. The guys rode at Bromont, Canada, after the race and I didn't. If it's just a pulled muscle, I can rest and it'll get better. But I think it might be more than that. I had a collarbone break before, but this is more of a ligament issue. There are still more races to come after this, plus world championships. How many risks are you willing to take? I need to consider the team and the overall. It's a lot to think about, so I just have to wait and see.
Bernard
Coming off a disappointing result of 38th at Mont-Sainte-Anne
It's hard to stay pumped sometimes. When you're doing well, it's easier to ride the wave. When you do badly, it's hard to bounce back. But this place [Windham] is super fun. You can just get so many rides in. There are some places that are so big, you get tired and you're not able to get as many runs in. Here you can play on the track all day. When I have fun, I do well, and this place is fun. I have my own riding style and strengths like any rider, so different races bring about different expectations. If I win timed practice, I want to win the qualifiers. That's a good way to build your confidence. I think it's good to change up your expectations depending on the track, so you're not just going out and getting disappointed if the results aren't always top. I'm ranked 17th currently, so I can go out and put something fast down in qualifying and not have to play it safe.
Eliot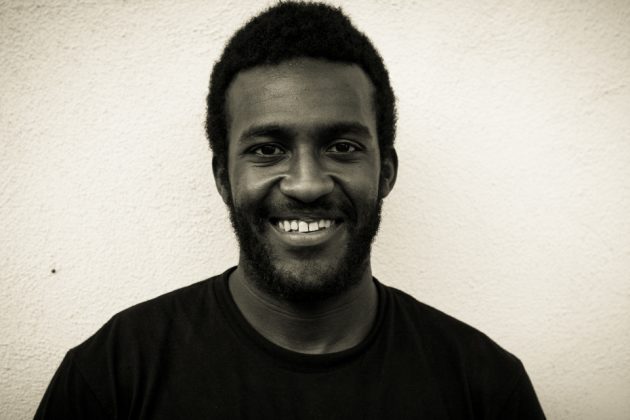 Two separated shoulders forced him to miss much of the season
I've been spending a lot of my time trying to get healthy again. I have to try and get back to where I was, which is obviously a different mindset than trying to go out and be competitive at each event. I have a little head cold, but am mostly concerned with trying to get over my injuries from earlier in the season. I separated my shoulder after the first World Cup, and once it healed I went up to Whistler for a few days to get some riding in and I separated the same shoulder again. I was out for over a month. At this point, I've only been back on the bike for about four weeks now, and it's been only racing.
Jack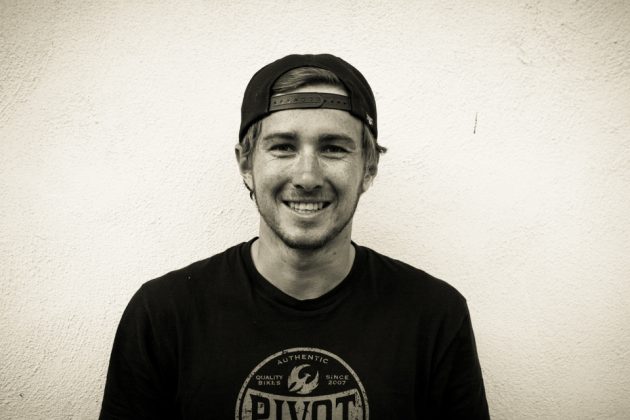 I've known Bernard for a while. We used to race against each other at the British Downhill Series and he was always way faster than me. I tried that for a few years and eventually decided to pack it in, as it's a ton of money to spend a season chasing points. He asked me to wrench for this team when he first got on board. I had a lot going on at the time, so I passed on it at that point. But he asked me again last season, and I jumped at the opportunity.
Practice, qualifying and race days are pretty full on. After finals, you kind of polish up the bikes and take a breath. There's definitely some pressure, though. I don't want to get anything wrong. If something is running a bit nicer and that helps them get a half second faster, why not just do it? If it means I need to stay up late at night to get it done, so be it.
Day 2: Practice Round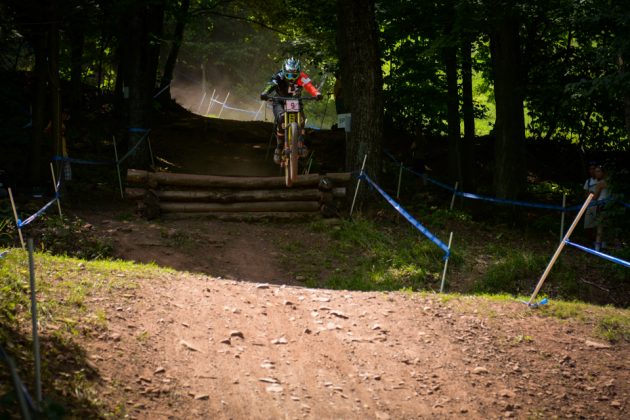 For an hour and a half, riders have the opportunity to take as many timed practice runs as they want. For many, this is an opportunity to experiment with line choices and utilize the clock to measure the effectiveness of their decisions. For some, timed practice is as much a mind game as it is a training tool. Bernard and Emilie were both well inside of the eligible standings to participate, with Eliot having to sit out due to his ranking and having missed most of the season up until recent weeks.
After timed practice, most athletes will once again walk the track to examine problem areas they may have experienced on the bike, and to take stock of course conditions and changes after thousands of runs by the world's best riders.
Eliot
I usually try to just learn the track during practice. I take it slow and make sure I know where I'm going. That way when I add speed, I can add speed to the right lines. It's good to ride with Bernard as well, so we can bounce ideas off of each other. Some stuff is obvious, while others need more attention.
Bernard
I felt really good today. It's still mostly a one-line course, and it's hard because it's so dusty. The track is going to get worse as it gets ridden more. The holes and ruts are just going to continue to get bigger. But generally it's OK, just blown out, so you need to really focus on carrying speed out of turns. There will end up being so many guys on the same second here. My fastest practice run came in at 27th today, which is terrible. Times are just so tight. There are a few bits I know I will go faster on, so we'll see what that does for me.
Emilie
Today things went quite well, considering. I didn't push it too hard, and that was my goal for the day. I wanted to see if I could get a good run in while cruising down. I wanted to hit all of the jumps, but not take any big risks. That's what makes the difference here between a fast run and an average run: willing to brake less going into certain sections to carry speed. Today was all about seeing how my body felt.
Day 3: Qualifying Round
Qualifiers hold a great deal of importance for riders, as not only does the run determine your place in the starting order for finals, but points are available for riders looking to move up or maintain their current place in the overall season rankings by qualifying inside of the top 20 for the men and the top 10 for the women. Riders inside of those respective rankings are always granted a finals run regardless of their qualifying time.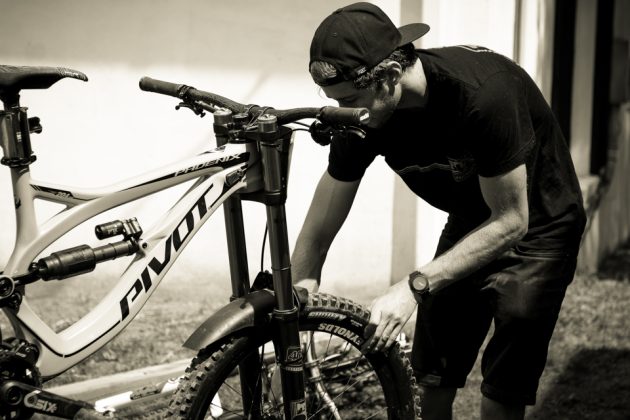 Once the dust settled that afternoon, Emilie, ranked eighth for the season, would end up having qualified in 10th place for the elite women. Bernard would notch in at 37th in qualifiers, nearly 12 seconds off of the leading pace set by top-ranked Aaron Gwin. Prior to Windham, Eliot was ranked 89th, having missed most of the season due to injury. A massive crash early in his qualifying run cost Eliot more time than he could make up on the season's shortest and fastest track, forcing him to miss the finals in consecutive weekends with only the top 80 men making the cut.
Jack
I'm gutted for Eliot. I'd like to see him do well. Otherwise, we've done pretty well this week. Everything has been pretty straightforward. Bernard's snapping his handlebars during practice was pretty crazy. Not sure how that even happened. He's doing some big lines, but the bike shouldn't have a problem holding up to it. But he's pretty good at seeing things for what they are. The broken handlebar sucks, but it doesn't mean that he needs to slow it down tomorrow.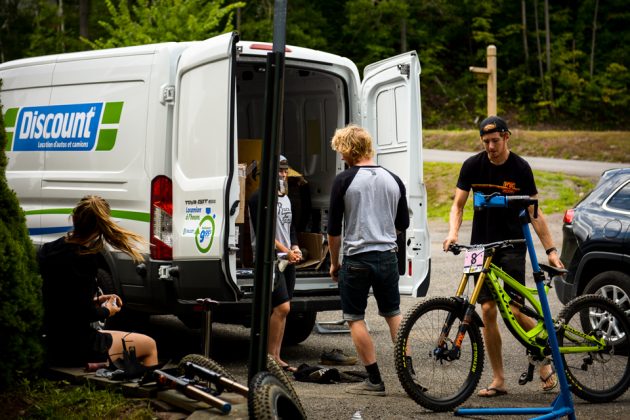 Eliot
I felt good today going into qualifiers. There's a drop in the woods at the top of the track, and I hit my chain guide on it and went over the bars. I'm not hurt or anything, but I tried to get up and get going in a hurry but just didn't quite make it in time. It's too short a track to overcome something like that.
Emilie
My whole day went pretty well. I started to get a bit looser and push the limits a bit more, which means I have more confidence in my body. I had a crash, but I'm OK and still did pretty well. I think that some of my lines were a bit too safe and not very fast. I think my shoulder is strong enough to push it a bit more during finals.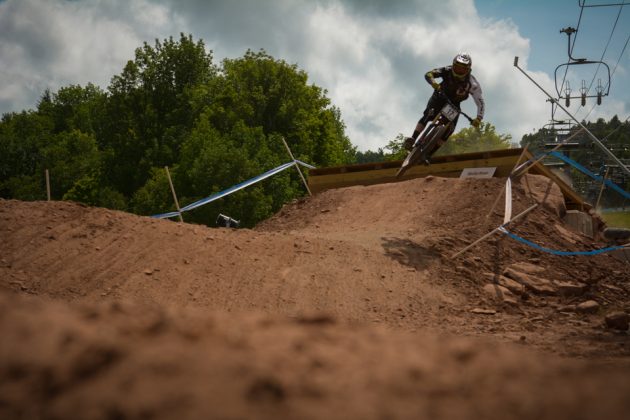 Bernard
The track is just blown out right now—deep ruts and dust. I cruised down during my first [practice] run and had a huge crash during my second, so I ended up only getting one quality practice run in. It was hard to push it during qualifiers. You have to go all out everywhere and not make any mistakes. I ended up a mere three seconds off of 10th place, which put me in 37th overall. It's so tight. In no other race can you be three seconds off of 10th and end up in 37th.
I walked the track again and want to go crazy tomorrow during finals. I have some big lines, and I'm going to keep them for finals. There are some little bits at the top and at the bottom that I need to clean up. I'm pretty sore right now, so I'm just going to relax and chill tonight. I'll take a few practice runs tomorrow and hopefully go crazy in the race.
Day 4: Finals
With Eliot missing out on a finals appearance, the pressures of the day were left to Emilie and Bernard. Out of 20 riders in the elite women's field, Emilie would end up in seventh place, less than two seconds off of the podium. Bernard, who qualified 37th the previous day, would fare much better during Saturday's final, finishing in 24th. Bernard would actually share the same second, 2:46, with eight additional riders and was less than four seconds off of the podium despite finishing 19 spots down.
After the race, the team would engage in customary celebrations with the rest of the World Cup circuit before a pre-dawn departure the next day to Crankworx in Whistler.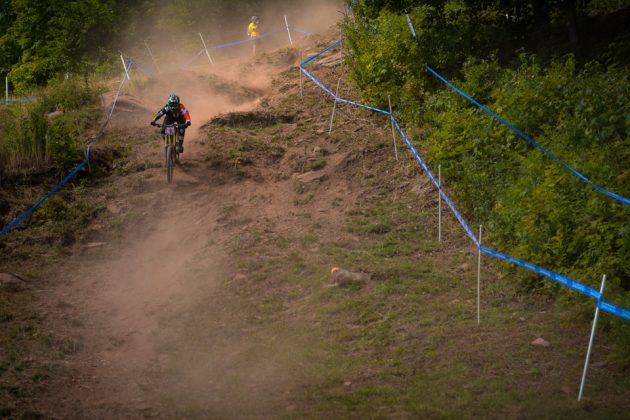 Bernard
I thought my time was pretty good. There were, like, eight or nine of us on the first half of a second. I lost maybe a second and a half in one part of the track, and there goes the top 10. Generally I'm just stoked that I'm alive. The bike feels so good right now, so I can't complain about anything. It's just tight racing here. I have to move on. Gwin made everyone look stupid, so what can you do? I was just a couple of seconds off the podium, and I'm in 24th.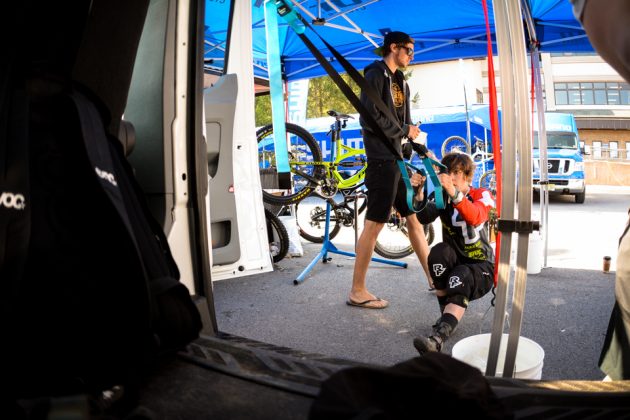 Emilie
My race run went pretty well. My last practice run in the morning wasn't very good; I messed up in a couple of spots, one of them more than the other. If someone told me at Mont-Sainte-Anne that I'd be getting seventh-place points, I'd would have been happy to hear that. However, as you begin to feel better, you want to do even more, but that's just how it goes sometimes.
I'm happy to still be in the top 10 overall. It's good to know that I can crash and still be OK. I've been taking painkillers, so I can't really enjoy a beer tonight. I'm excited to head to Whistler and to get next week started. It might be tough on my shoulder, but I think it's going to be good preparation for Worlds. Once the Garbanzo race is over [at Crankworx], I will be able to relax a little bit.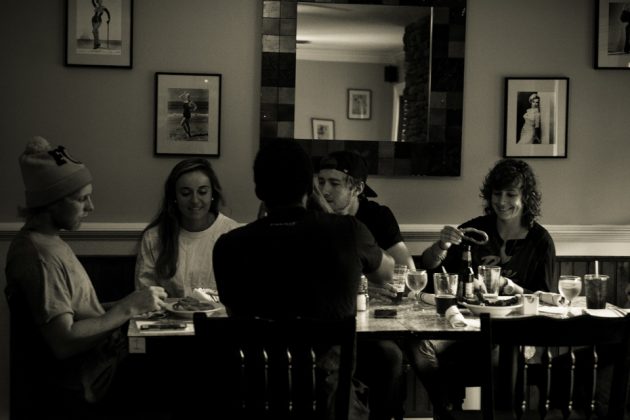 Jack
Tonight we'll have a couple of beers and a good time. You definitely begin to form a bond with these guys. This is Emilie's first season with us, but she's getting along really well already. Bernard and I go a ways back; Eliot's a real cool guy too. We went and stayed with him last year before the season started. Perfect team. We're all pretty excited about Whistler. I'll actually get to ride my bike a bit, so I've already got my lift pass ready. All of that has to wait for a bit, though; I've got some bikes to clean.