Review: FOX 32 Step-Cast fork
Originally posted on July 12, 2016 at 15:38 pm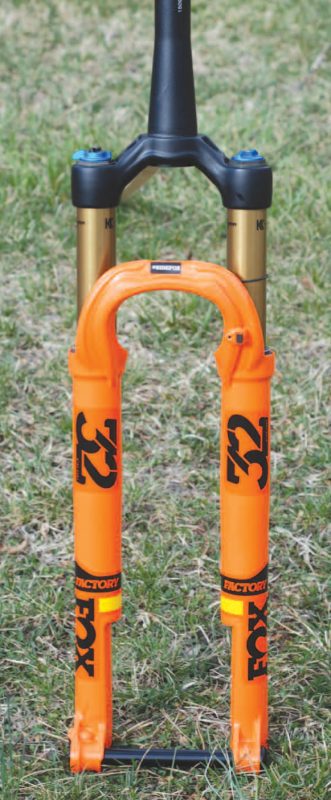 As forks get longer in travel, and trail and all-mountain become our favorite buzzwords, it's refreshing to see a brand like Fox make a dedicated effort to address the cross-country segment—to the tune of shaving half a pound off its current 32 platform. You read that right: The new Fox 32 SC (Step-Cast) weighs right at 3 pounds with an uncut steerer and 15 mm Kabolt bolt-on axle according to our very accurate Feedback Sports scale. This makes it the lightest fork Fox has ever made.
Though select test samples are out and factory race teams such as BMC, Luna Pro, Focus, Trek and 3 Rox Racing have their marque riders on the fork, it's officially dubbed a 2017 product. At heart of this new fork is an all-new chassis design. Fox engineers went into the project looking for any way possible to shave weight so they shrunk and narrowed the crown and arch so the upper tubes have a 120 mm spacing compared to 130 mm on non-SC forks, then they shortened the upper tubes.
To match, the sliders have a built-in step casting that goes from normal wide around the tubes to narrower at the dropouts. Without this "step" there would not be room for the hub flanges, spokes and rotor. The lower section at the dropouts doesn't sacrifice any rigidity or steering precision though, especially with a 110 Boost front hub. Of course, with this dedicated shaping there's no room for travel adjust—the 32 SC is cross-country specific at 100 mm.
Internally, not much has changed from current model 32 forks. You'll find the successful Fit4 damper with three damping positions: open, medium and firm, along with external low-speed compression damping adjust in the open setting.
Aside from small tweaks such as an alloy piston and some mix and match voodoo parts to further decrease weight, it's the same internals including the removable volume spacers to further refine mid stroke and bottom out tuning. However, the Fit4 damper does have an upgraded tune specific to its intended cross-country usage.
Using current Fox forks in 100 to 120 mm travel, I've kept air volume spacer settings stock while running lower than recommended psi, and that again is the ticket with this fork. At 65 psi the 32 SC was plush off the top, keeping the front wheel on the ground without bouncing or skipping, while getting full travel and not diving in turns. I didn't have any bottom out issues unless I really plunged into a g-out.
Flex is a non-issue; the SC lives up to Fox standards and the addition of Boost spacing only furthers that, giving this lightweight fork the stiffness it needs, thanks also in part to the front hub (in this case Stan's NoTubes' excellent new Neo).
I mostly kept the fork in open mode, rather than the middle setting, because compared to pre-2016 offerings, that setting now performs very well. Only when the trail smoothed out for longer stretches did I go to medium. And of course firm was great for pavement and gravel riding to the trailhead.
In spite of the svelte looks of the narrow crown, turning and slicing feels quick, tight and precise—attributes I love for cross-country riding when you're sacrificing suspension travel and brute force for finesse and agility to go fast.
The 32 SC will be available as original equipment and in the aftermarket for riders looking to upgrade their current fork (with two offsets in 29er wheel size at the OE level) and three colors: gloss orange, gloss white and matte black.
Ultimately, Fox has finally come through with a near perfect cross-country race fork and cross-country-style trail riding choice. It's certainly targeted to a specific market and type of rider that some may feel isn't a huge segment anymore but that's not a bad thing. It's dedicated to the cause if you are.
Price: $889 (tested), $969 w/ cable remote adjust, $1,596 w/ iRD remote adjust
Wheel size: 27.5, 29 (tested)
Travel: 100 mm
Hub spacing: 100 mm, 110 Boost (tested)
Spring: self-equalizing positive/negative air spring
Damping adjustments: three position compression: open, medium firm, low-speed compression in open mode; rebound
Axle: 15 mm bolt-on Offset: 44 mm (27.5); 44 mm (tested) or 51 mm (29)
Weight: 1,360 grams