Rusch Job: Two Wheels Matter
Originally posted on July 1, 2016 at 7:00 am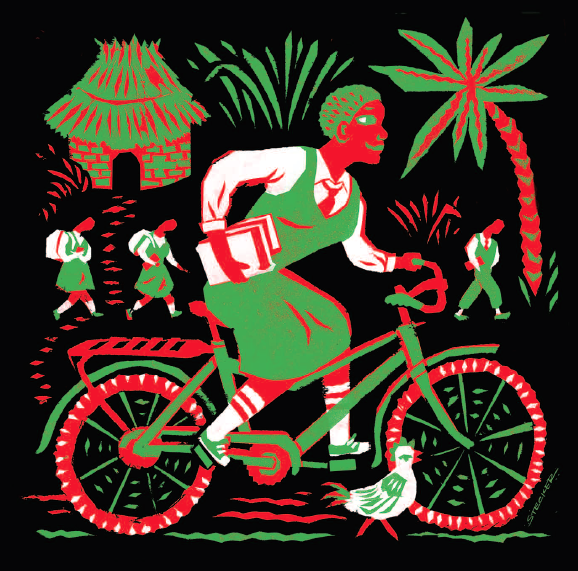 Words: Rebecca Rusch
Illustration: Kyle Stecker
Originally published in Issue #191
Since you are reading this column, I know that the simple act of moving around on two wheels has changed your life. Riding a bike might elevate your physical and mental health. It might fuel the competitive juices. It might be your social outlet, your escape or even salvation.
The simple invention of the bike in the early 1800s changed how the world moved, but along with transportation came so much more. No matter what the bike means to you, I know it is essential to your well-being. I know you couldn't live without two wheels.
Have you thought lately about why your bike matters? When I first learned to ride as a kid, my bike meant freedom. It expanded my world beyond the boundaries of Middaugh Avenue and into the rest of the neighborhood. Suddenly I could go farther than my eyes could see or my mind could imagine. I didn't know what was waiting out there in the great unknown, but I got on my purple Huffy with the banana seat and found out.
Thirty years later I rediscovered the bike, accompanied by that same intoxicating sense of freedom. This time two wheels took me far beyond my suburban neighborhood and expanded my horizons to the entire globe. Recently this was Kenya. I went there to visit World Bicycle Relief facilities to witness what "The Power of Bicycles" (the organization's tagline) really means. A nonprofit wing of SRAM, World Bicycle Relief distributes and sells its own brand of bicycles, called Buffalo bikes, which are designed specifically to withstand the rigors of transporting heavy cargo over rugged terrain in rural Africa.
I expected to see a well-run assembly facility, a streamlined distribution plan and Buffalo bikes in action in rural villages. What I didn't expect was to be changed and inspired by the individuals I met. In Mizungu, 600 students welcomed us by singing and dancing. We were swooped into a festive mob, and the whole group danced around the bikes parked at the school.
I was stunned at how dedicated, motivated and full of life these 14- to 18-year olds were. In high school I complained because I had to walk about 15 minutes to school. On rainy or cold days, I'd dawdle and shuffle reluctantly, barely making it to class on time. When I met Andega, a 17-year-old student at the Lwanda Secondary School, her confidence, dedication to her education and desire to become an aerospace engineer blew me away. She used to walk more than two hours each way to school. Now she rides a Buffalo bike and it takes her 30 minutes.
We rode the 3.5 miles to her house past cornfields, along a dusty, bumpy dirt road before turning onto a beaten-down footpath past numerous mud and thatch homes before reaching hers. Her mother, father, sisters, brothers, aunt and family friends were all gathered in their best dress. They welcomed us warmly and showed us around their simple, tidy property. She parked her bike and it fit right in among the chickens, cows and crops. Her parents beamed with pride as Andega sat tall and fielded interview questions in perfect English.
The next girl I rode with was Deeanar. She used to walk three hours to school. There is a slightly shorter route that would only take two hours, but she didn't like to go that way because in the dark, she and her mother feared for her safety. She had been attacked before. Deeanar seemed like a typical teenager. She gravitated toward me and wanted to take selfies and see pictures of where I live. She was sensitive and inquisitive. She told me the bike gave her confidence and kept her safer going to school. She doesn't miss class now because she can get to school faster.
As fast as she rides, it's not always fast enough. Recently, Deeanar was run off the road by a young man on a scooter. She showed me the wounds on her elbow and hand that were thankfully the only reminders of the assault. Now the girls and boys group together when riding to school and look out for each other.
I was moved by how different our lives and challenges were. But I also realized that to all of us, a bike means freedom. In Africa, this simple two-wheeled tool is freedom from the time suck of having to walk hours each way to school. It's freedom from the threat of attack or rape that the female students face each day. It's the gift of an extra hour or two of sleep each morning, allowing them to show up to class rested and focused.
The bike is a tool that provides hope for their future. It allows them to finish school and get an education. It allows them to dream of becoming an aerospace engineer or a doctor. The bike is developing strong minds, bodies and community bonding. These things matter for the greater good of our world. And while the reason your bike matters to you might not feel as impactful as the reasons for these students in Kenya, it's no less important.
Two wheels matter in all parts of the world. The next time you roll out your door, relish in the fact that bikes are changing the world, one pedal stroke at a time.