Camera bags and backpacks for cycling
Originally posted on May 24, 2016 at 14:46 pm
F-Stop Kenti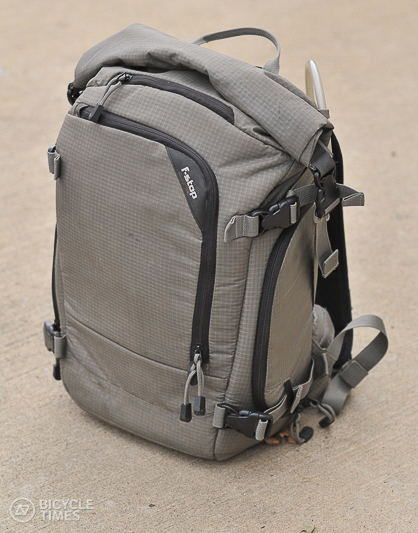 Tester: Justin Steiner
Price: $169
The 25-liter Kenti is a mountain-sports photographer's best friend. This feature-heavy pack offers a large center pocket that's fully customizable with included dividers and is accessible from both sides. There's enough space to pack a full complement of lenses, flashes, bike tools, flat repair kit, rain shell, your lunch and a 13-inch laptop if you need it. Roll-top storage provides adjustable space for long or short days on the trail.
The only downside to the Kenti is the 70-ounce maximum bladder size. That said, there's usually room inside the pack to stash a water bottle or even a Nalgene if you need it. F-Stop makes some of the best adventure photo gear available, and the Kenti continues that tradition. If you're looking for an all-day-comfortable, feature-rich pack to haul gear during active pursuits, the Kenti is the ticket.
Best for: Hauling a lot of gear to shoot your next big assignment in the backcountry
More info: F Stop Gear
Mindshift Rotation 180 Trail 16L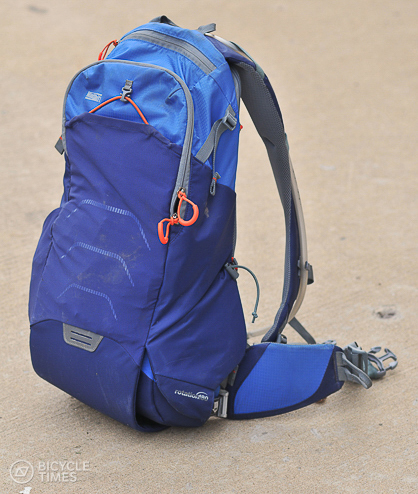 Tester: Justin Steiner
Price: $180
MindShift's brilliant camera bag is essentially a backpack with an integrated garage for its camera-toting waist pack. A magnetic closure secures the camera unit inside the pack when you're not shooting. To access it, keep the waist belt fastened, open the slide closure and rotate the camera unit around your body. Just like that, your camera is right in front of you.
The Trail 16L is the smallest of MindShift's offerings. It's not a huge bag but is perfectly sized for most day rides. The only downside of this arrangement is the 2-liter bladder maximum. In terms of camera gear, the Trail 16L will hold a DSLR with a superzoom, but you'll only get in one or two small lens, like a 50 mm prime, with that setup. Despite being initially skeptical about the concept, I'm now totally sold because the trail 16L facilitates taking more photos.
Best for: Shooting while on a ride
More info: Mind Shift Gear
Porcelain Rocket Mini Slinger
Tester: Eric McKeegan
Price: $140
The Mini Slinger is designed to hold a mirrorless camera and midsize lens. A big brother DSLR Slinger is an option for those still insisting on hauling the big bodies out to the woods. A simple strap system attaches to the handlebar, stem and fork. A drawstring top keeps the camera in place and protected from dust and drizzle, but I always keep a plastic bag stuffed at the bottom in case of real rain. My Fuji X-E1 fits inside just fine, even with a wrist or shoulder strap attached. I ended up using this bag on all kinds of bikes, both touring and just riding road and mountain.
For those trying to keep the backpacks at home, this was a surprisingly unnoticeable way to carry a real camera on almost any bike. While bopping around playing tourist, I had room to shove my wallet and passport in with my camera, and even managed to make this work on a bike with a Lefty fork. With easy access to the camera, universal mounting system for any cockpit I tried, and sturdy construction, the Slinger made sure I had my camera at hand more often. This is a win in my book.
Best for: Bikepacking or bringing a camera on every ride
More info: Porcelain Rocket