Blast From the Past: "You're Halfway There" — The Story of Ray's Indoor Mountain Bike Park
Originally posted on May 19, 2016 at 8:00 am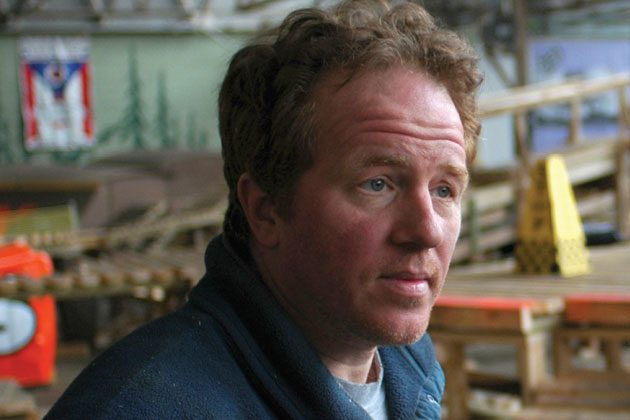 Editor's note: This story first appeared in Dirt Rag Issue # 112, published in February 2005. Words by Michael Browne. Photos by Brad Quartuccio.
---
Ever seen the movie "Field of Dreams"? Of course you have. If you haven't heard of it, you've been holed up in a closet somewhere in Iowa. No, wait; Iowa is where the movie takes place. When you're from a state like Iowa, or say, Indiana, you know every movie that ever mentioned your home state.
"Field of Dreams" is the movie that made famous the line, "If you build it, they will come." Ray Kinsella hears these words from above and takes them to mean demolishing part of his cornfield to build a baseball field. Good old Ray runs himself bankrupt in the process, and when the bankers come to foreclose on his property, the real meaning emerges—the ghosts of the Chicago Black Sox emerge and play ball, attracting huge crowds willing to buy tickets and help Ray out of bankruptcy. What an inspirational story.
So it's just plain weird that Ray Petro heard a voice one day telling him, "You're halfway there." Now if you're like me, every time you hear voices you think back to that time in college when you drank the wrong Kool-Aid at an after-hours party. But not Ray Petro. He sat bolt upright in his bed wondering what the hell it all meant. Flipping through the morning classifieds, he realized what the voice was talking about.
"Clean Space. Cheap Rent. Call for more."
For five years, Ray tossed around the idea of an indoor mountain bike park. There were plenty of indoor BMX and skate parks in and around Cleveland, Ohio, but nothing that fit his idea of recreating the feeling and the camaraderie that riders get at a trailhead. Every sport has its culture, and for most grown mountain bikers, showing up at Chengaworld, Cleveland's premier skate park, on a five-year-old cross-country hardtail just wouldn't feel right. Ray wanted a place that celebrated mountain biking—something dedicated to the 26-inch wheel crowd.
Ray's friends encouraged him, but something always got in the way—too many bills, not enough time, too difficult. All the typical excuses designed to suppress dreams like Ray's. So after hearing the voice, Ray knew exactly what he was supposed to do. He called the number and spilled his idea to the woman on the other end of the phone. He waited in silence for her response.
"I love it. And so would my two sons. Come have lunch with me." And with that, Ray's dream started becoming a reality.
Just like Ray Kinsella with his "Field of Dreams," Ray Petro soon realized that his mountain bike park was more than just 66,000 square feet of naturally lit warehouse space—it was about the community. After hearing of the project through local riders, people just started showing up to volunteer their time. People like Tom Spatafore, a new guy in town with no friends and lots of time. Spatafore spent 30 hours a week planning, building, riding and rebuilding the sport loop. People like Dan Smith who created the trials section and who is now employed as the manager of Ray's MTB Park. Ray found that nearly every rider in Cleveland wanted to help out with the project—he found a computer guru with equipment for issuing ID cards, a manager of a lumber yard willing to sell wood at cost, a marketing guy with the assets to help build a killer website complete with video and floor plans. Three weeks before Ray opened his doors, his website had already seen half a million hits.
Ray opened his doors the day after Thanksgiving to the viewing public only. Visitors had a chance to watch riders already familiar with the park ride the obstacles—inspired by photos and videos from across the world—in an environment that didn't pressure them to ride things they weren't ready to ride. The "viewing only" day was all part of Ray's master plan for a slow opening, a way of building excitement and momentum—something you'd expect from a master marketing team, not a construction guy from Ohio.
So far, his plan has worked. As I write this, Ray and his mountain bike park have grown larger than he could've expected. Nearly every mountain bike publication, website and dedicated rider has picked up on the story and local news teams have inundated his warehouse space for a look at what is billed as "the world's first indoor mountain bike park." Ray is proud to say that after one month of business, his park is sustaining itself, something most small businesses expect to happen five years down the road, not 30 days after opening. It's not surprising to me that he's doing so well. Considering the availability of existing indoor facilities—BMX, skate parks, motocross tracks, rock climbing walls, paintball arenas—it's astounding a place like Ray's didn't exist until now.
Now that it does exist, people love it. John Taylor, a self-proclaimed technical trail rider, drove three hours from Weirton, West Virginia, to ride with a few friends. For him, the appeal is that "you don't have to go out to the middle of nowhere. That, and it keeps you fresh in the winter." After his second trip to Ray's, Ben Butler brought along two friends to check out the place, admitting, "I'm big and aggressive. I am not a smooth rider, but I love this place. It's such a workout to ride all those obstacles." Eric Bell, a mountain biker from Virginia with a trials background, said, "It's just so rad. This place is terminal."
But it's not just the technically advanced riders who enjoy Ray's. People on hybrid bikes with bar-ends are a common sight, as are roadies looking to spin some miles off their trainers. This is the type of person Ray sees as his primary market—people who were sick of dealing with Cleveland's winter weather just like he was; not necessarily huckers, and not just freeriders—just regular riders looking to stay fit and have a good time. And being a mountain biker, it's in one's blood to try new challenges.
The park has opened Ray's eyes to one thing in particular: "It's amazing how, given the right environment, people are able to focus and overcome an obstacle. Out on the trail, you don't see people practicing one obstacle for hours on end. Here, you can try the same thing over and over again, watching others and getting advice." Take, for example, the Cleveland Area Mountain Bike Association's (CAMBA's) advocacy director Mike Farley. According to Ray, he came to ride on opening day and found that he couldn't complete the sport section. Six weeks later, Farley is riding a modified hardtail instead of his full-suspension cross-country bike and he's working his way through the expert loop.
Another thing Ray learned is that mountain bikers like to jump. Originally, the park was planned around the idea of a track and field facility, whereby the riders could make a giant loop around the outer perimeter, with a maze of beginner, sport and expert level loops built in the middle. With the installation of the beginner friendly jump section, it was apparent that even riders who couldn't previously jump became addicted once they'd learned how. This is the reason Ray hired Joe Prisel, a former teacher at Pennsylvania's Camp Woodward. In a matter of weeks, Prisel, who's known for pulling backflips on any given day, has built bombproof jumps, berms, hips and spines along the outer perimeter.
When I last spoke with Ray, I asked him about the future of the park: Was the park running as expected? Has he changed direction with his plans? And while I expected an enthusiastic, "Yes!" I instead heard two words that will be music to the ears of any mountain biker learning to take their wheels off the ground: foam pit. A 16 x 20 foot foam pit jumping practice facility, something previously only available to riders with enough cash to afford a week at Camp Woodward, is already in the works. Considering Ray and his crew first started cleaning out this facility only six months ago, I'd say the best is yet to come.
So as winter drives on, bringing the treacherous cold, snow and rain that every Midwest mountain biker dreads, knowing that a place like Ray's exists is comforting. If and when you decide to visit, pay attention to the words written above the doorway entrance: "If you build it, they will come." When you see them and experience what's inside, consider that the biggest risk of Ray's life is now every mountain biker's reward. Thanks, Ray.
---
What it Took to Build Ray's MTB Park
400 light bulbs
225 ballasts
50 light fixtures
800 sprinkler heads
150 gallons of paint
125 pizzas
30 new windows
20 roof patches
120,000 nails
500 landscape timbers
1000 cans of Pepsi
20 racks of studs (200 per rack)
20 free lifetime memberships
Keep reading
We've published a lot of stuff in 27 years of Dirt Rag. Find all our Blast From the Past stories here.