The Rule of the Road
Originally posted on May 9, 2016 at 13:41 pm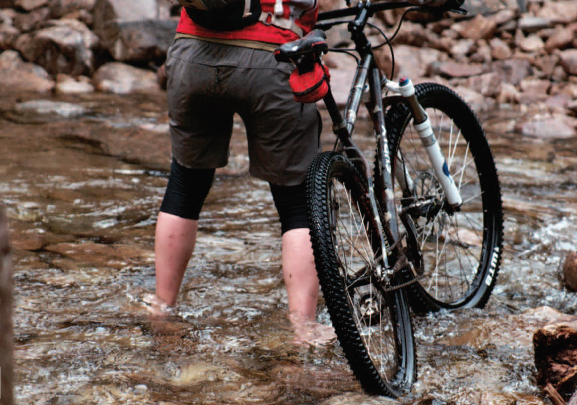 Words and photo: Chris Milucky aka Bama
From On the Road With Bama, a column in the print magazine
Originally published in Issue #190
It's somewhere over here—just carry your bike towards that tree. Don't walk in a straight line, either; we don't want anyone to find our tracks."
We holstered our hardtails and hustled on over to a tall ponderosa about 50 yards off the main trail. There it was, lying silently in some shadows: the Poop Extractor, a beautiful brown singletrack flowing smoothly like a fresh turd, leading into a confidence-crushing garden of granite boulders likely to break both bike and brawn.
There was once an elaborate basketry project of trails woven into the foothills of Boulder, Colorado. Some were built by local kids, some by pro racers and some by California insurgents: Gold Hill, Express-O, Santa Cruz, Angry Ranger and Red Shack. If you're really cool, you might've heard about these trails, and if you're a badass, you've actually ridden them. Nowadays, they're closed, but no "pro trail builder" has ever come close to crafting that level of cool. And none ever will.
"Ohh! This is going to be sick! OK, it wasn't as sick as I thought; let's dig it out."
Those trails were built out of heart and soul, with one unwavering purpose in mind: shredding. Nobody was getting paid to build, so there weren't any deadlines, design restrictions or anyone to say if something was too steep or too rowdy. If it was fun, it lived; if it was lame, it died. The Rule of Rad governed erosion standards, berms, jumps, rocks and drops. Besides my own contribution (which was insignificant in a trail network the size of Connecticut), I have no idea who built what; land ownership was hearsay at best, and at worst, building trails was highly illegal.
On two separate occasions I was sternly asked to leave by individuals holding what you might call "friendly firearms," i.e., they weren't pointed directly at me yet. No one took credit for building or snapped any photos, and nothing out there ended up in a builder's online portfolio.
Now see here: I, myself, own land and I respect private property. I'm not advocating illegal building, nor altering your current public trail system; I'm simply here to remind you of the Rule of Rad. If you've ever ridden something that made you giggle or grin, or if you've thrown a post-shred high-five, then you know what good singletrack looks like.
Sure there are folks with years of building experience on you, and some are better at digging than others, but I've met plenty of angry "pro trail builders" with sticks up their seat tubes and nary one chain link of building ability. It's pretty cool that governments want to spend my tax money on making mountain bike trails, and that people are getting paid to do what we used to whore out for free. But don't think for one pop-a-wheelie that you don't know the difference between fun and geriatric.
So don't sit stoker and watch commercial building companies pave a mindless flat track through your 'hood. Grab a shovel and go get some grit under your gnarly nails.
---
This reads even better in print—and you'll get it sooner and can leave it in your bathroom—so subscribe to the print mag today.