Cannondale introduces redesigned 2017 Scalpel-Si
Originally posted on April 29, 2016 at 15:14 pm
Cannondale's current Scalpel has often been dubbed a "cross-country trail bike" by many owners. Certainly a racer at heart but it also has good trail-ish mannerisms as well. For 2017 designers undertook the gigantic task of leaning the bike out and with the recent introduction of the Habit trail bike, making the Scalpel XC race through and through.
But, that doesn't mean they sacrificed performance. Cannondale is calling the new Scalpel-Si XXC—as in extra cross-country or "extreme cross-country."
I had a chance to discuss the bike one-on-one with Peter Vallance, Cannondale's mountain bike product manager to get the full details.
"A lot more people are doing marathons or stage races and we wanted to provide a bike for that. This bike needs to fit two bottles in the frame and this is a huge feature and differentiator not only between the new Scalpel and the old one but also verses the competition," he explained. "And of course it has to be durable for day after day, big mile racing and we wanted it to be easy to own and work on for both the rider and the shop mechanic."
Another mission was to design the best race bike for all riders, to fit the smallest rider as well as the tallest rider on proper wheel and frame sizes. To do this Cannondale goes little with an extra-small using 27.5 wheels all the way up to extra-large with 29-inch wheels. There's also a dedicated women's line with extra-small, small and medium sizes all with 27.5 wheels. For reference the extra-small and small are shared sizes with the smaller wheels. The men's medium and up goes 29 while the women's medium stays at 27.5. Each size also finally gets a dedicated head tube stack which means Lefty forks are size specific.
As for performance, "In short we wanted our new bike to be faster up and faster down compared to the competition," said Vallance. "It's a pitfall to just say we just have to shave weight (they did to the tune of about 100 grams) and while we'll never shy away from that the main way we've made the bike faster is with our new geometry."
Geometry updates are substantial with fork off set being dramatically altered to match the new 69.5-degree head angle.
"System Si has evolved to be specific to the Scalpel and the biggest part of it is what we call OutFront geometry. It's a unique combination of our progressively slack head tube angle mated to a custom 55 mm offset Lefty fork, which is longer than any other bike out there. So we have unique handling that's made possible because of Lefty. This was actually introduced on the Si hardtail this year and since it will be showing up throughout the line range soon we needed to give it an official name.
"Slack head angles improve high speed and straight line stability as well as steering confidence dropping down steep chutes but often at the cost of slow speed agility, especially picking through rocks or getting around tight switchbacks so the longer offset affords the best of both worlds when mated to that head angle. Stability and agility."
He continued, "So when you slacken the head angle and grow the rake you're growing the front center without lengthening the reach so what this does is put the front wheel further in front of the rider and it really helps you get up and over obstacles easier and also, when you're way behind the saddle charging down a hill it makes it harder to go over the bars, equaling more confident descending. What that offset actually gives you is the equivalent of an even slacker head angle to the tune of 67 or so degrees without that the sluggishness or floppiness that you would encounter in climbing situations or switchbacks."
Asymmetric Integration stays are another key component with short stays measuring 435 mm.
"Rather than just moving the rear wheel forward and creating tire clearance problems, resorting to single ring only or going with Boost spacing which adds 3 mm of clearance to the driveside, with Ai we were able to move the driveside out a full 6 mm for much more clearance, without changing Q-factor, to match the trend of increased tire volumes to fit up to a 2.35" tire (the new Scalpel comes stock with 2.25" rubber) with plenty of mud clearance as well as double chainring compatibility. This bike uses a normal 142 hub and a normal rim just the dishing is changed to move the wheel to the left—equal length spokes on both sides of the hub for an evenly dished wheel.
Zero pivot stays remain but the rear brake is now finally flat mounted to remove braking forces away from the seat stay.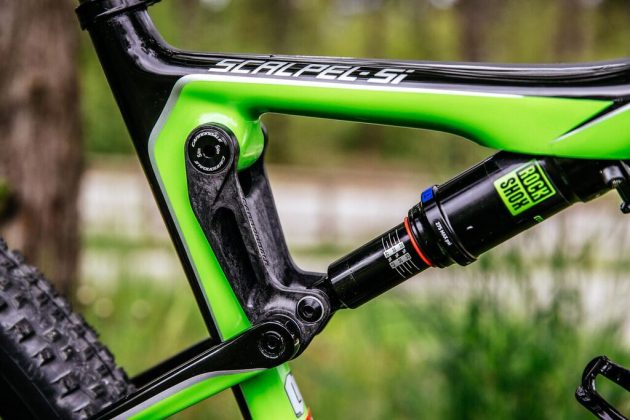 "The shock mounting axles have been improved to be lighter and stiffer with fewer parts and don't require any special tools. Shock links are now carbon, even on the lowest cost aluminum framed model. To solve Shimano Di2 compatibility as well as being dropper post friendly the Scalpel houses the battery inside the top tube. Just pop the shock bolt out, put the battery in the holder and slide it right into the top tube and the shock bolt holds it in place."
To make the bike easier to work on and maintain, Cannondale is introducing its modular internal cable routing. "We wanted to transition to internal cable routing but we knew what a pain it can be to work on so we wanted to make it super easy. We have continuous housing from the shifter to the derailleur so when you're routing, gravity pulls the housing out of the bike and we weren't worried about an additional 20 gams to do this. We also have modular frame pieces that lock onto the housing and come with the bike to suit your cabling needs (likely to come to future models.) This design has also solved the issue with housing rubbing on the Lefty fork, keeping all cable in front of the head tube and away from Lefty."
Models are currently available now at a few select dealers with more to come in the next few weeks. Our test bike will be arriving soon so look for a full test coming soon. As for now, all models and pricing can be found here.