The Rant: What are we hiding from, anyway?
Originally posted on April 29, 2016 at 9:00 am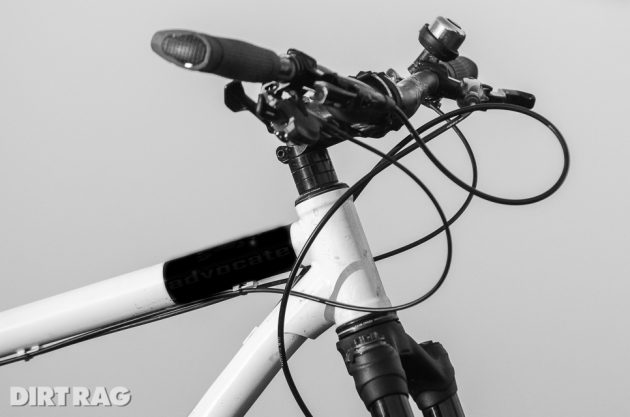 From Issue #190
Throughout the evolution of the mountain bike, we've seen new technologies and ideas introduced at a very rapid rate. Just 30 years ago most of what we take for granted while riding now wasn't even on anyone's radar.
Some of the technology has been discarded along the way, usually with good reason. Dual-control shifters, suspension stems, 1.5-inch knobby tires, toe clips and horizontal top tubes have all been relegated to the waste bin by most riders.
Some technology was a little before its time and returned to wide acceptance. Dropper posts started out with the Hite-Rite, which was tossed out as cross-country racing took hold of the industry. The Gravity Dropper brought the idea back, and now the dropper post is the must-have accessory for any serious trail rider.
Even the current wheel sizes aren't new ideas. Back in the '90s, 700c wheels made appearances on mountain bikes from Diamondback and Bianchi, and rumor has it 650b wheels might have been the dominant wheel size if the Russian government hadn't purchased all the available stock of knobby tires in that size. But it seemed we needed a few more years to warm up to things, and now 27.5 and 29 inch have replaced 26 inch wheels on probably 95 percent of new mountain bikes.
But, some things stick around, even if they seem to serve no purpose. The biggest offender here? Internal cable routing. Why? Why are we doing this to ourselves? At best, it cleans up the aesthetics of the frame, but does zero to clean up the spaghetti-mess of cables that sprout from our bars. I have a bike I'm testing right now with SEVEN cables coming off the bars, with a few of them going inside the frame, and a few outside. Why? Who knows.
At worst, this stuff can actually be dangerous. Some of the early designs could cause the housing to rub on steerer tubes, and cable housing can cut through an aluminum steerer tube with enough use. I've also seen bad routing cause housing to fray and/or rattle inside the frame. And those little rubber grommets that keep the housing in place where it enters the frame? They seem to like to take early retirement in hidden trailside locations.
While this is improving, for many of these bikes you've got a serious headache when it comes time to replace your cables. There are all kinds of attempts to make this easier. I'm sure the Park cable routing tool is pretty awesome. But really, on a mountain bike, why?
Even better, on some bikes, you've got your cable running through housing (which is a tube), running inside a guide tube inside the frame tube. Tube in tube in tube construction seems to be straight out of the Department of Redundancy Department.
I will admit that internal routing for dropper posts makes a lot of sense. While I still use quite a few external droppers, unless that loop is routed just right, it is forever running into legs, swingarms and/or tires. But I see no need to make this good idea worse by trying to get the cable to make the internal turn in the junction between the seat tube and down tube while having almost no access to it.
The better option is out there, and in use by some companies like Turner and Guerrilla Gravity. Just put three or four threaded bosses on the top of the down tube. You can even cheat and use the two bottle mounts that should already be there. Bolt cable guides into those bosses to create customizable routing. Hell put some on the bottom of the top tube, too. More options are better.
One derailleur, two derailleurs, droppers, remote lockouts, moto-style brakes—all this is easily taken care off. Sure, the Di2 whiners will whine that their precious electronic cables are exposed, but there is no stopping that.
Enough with the roadie influence here; there is no need to be ashamed of our cables.