New Santa Cruz Tallboy 29 and 27plus
Originally posted on April 26, 2016 at 3:00 am
The original Santa Cruz Tallboy is arguably the bike that signalled 29ers acceptance into the mainstream/cool kids' cycling club. That's not to say there wasn't good 29er before the Tallboy or that it had the most revolutionary geometry. What is had was a certain something that was well loved and well used.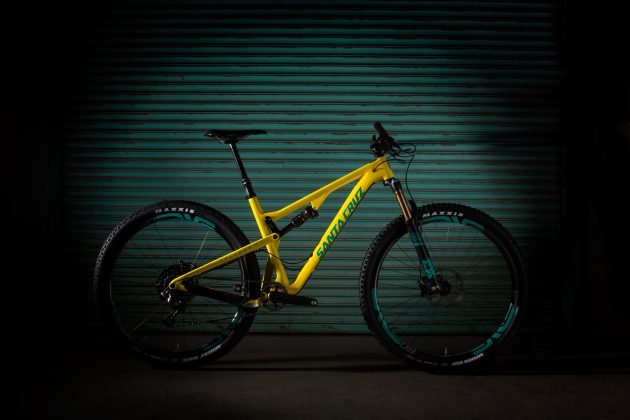 Fast forward a few years, and the Tallboy is looking dated. There was some internal debate about what to do with the Tallboy. With the new Hightower pedalling so well for a "big" bike, it might have made sense for Santa Cruz to push the Tallboy into cross-country territory. Maybe if there was a Santa Cruz Syndicate for XC racers, and maybe if the staff at Santa Cruz wasn't always tinkering with longer forks and custom linkage for more travel on their personal Tallboys, maybe this new Tallboy would be much steeper and racier.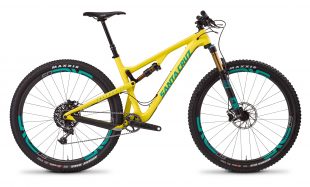 But that isn't what Santa Cruz is about, so the new Tallboy is a modern trail bike that gets the trickle-down geometry changes that started on the Nomad. Think of it as a 5010 for 29 inch wheels (or 27plus). Geometry changes tremendously starting with the reach/top tubes which get much longer. Also, the head angle drops 2.2 degrees (which is huge!). Chainstays get shorter, seat angle steepens a little over half a degree, and the bottom bracket drops by 1 mm. Travel also bumps up to 110 mm in the rear, from the previous 100 mm. Suspension is updated to the latest VPP design, which has proven to be an excellent performer on the other bikes in the lineup.
Just like the Hightower, the Tallboy is compatible with 27plus and 29 inch wheels. Boost spacing  front and rear combined with a flip-chip and a 10 mm longer fork keeps geometry almost identical when switching between wheel sizes.
Parts spec leans towards traction and stiffness, not light weight. A FOX 34 is up front, replacing the 32. Aggressive tires, wide bars, short stems and dropper post on all builds point to a bike that loves being pushed harder than its travel numbers would suggest. Unlike the Hightower, the Tallboy can run a front derailleur on a removeable direct mount tab.
Unfortunately, due to component supply issues, we didn't get a first ride on this bike when it was revealed to the press before Sea Otter. BUT! We've been promised one soon and will hit you up with first impressions as soon as we get it out of the box and on the trails.
In the meantime, get down to your dealer because you might be able to ride one before I do. Santa Cruz timed this release with availability, so you should be able to plunk down the cash and walk out with a bike right about now, assuming you have the scratch. Santa Cruz neither confirmed nor denied aluminum frames, but I bet this bike will get a metal frame version at some point in the future.  Prices are in the pics above. Expect frame-only options soon, as well as less expensive Tallboy C-framed builds.
More info, as expected, at santacruzbicycles.com.