Sea Otter 2016: Jamis adds women's 26plus hardtails and expands 27plus lineup
Originally posted on April 18, 2016 at 13:46 pm
The rumors that 26plus tires were on the way  have been out there for for months and Sea Otter brings first public sightings of the new/old wheel size (those old enough to remember may be having Gazzaloddi flashbacks.) It might seem like ONEMOREWHEELSIZE, but 26plus makes sense. While we are fans of the 27plus wheel size, it is very close to a 29 inch wheel in diameter, which can cause issues with fit for smaller riders. And all those riders on 27.5 full suspension bikes might be able to stuff a set of 26 x 2.8 or 3.0 tires in existing frames and forks.
(edit- I failed to mention the Surly Instigator 2.0, which has 26×2.75 tires, and has been on the scene for a few years. Unlike the 29×3.0 Krampus, the Instigator made little impression on the industry, perhaps due to its not-quite-plussize 27.5×2.75 tires. Regardless, the Instigator deserved a mention, as once again, Surly had a big part introducing a new tire size.)
Dragonfly and Eden
Jamis, building on the success of its Dragonslayer steel 27plus hardtail is building two similar women's bikes for 2017, the steel Dragonfly, and aluminum Eden. Both bike where shown with a new WTB tire, the Ranger. It looks like good all around tire, less aggressive than the Bridger and Trail Boss.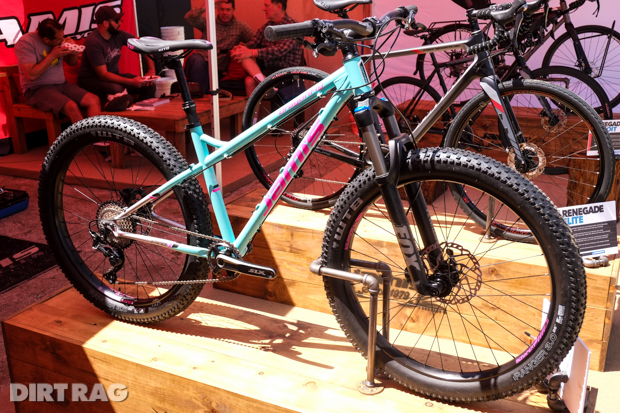 Both bikes get single-ring drivetrains, dropper posts, and 120 mm suspension forks. The Dragonfly follows the same pattern as the Dragonslayer, with trail geometry and bikepacking intentions. The aluminum Eden is the women's version of the Komodo discussed below.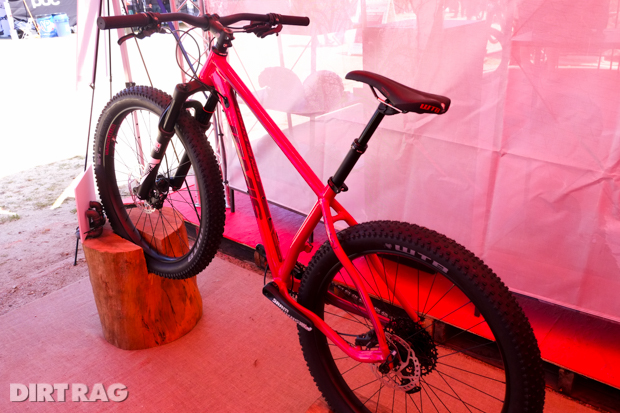 Both bikes will be available in three sizes, something along the lines of 14, 16 or 18 inch frames.
Komodo
The Komodo returns to the men's line up as purely trail-oriented 27plus hardtail, leaving the all-around/bikepacking duties to the Dragonslayer. Geometry looks aggressive, with the chainstay yoke and bent seat tube leading me expect short chainstays. Combine that with a slack-looking head angle, and this thing is looking like a ton of fun.
Jamis is still working to finalize component choices, but expect these 2017 bikes at a few price points to be ready for sale mid-summer 2016.
Watch jamisbikes.com for more info.