Review: Guerrilla Gravity Megatrail
Originally posted on April 8, 2016 at 16:34 pm
Tester: Justin Steiner | Height: 5'7" | Weight: 165 pounds | Inseam: 31"
The Megatrail is the second bike released by Colorado-based manufacturer Guerrilla Gravity. The company's first bike was a full-bore downhill bike dubbed the GG/DH. Where the GG/DH was designed to punish downhill courses, the Megatrail strives to blend downhill prowess and pedaling performance in a versatile package targeting the all-mountain market.
This formula begins with an aluminum frame that's constructed in Guerrilla Gravity's Denver shop. Providing local jobs through domestic manufacturing is one of the key tenets of Guerrilla Gravity's mission. All of the company's other tenets revolve around making versatile and badass bikes.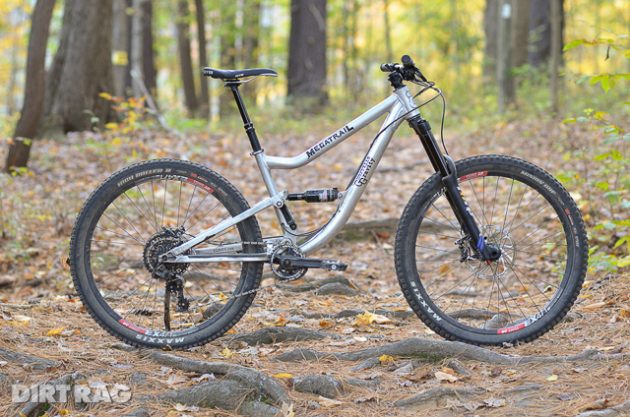 Frame
In today's age of swoopy carbon and hydroformed aluminum construction, the Megatrail's minimally manipulated, custom-butted round and square tubes may look a bit industrial. Don't let that fool you. Guerrilla Gravity engineer Matt Giaraffa utilized his experience designing race car suspension to balance anti-squat, mid-stroke support and bottom-out resistance in a linkage-driven, single-pivot package.
As the company's name suggests, geometry trends toward the gravity end of the spectrum in all of the Megatrail's settings. Two main modes are offered: Trail and Gravity. The Trail setting offers a 66.5 degree head tube angle, 74 degree seat tube angle and 13.2 inch bottom bracket height, while Gravity mode slackens things out to a 65.5 degree head tube angle, 73 degree seat tube angle and 12.7 inch bottom bracket height. Both modes share 17.3 inch chainstays.
The Trail mode's 150 mm of suspension travel is tuned with more midstroke support to provide increased pedaling performance and a livelier ride feel with more pop. Gravity mode's 160 mm of travel is tuned to be slightly softer to provide more compliance. No air pressure adjustment is required when switching between modes, which is performed by moving the rearward shock mount from one position to the other.
Within Gravity mode lies a third option: Super Gravity. Super Gravity combines the geometry of Gravity mode with the suspension kinematics of Trail mode. Read: low and slack, but with more mid-stroke support and pop, resulting in a livelier ride feel.
One idiosyncrasy revolves around sizing. The Megatrail's designated sizes run roughly one size larger than we're used to, so be sure to buy based on top tube length and reach measurement. I normally ride medium frames, which translates to Guerrilla Gravity's small with a 24 inch top tube. That said, Guerrilla Gravity offers a generous size range said to fit riders from 4 feet 10 inches to 6 feet 8 inches.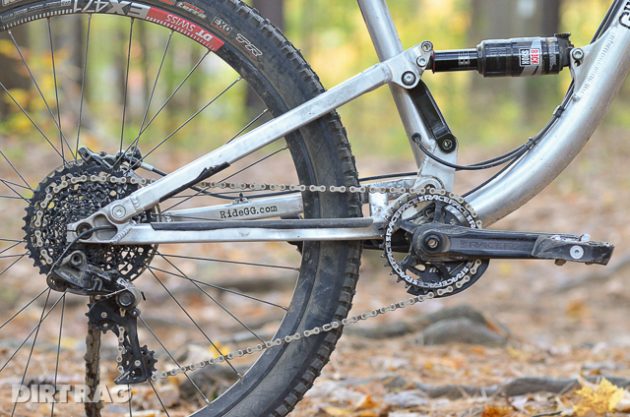 Parts
The standard Trail build is a curated blend of parts that balance performance and affordability, largely in line with parts I'd choose: SRAM GX 1×11 drivetrain and Guide brakes, RockShox Reverb post and Race Face Aeffect handlebar and stem. Upgrades on our test bike included DT Swiss 370 hubs hand laced in Colorado to EX 471 rims and the MRP Stage fork. Maxxis provided ample traction with DHF (front) and High Roller II (rear) tires.
I hadn't previously sampled the MRP Stage fork, which impressed me with its adjustability and compliance. Not only does this fork offer external compression and rebound adjustment, it also offers Ramp Control. Ramp Control adjusts the spring preload on a valve in the air spring chamber. During compression, air flows through this valve. As Ramp Control is increased, the flow of air through this valve is restricted, providing an increasingly progressive spring rate as shaft speed increases, thus improving bottom out resistance within the air spring itself.
Thanks to Ramp Control, the Stage pairs very well with the Megatrail. In Trail mode I increased Ramp Control and added a couple clicks of compression to provide a bit more support to match the firmer rear suspension. In Gravity mode, I decreased ramp support slightly and backed off compression damping to better match the suppleness of the rear suspension.
On the Trail
Bikes like the Megatrail make a reviewer's job both easy and difficult. Easy in that a bike this well executed is easy to warm up to. Difficult in that it works so seamlessly it's sometimes hard to describe exactly what's happening. Regardless, I was immediately smitten by the Megatrail because it offers a potent combination of attributes that speak to gravity-oriented riders.
First, you have two settings of long, low and slack to choose from. Second, it offers extremely well sorted suspension kinematics, in terms of pedaling efficiency, mid-stroke support and botttom-out resistance. Third, the Megatrail's aluminum frame clearly communicates what's happening at the contact patches—better than any carbon bike I've ridden—which instills a great deal of confidence. And, finally, it offers a nice up-and-over-the-pedals riding position.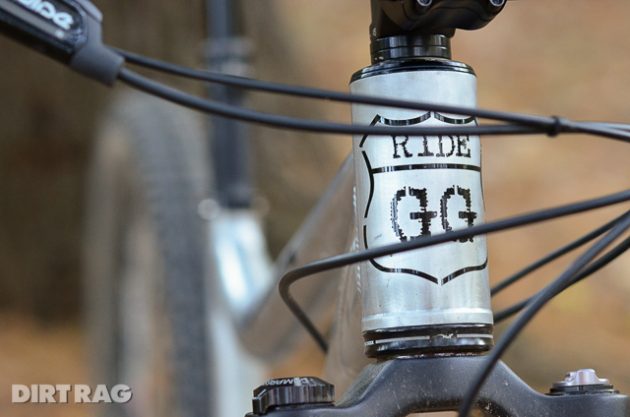 The sum total of those attributes made this bike an absolute ripper for me. Light and efficient enough to use for all-around trail rides, even if it might not be the optimal choice for a 50 mile backcountry mission.
That said, I was pleasantly surprised to find I did not once wish for compression damping adjustment on the RockShox Monarch rear shock. Climbing traction was excellent and pedal-induced suspension movement was kept to a minimum. On the other hand, switch the shock into Gravity mode and you have a mini-shredder on your hands.
It's no downhill race bike, but it'll bash park laps all day long. As you might expect from the geometry chart, the Megatrail's cornering habits are more akin to a downhill bike than a cross-country racer. Definitely need to crank this one over in the turns. The lively suspension tuning provides great support under cornering loads and ample pop out of turns.
The Megatrail's 17.3 inch chainstays aren't terribly short by today's standards but they do offer a lot of stability when paired with the long front center, resulting a 46.3 inch wheelbase. As a result, the Megatrail isn't as snappy as some other bikes in this category, but it sure does carry momentum.
The Santa Cruz Nomad has become my benchmark for bikes of this ilk. How does the Megatrail compare? Very favorably, in many ways. The Nomad with a similar build kit rings in at $5,199 and is only marginally lighter. As much as I love the Nomad, I'd be very tempted to save the $800. The Megatrail makes for a damn fine all-around trail bike for gravity-oriented riders or a great long-travel option for those working their way up the travel scale.
In fact, I liked the Megatrail so much I couldn't help but select if for my 2015 Editor's Choice award—it's the best bike I rode in 2015. Beyond this being one fine steed, you can also feel good about helping three young entrepreneurs provide jobs within their community. That might just be the best of both worlds.
Price: $1,925 (frame), $4,375 (as tested)
Sizes: XS, S (tested), M, L, XL
Wheelbase: 46.3″
Top Tube: 24″
Head Angle: 65.5º/ 66.5º
Seat-Tube Angle: 73º/ 74º
Bottom Bracket: 12.7"/ 13.2"
Rear Center: 17.3″
Weight: 31.0 lbs. w/o pedals
More info: Guerrilla Gravity