Review: Trek Fuel EX Jr
Originally posted on March 28, 2016 at 11:33 am
Testers: Eric and Oona McKeegan
Originally published in Issue #138
Buying your kid a bike is a good idea. Is buying your kid a better bike a better idea? Fortunately my daughter and I got the chance to find out with the new Fuel EX Jr.
Unlike the full-suspension kids bikes that are often all show and no go, the EX Jr is built with most of the same technology and care as the adult sized Fuels, which is to say, this is a real mountain bike. That means it has a 2×10 drivetrain, air sprung suspension front and rear and hydraulic disc brakes. It also uses 26-inch wheels, which are all but dead in the mountain bike world now that 27.5 has taken over. But the smaller wheels allow for a wider range of fit options, which is helpful when dedicating $1,800 to a bike that will no doubt be outgrown.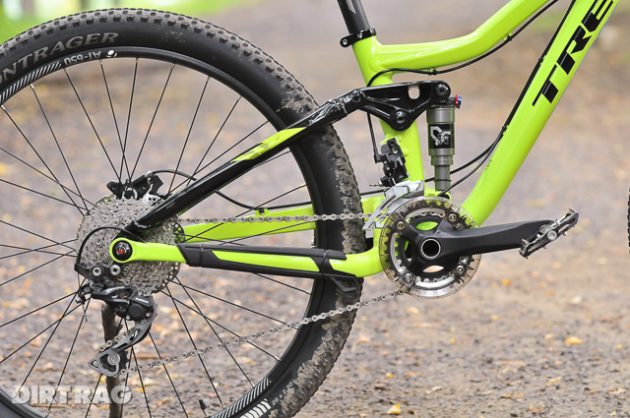 Fit is one of the main things I noticed with this bike. My daughter Oona is lanky, and while the reach on her old 24-inch bike was OK, the seatpost was almost maxed out, but most adult bikes were too long in the top tube to make the jump yet. The Fuel was a great fit from the start, with some room to grow as well.
I was initially skeptical about how much the suspension would matter to my entry-level off-roader kid, but she was immediately more confident, and trail rides became something she looked forward to, and less something she did to please me (not to imply I force my kids to ride bikes).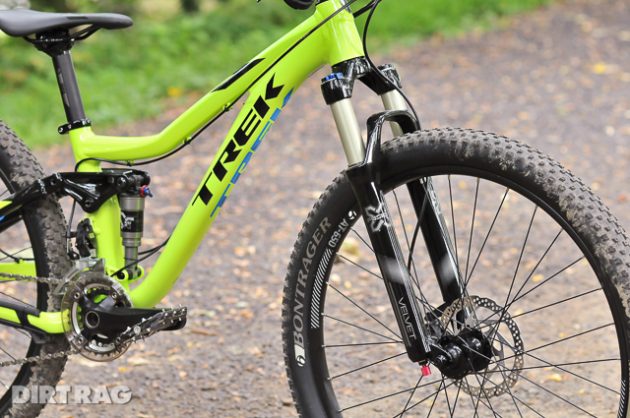 Trek made some nice choices with parts spec, including a low-volume rear shock, narrow 580 mm bars, and hard to find 160 mm cranks. I was less happy with the grips and brake levers. The grips could be thinner (a minor complaint), and the brake levers are too long and can't be adjusted close enough to the bar. When I set the levers to the correct position for one or two finger braking, it pushed the shifters into a hard to reach position. If we were keeping this bike, I would swap the levers to something more ergonomical.
The trigger shifters are one of the best features on this bike. Both my kids lack the hand strength to shift their twist shifters when wet or sweaty, and often forget which way to turn them. No such issues with the triggers.
A bike like this is an investment in your kid's future riding mountain bikes, and probably a guarantee you'll end up with a bike snob when little Johnny or Janey grows up. For your little ripper, or ripper-to-be, the Fuel EX Jr might make for the best Christmas morning ever.
Oona's Thoughts
I liked the colors, though if Trek got more colors like black, orange or blue I believe kids would enjoy it. Compared to my old bike (a bike of many bikes) this one was smooth and the shifters were good, but a little confusing. The bike was very comfortable and fit my shape very well.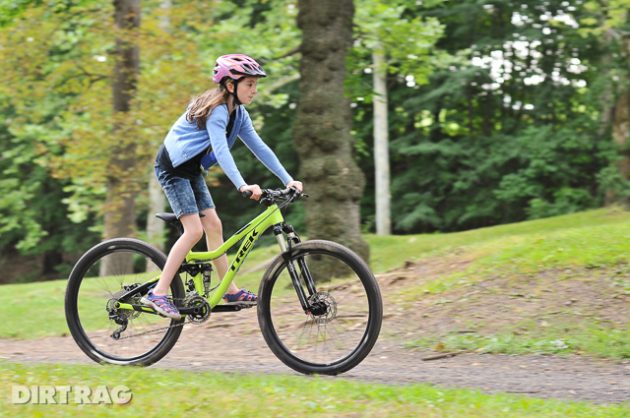 I enjoyed how fast it goes down and up hills. I very much liked how well it went off-road and the easiness of going over bumps. A detail I did not like was that the shifters were confusing and hard to remember where everything was. The bike took some getting used to. I eventually got used to it and became "the master Trek kid biker'' as I call myself! (only in my head of course).
Price: $1,890
Size: One, 12.5 inches (for 4'4″ to 5″ tall)
More info: Trek Fuel EX JR