Review: Polygon Collosus N8
Originally posted on March 21, 2016 at 18:18 pm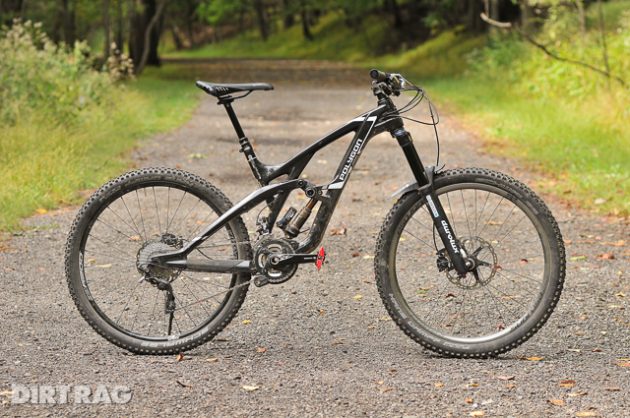 Tester: Justin Steiner | Height: 5'7" | Weight: 165 lbs. | Insteam: 31"
Bike sizes: S, M (tested), L, XL | Price: $4,899
Polygon is a name much more well known outside the United States. Unless you follow World Cup DH racing, where you've surely seen Tracey and Mick Hannah rocking Polygon's Collosus DHX race bike, you might not be terribly familiar with the brand. Polygon is working to increase awareness now that they're distributing bikes consumer direct within the United States.
The Collosus N-series bikes target all-mountain and enduro riders with a carbon frame and swingarm providing 160 mm of rear travel paired with a 160 mm-travel fork. Polygon's FS3 suspension system is a dual-link design that mounts the Fox Float X shock in a floating fashion between the upper and lower linkages.
The 2015 model year N8 being reviewed here retails for $4,899 plus shipping while the 2016 model will retail for $4,699. At this asking price you get a nice parts package that includes a Shimano XT 2×10 drivetrain and brakes (XT 1×11 drivetrain for 2016), Spank Oozy 27.5-inch wheels and a Fox 34 TALAS with CTD remote (Fox 36 TALAS for 2016).
It took me a little while to warm up to the Collosus. Mostly due to the laid-back 72-degree seat tube angle that yields a more rearward weight bias and behind-the-pedals riding position compared to new-school offerings like Kona's Process line and Santa Cruz's recent releases. Once acclimated, things began to fall into place.
While certainly not steep, the Collosus' 66.3-degree headtube angle is on the steeper end for a bike in this category. Those angles combined with a 23.2-inch top tube on a medium result in a front center over an inch shorter than a Nomad. Another big influence on feel and handling is the bike's tall 14.2-inch bottom bracket, which is approaching a full inch taller than the Nomad and a whopping 1.5 inches taller than the Guerrilla Gravity Megatrail I was also riding at the time (in gravity mode).
Combined with the short-ish 17-inch chainstays, the Polygon is quicker and more neutral in its handling than many of the other bikes in this category. On non-aggressive trail rides, this neutral handling was a boon. In the bike park, it felt lively and snappy, but the tall bottom bracket hindered cornering. At race-pace during a particularly gnarly enduro, I could envision yearning for more stability.
With the rear suspension set to 30 percent sag, the Collosus offered supple small-bump compliance. On trail rides, I often ran the bike in the shock's Trail mode to provide additional mid-stroke support. In Descend mode it often ventured further into the mid-stroke a bit more than I prefer. In stock form the rear suspension felt a little too linear in some big-hit situations. Hard-charging and heavier riders may want to experiment with adding an air volume spacer to the Float X.
One letdown to an otherwise solid package is the previous generation Fox 34 fork. Its damping and stiffness were simply not able to keep pace. For me, the bike really came alive after swapping in SR Suntour's redesigned Durolux fork. The Fox 36 fork spec'd on the 2016 model will be a big improvement.
A second issue involves the rear swingarm, which doesn't offer a ton of tire clearance and isn't the stiffest I've ridden. Where does the Collosus fit in the market? There's a lot of competition at this price point. If you're a fan of bikes with long front centers and up-over-the-pedals-riding positions, the Collosus is not for you.
Ultimately, I feel this bike is best suited for folks looking for a long-travel bike that offers quicker handling and more rearward weight bias. If you're the type of rider that likes big travel, but not necessarily longand- low shred sleds, the Collosus is right up your alley.
Wheelbase: 44.9″
Top Tube: 23.2″
Head Angle: 66.3°
Seat-Tube Angle: 72º
Bottom Bracket: 14.2″
Rear Center: 17″
Weight: 30.2 lbs. w/o pedals (specs based on size tested)