Rad Rider Rigs: Henry Tan Van
Originally posted on March 15, 2016 at 7:30 am
There are people who love mountain biking, and there are those who love it so much they dedicate a vehicle to mountain biking. Chris and Leslie Kehmeier are two of those people, and Henry Tan Van is one such vehicle.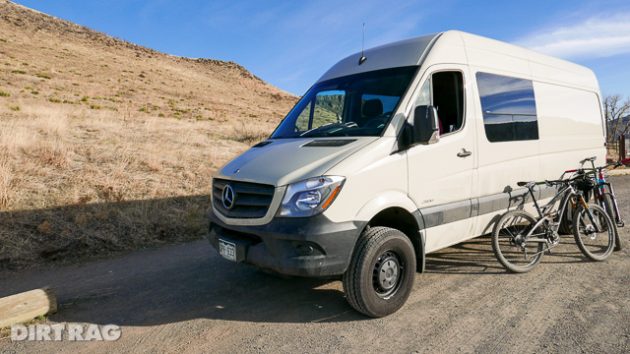 The Kehmeiers live in Golden, Colorado, and have each worked at IMBA for over six years. Henry is a 170-inch Mercedes Sprinter van with four-wheel drive, about 10 inches of clearance and a four cylinder turbo diesel five-speed automatic.
Before Henry, the Kehmeiers had decidedly less space. Their IMBA tenure began with living out of a Subaru Outback as members of the Subaru-IMBA Trail Care Crew. During that two-year stint, they criss-crossed the U.S. several times teaching sustainable trail building classes, among many other things, and mountain biking on most of the country's greatest trail systems.
Since coming off the road and returning to domestic life in 2012, they haven't quite been able to shake the itch of the road warrior. I should note that they live just three blocks down the street from me and, when they bought the van, I felt relief. It means they aren't going to buy a house somewhere else and move away.
Traveling has been a shared goal for the Kehmeiers for a long time. "As I get older, I realize what makes me tick. Traveling is re-charging for me, not being at home," Leslie said. "Traveling is the best thing we do together. You know, all that relationship stuff. We learned that on the Trail Care Crew. Now we have the van and can continue our adventures."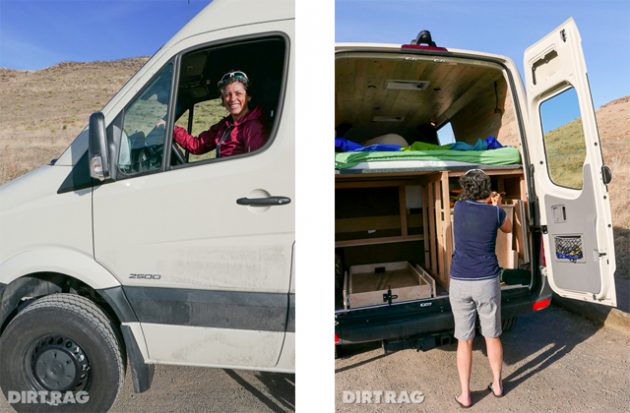 The pair travel often in their roles at IMBA. Chris is Associate Director of IMBA Trail Solutions and Leslie is IMBA's mapping manager (mapping as in GIS) and a professional photographer. Henry offers the pair a "self-contained adventuremobile," as Chris put it. "We can bring bikes, but we can also bring everything from climbing gear to yoga stuff," he said. "We're no longer limited like we might be in a car or even a truck."
The van is not yet complete, but the Kehmeiers can be hard to pin down and I've been dying to see the inside since Chris started hacking away at it last summer. Henry was bare bones when purchased: no windows, no insulation, no nothing. So far, they have put about $3,000 into it—far less than paying an adventure company to pimp out the van.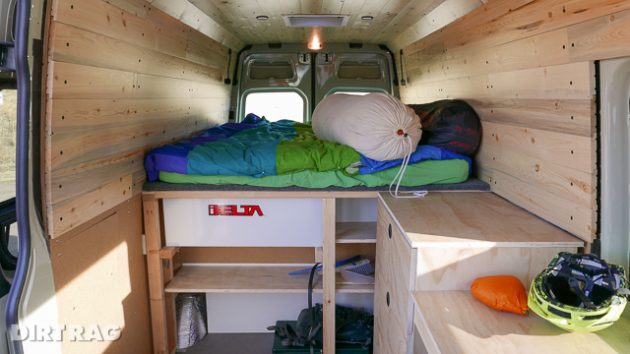 "I never thought I'd find myself at a Mercedes dealership," said Leslie. "It's funny being there among all the luxury cars and saying, 'I'm here to buy a van!'"
With help from a few family members, the pair have done all of the customization work themselves. Chris started with soundproofing the floor, installing windows, insulating the walls and adding a few interior lights. The siding is blue pine harvested from trees devastated by a pine beetle infestation currently ongoing in Colorado. The platform bed holds a queen-size mattress to accommodate Chris's 6'8" frame. The three-drawer dresser is more space than Leslie has at home.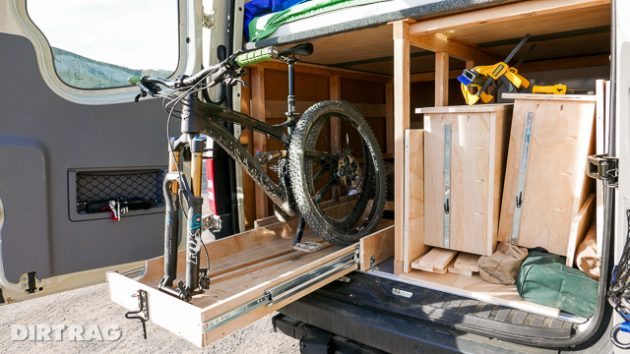 One of the coolest features is the slide-out bike tray underneath the bed that keeps their rides secure and doubles as a pull-out picnic table. A rear bike rack will allow them to haul passengers.
Still to come is a two-person bench seat with a camp toilet hidden underneath plus a sink, solar panels, water storage and a stove. A rooftop platform will allow for sleeping under the stars and a new perspective for Leslie's photography work. Chris cleverly laid the whole thing out on an Excel grid and can virtually rearrange the pieces to accommodate future needs and stretches of imagination.
The Kehmeiers chose a van instead of a truck pulling a trailer because they wanted to be completely self-contained. "Whether we pull up in a WalMart parking lot or a campground and it's near freezing and raining, I don't want to have to step foot outside to transfer gear," said Chris. "I can just swing out of the driver's seat and be in my living room."
And what of the name? "Henry" was randomly bestowed by another Sprinter-owning, mountain-biking friend. "We talk about the van like he's part of the family," said Leslie. "He's just Henry, even to our parents. Like a grandkid."
So far, Henry has been to Fruita and Pueblo in Colorado; Bozeman, Montana; Lander, Wyoming; and Moab. He's headed next to Austin and then Arkansas to check out a few IMBA Epic trails.
"The van opens up a whole new thought process of where we can go and for how long," said Leslie.
Follow Henry's adventures on Leslie's Instagram page, @thewideeyedworld.
---
Got a rad rig that you think we should feature? Let us know: web@dirtragmag.com