Inside Line – SRAM NX 1×11: 1x for entry-level bikes
Originally posted on February 11, 2016 at 12:03 pm
SRAM has been slowly trickling down 1×11 tech to lower and lower price points over the last few years, but with the release of this newest 1x group, even those with a less-than-sizeable bike budget can get in on the 1x evolution that is taking over mountain biking. Read on for full details and our analysis.
Pictured here is a basic group with only a few of the well-thought-out options: 11-42 11 speed cassette; crank with 28, 30, 32, 34, 36, 38, 40 chainring options; trigger or grip shifter; a $14 chain and a rear derailleur that won't make you cry if it gets crunched on some rocks. Let's have a look at the specific components:
PG-1130 Cassette
$79 | €89 | £68
Notice this is an 11-42 cassette, not the 10-42 range on the more expensive groups. This means it can fit a standard Shimano-splined cassette body, and is a hell of a lot cheaper than the 10-42 cassettes as well.
Claimed weight is 538 grams, substantially heavier than the GX 1150 10-42 cassette, and a little more portly than Shimano's M8000 11-42 XT-level cassette.
1×11 X-HORIZON™ Rear Derailleur
$74 | €76 | £58
All the same features as the more expensive derailleurs, just a hell of a lot cheaper and a bit heavier. NX comes in at 322 grams, vs the $115 GX derailleur at 265 grams.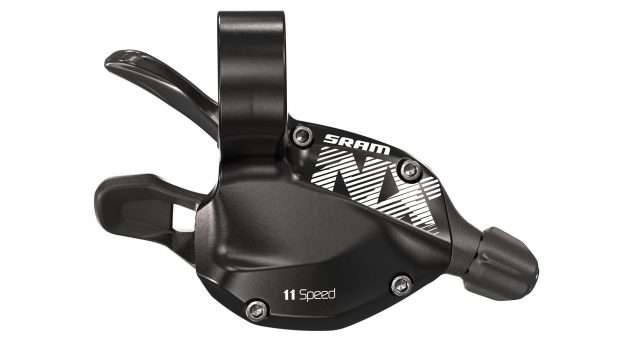 NX Trigger Shifter 
$27 | €28 | £22
The shifter may have the most stripped down feature-set of any of these components, missing out in the ergonomic adjustments and Matchmaker compatibility. But it is $27, which is less than a case of whatever craft beer you have in your fridge. At 142 grams it is only a little heavier than the 122 gram GX shifter which is $42. Also, SRAM still makes Grip Shift. Some people still ride them, I guess. If you want one, it is $33. Knock yourself out.
1x X-SYNC™ Crankset
$116 | €120 | £92
These are pretty simple functional cranks, with a ton of options. So many options, I'll let SRAM cover them all:
BB COMPATIBILITY: BB30/PF30-68/73mm, GXP 100mm/ PF GXP 121mm, GXP PF GXP 68/ 73mm
CHAINRINGS: 28t, 30t, 32t, 34t, 36t, 38t, 40t
CRANK ARM LENGTH: 155mm, 165mm, 170mm, 175mm
BB SPINDLE INTERFACE: 24mm, 30mm
CHAINRING MATERIAL: Aluminum
GUARD: Aluminum Guard, No Guard
BOLT CIRCLE DIAMETER (BCD): 94 BCD
CRANK ARM MATERIAL: Aluminum
CHAINLINE: 49.0mm, 52.0mm, 66.5mm
PART WEIGHT: 80-780g
PC-1110 Chain
$14 | €14 | £11
A $14 chain that works with any SRAM 1×11 group. Will probably work with any Shimano 1×11 group, too. Includes a PowerLock connector. Strangely enough, if you want a PowerLock to connect your Shimano chain, because Hyperglide pins are kinda off-the-back these days, it will cost you $17. That $17 PowerLock is shiny, vs the matte-black connecter with the $14 chain, but you get a WHOLE CHAIN included at that price. I know what I'd buy.
The 1110 chain is claimed to weight 232-273g, which is LIGHTER than 258 gram X1 chain. I predict SRAM is going to sell the crap out of these things.
---
Our Take
All told, this is a $310 upgrade for a fully-featured 1×11 drivetrain that will work with your current wheels. Use your old crank set paired with a $20 SRAM steel X-Sync chainring and get that price down to $214. And long term cost from consumables (cassette and chain) is a lot easier to swallow as well.
SRAM was silent about the 11 tooth vs 10 tooth high-gear range. It will probably be noticeable to those of use used to 10 tooth cogs. But, in all honesty, on modern trail bikes, I only ever want slightly easier climbing gear, and almost never want something to go faster on the flats. Regardless of slightly less range, a $300 1×11 group is going to replace a lot of Shimano Deore level 2×10 drivetrains on complete bikes real soon. And I would expect smart companies to offer some interesting builds with high-end suspension matched to the NX group to keep price in check but performance very high.
This may be bigger news that the original 1×11 drivetrain release in 2012. And maybe even bigger news than the rumors of even wider range 12-speed cassettes waiting in the wings.
Some things to be excited about
155 and 165 mm crank lengths are very, very hard to find at this price point. I know what my kids will be riding soon.
Fat bikes (with 4 inch tires) have another crankset option
Lots of chainring sizes that should allow this to be used on everything from all-mountain bikes to flat-bar gravel bikes.