The International Van'ers Guild
Originally posted on February 8, 2016 at 6:50 am
On the Road With Bama
Words and photo: Chris Milucky aka Bama.
From Dirt Rag Issue #188
The first time I quit climbing the ladder of public opinion, I moved into a house with six other people, three dogs and a cat; the cat was smart enough to soon skip town and live someplace less crowded.
I needed a houseful of roommates in order to afford living given my new occupation as a bike messenger: Work was physically exhausting and I soon fell into a poor-man's land of tent camping in the backyards of Boulder, Colorado. It was a colorful, romantic lifestyle with solid friends and lots of youthful, wild fun—if you know what I mean.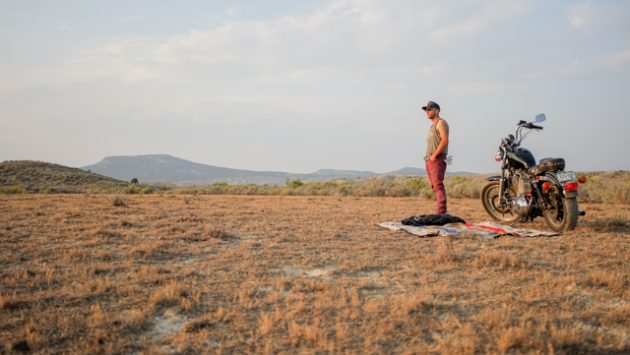 The second time I escaped from the dreams my mother once held of my success in corporate America, I bought and moved into a 1970s-era Airstream. I painted over the rotten wood and mildew and called it good. I picked up a job building trails east of Portland, Oregon. Sandy Ridge was the name of the place, and the weather was awful. It was cold and wet and the Airstream didn't have any heat. After some time, the Airstream made a stop in Sedona, Arizona, and shortly thereafter I took a traveling job with a major bike company, resulting in three years of "van'er life." After that, I was a mountain bike guide and moved back to the tent. I've been traveling for more than five years now, full time, year round.
It's like this: If you're going to work in the mountain bike industry, eventually you're going to end up in a van or camper or something that will make your grandma cry tears of disappointment. I'm not sure how the "tiny house" movement started, but I'm pretty sure ski bums are at least 30 years ahead of us. Before skiers, circus clowns like Emmitt Kelly roamed the West. Before the circus, they were cowboys. The "Indians," whom I'd rather refer to as Traditional Nomads, lived in campers they called teepees, which leaked horribly.
Everything leaks. Teepees, tents, campers and vans—live in one long enough and you'll find yourself sleeping under an unavoidable, unfixable leak. They're all cold, too. Life in a mobile shelter isn't always glamour and gold, and the sedentary sects of society have always cast judgment against the nomads.
In modern times, we're fined and ticketed; for the traditional nomads, death, violence and the Trail of Tears were lifestyle treats. In recent times, this affliction, if you want to call it that, is known as wanderlust. But it's not a counterculture thing, and it's not strange. The life of a nomad is beyond normal; it's historical.
Think about that: every day on the road, every day on the trail, every day at the mercy of the wind, the wildlife and the solitude of the sun and stars. A day in the plains, a day in the mountains and another in the desert. That is the traditional way of the West. As humans, many of us have the same wandering spirit of the wolf, the wolverine and the eagle.
Give it a try sometime. Or don't, but don't think of me as any less. I may be dirty, but I'm always honest with myself. I don't know if it's something in the sand, or perhaps a curse placed by the demons of the desert, but for thousands of years people like me have been fighting to maintain our lifestyle. And this isn't a lifestyle I chose, but rather it chose me; I cannot escape from it. At times I wonder if I'm running away from my problems or running directly toward them, but I just can't stop.
---
Chris Milucky (better known as "Bama"), his wife, Tanesha and their dog, Larry, once logged more than 50,000 miles a year driving across the country. They are now building a new home in Colorado. All they ask is that you keep singletrack single and support your local bike shop. Read more from Bama.