Feature: North Carolina's Appalachian Beer Trail
Originally posted on January 27, 2016 at 7:00 am
Words and photos by Logan Watts
Originally featured in print in Dirt Rag Issue #181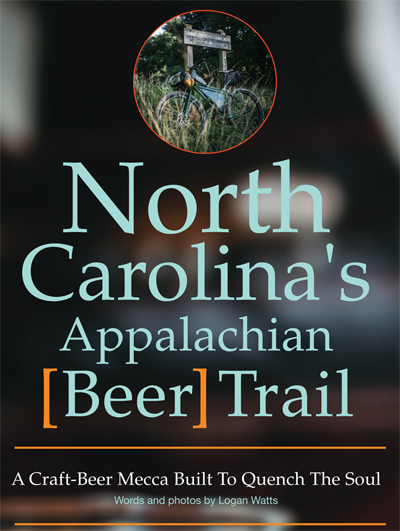 "I'm about ready for that beer," Dustin bellows as we plummet the last downhill of the day. If I had a nickel for every time I've heard that statement echo down a ribbon of singletrack, I'd have a sizable collection worth every bit of four dollars, at least. "Me too," I shout as I haggle with an awkward loaf of granite.
I had actually been pining for a proper brew for about six months or so. I was just completing a long bike-packing odyssey through Africa when the seed was planted for this trip. Needless to say, the post-ride selection of watery pilsners on the Dark Continent fell flat, sometimes literally.
It's remarkable how a hankering lasted half of a year. But it wasn't only hoppy beer that I craved. No matter where I am in the world, as soon as April rolls around my mind begins to wander through the rhododendron tunnels of Pisgah, North Carolina.
My muscles start to weaken at the thought of the unrelenting ascents and knuckle-bleaching descents that make up the epic trail network in the heart of the Appalachians. It's kind of like I am being called back home.
---
The idea was to piece together a five-day bike-packing route that would traverse each of the four major trail networks in the area and enable us to sample some of the finest beer in the country. The principles were simple: It was required that we pack lightly so that we'd be nimble enough for the burliest downhills that the Blue Ridge has to offer; it was mandatory that we tackle a tough route that would kick the crap out of us; it was compulsory to treat yo'self in between; but most of all, we had to dig deep into the remoteness of the forest.
OLD FORT
After dropping a car at the route's end and driving a little more than an hour back to Old Fort, my clock reads 7 p.m. We intend to climb the Old Mitchell Toll Road, a rough and steep doubletrack also known as Hella Rocks. We'll crest Heartbreak Ridge, camp, and follow the Pisgah enduro route tomorrow morning. Afterward, we'll pause for a cold glass of Pisgah Pale Ale at the brewery.
A scant five minutes into the trip, plans derail. We choose to start at the Pisgah Brewery (with a cold glass of Pisgah Pale Ale, maybe three). Pedaling commences at dusk and it immediately starts spewing rain, a soaking rain; we ride up a hill and abruptly stop at the gate of Ridgecrest, a private community that owns the property at the base of the ridge.
"Well, unfortunately I can't let you pass. We don't allow cyclists through here after dark. It's just a rule; I didn't make it up," kindly states the elderly gatehouse attendant who emerges from a dark doorway smelling of tobacco smoke. Who knew? We could bail, then try and sneak around through back roads and several dark dirt-road interchanges almost guaranteeing that we get lost.
Instead we rethink, adjust, and climb up the switchbacks of Kitsuma Peak. We can camp there for the night and descend Young's Ridge, a classic screamer of a downhill, the next morning. As soon as camp is pitched, a dry front passes through and clears away any lingering sentiments of our botched plans.
The next morning, I wake to a muffled rumble from a nearby sleeping bag and a bluebird sky filtering through the canopy of trees, the latter being somewhat of a summer rarity in this deciduous rainforest. Autumn is knocking.
After brewing some stout black coffee and rolling up camp, Dustin proceeds to pull on his right glove and discovers a giant black millipede emerging from the dark recesses of the thumbhole. I scream like a grade-school cheerleader—referred creeps, I guess. You'd think I'd have a little more grit after camping in the African bush for six months. Then I recall waving my hands and running in circles as I was chased around the tent in Zimbabwe by a 5-inch camel spider.
"What time is it?" I ask. "I would say around 8:15," Dustin responds. "OK, let's get a move on." I guess we haven't fully unmoored from time and the daily grind.
BEER RUN
Watery eyed and grinning, we shoot out the bottom of Young's Ridge and begin the paved portion of our journey toward Asheville. There we are forced to choose amongst a dizzying array of 14 craft breweries. Our first stop is Wicked Weed Brewing, named after a quote from King Henry VIII referring to the pernicious hop plant. At barely more than a year in operation, they are already turning heads with their Funkatorium's barrel-aged sours; their Serenity Wild Ale won gold this past year at the Great American Beer Festival. From there we pedal a few hundred yards, saddle up to the bar at the lauded Burial Beer Co., and sample the epic Wrecking Bar Black Saison.
A lot has changed up here in a year. Sierra Nevada opened a brewing facility and tasting room, New Belgium is well underway with building its East Coast facility, several new restaurants have taken root, magical breweries out the wazoo have set up shop…and it all seems to be flourishing. I ask Tim Gormley, Burial's head mad scientist, if he thinks that there are too many breweries opening at once.
He lets us in on their little secret to success: "The craft-beer community here is kind of like a bunch of friends, people who help each other out; we are all working hard on our own passion [to create and share beer], but it's kind of like a group effort to make Asheville a unique place to live. As tourism grows, every brewery seems to find its niche."
The area mountain bike scene seems to share the same qualities. It's like an ultra-happy summer camp where everyone is sharing ideas, team building, and pitching in for the greater good. Tim hands us a bomber of Cemetery Gates, a Belgian IPA born from Burial's collaboration with Pisgah Brewing. Named after a song by the band Pantera, this complex concoction will be a perfect post-ride beer for whatever rock-strewn widow-maker trail we'll inevitably be tackling.
Next stop, Bent Creek, Asheville's most accessible singletrack, located about 10 miles from town. For most Ashevillians, it's the good ole backyard place to ride above-average loops and downhills, but to us it's the eastern gateway to the Pisgah Ranger District—the foyer of my home, so to speak.
FREAKOUT
As daylight fades, we continue our trek southwest, leaving a vapor trail of hops and any remaining stress particles we had harbored from our almost-forgotten workaday routines. That's the thing about bike-packing: It feels like all strings are severed when you set off on a packed bike not knowing where you'll sleep that night. Everything is stripped away except the pasty-white core of what you absolutely need in order to sleep, eat, and ride—the essentials of a long-term adventure, the kind that requires you to pedal for days in order to reach a place that will change your mindset.
My first "freakout" was a little more than a decade ago. I had a handsome job in marketing, I bought a house, and everything was swell. After 9/11, the recession sunk in and the world changed a bit. Life seemed shorter; maybe I simply got tired. I was living in a town I didn't care for, and my dirtbag dreams had all but faded in the proverbial rearview mirror. So I quit my job, leased our house, and my girlfriend (now wife) and I took off on an extended trip through India, Thailand, and Tibet. The freedom to move, cultural immersion, and beautiful places made us swear that we wouldn't get sucked back into the American Dream.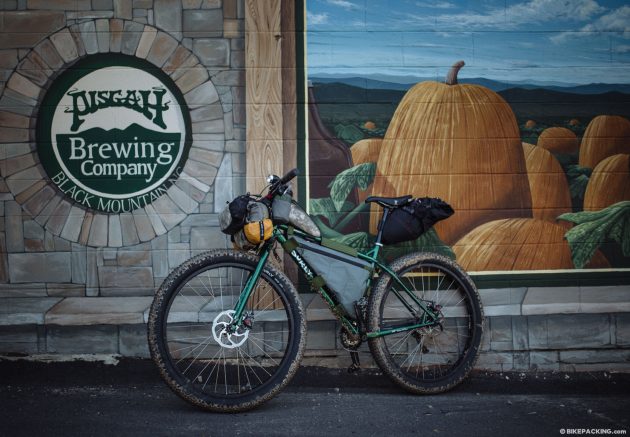 Then our wallets ran dry. I was quickly funneled back into the real world, eventually started my own company and commenced to work my ass off. Almost two years ago, despite having even more trappings to anchor us in place, we did it again. Handed over the keys to my small business, had a massive eBay selloff, stuffed a storage unit like a sardine can, and set off by bike. We cycled from Mexico to Panama. I was addicted to the freedom of traveling by bicycle.
A year later, we decided to bike-pack southern and eastern Africa via dirt roads and mountain passes. After each one of these trips, the pull only seems to get stronger. Each of these freakouts work like a magical reset button—a detachment from the grind. I've been home (my in-laws' attached suite) for just a couple of months and the pressure of American life has already started to sink in again. Rental-property issues, finances, family matters, insurance, IRS, etc.
By mid-August I was ready for a mini-freakout. Dustin was ready to get away from it all too; he self-reports that a "mini midlife crisis" of his own was long overdue.
THE REAL PISGAH
After a beer-fueled sleep and breakfast of grainy bars that don't quite curb the hangover, we gingerly attack a 1,200-foot climb to reach the crown jewel of Bent Creek, Greenslick. Formerly known as Mo' Heinous, this 2-mile, ridiculously fast downhill is complete with big berms and plenty of rollers. We relax the wind-peeled grins from our faces at the bottom and start up Lower Sidehill. Another quad-wrenching climb puts us on the Blue Ridge Parkway, and after a couple miles of being sideswiped by Harleys in blind corners, the Trace Ridge trailhead appears. There we drop into a 4.5-mile rugged descent that wrangles us into the hearty embrace of the real Pisgah.
Just before I rode these trails for the first time, back in the late aughts, I stopped by The Hub, an aptly named bike shop (complete with taproom) that's conveniently located at the junction where Highway 276 enters the forest. I sheepishly asked some folks at the service counter to recommend a good 10- or 15-mile loop, not having a clue what I was getting myself into.
The mechanic heaved a glance of concern at another employee, then they voiced in unison, "Have you ridden up here before?" "Er, no," I replied, "but I've ridden in Bent Creek once."
"Well, now you're in the real Pisgah," the wrench croaked. About an hour or so later I was wide-eyed and careening down the raw and technical rocky face of the Black Mountain Trail. I was hooked.
A lot has changed up here since then, and a lot more people have figured out the draw of these trails. Oskar Blues helped build the REEB Ranch; DuPont State Forest added a couple masterpiece trails; the bottom of the Black Mountain trail got overhauled. When I first heard that last bit of news, a wave of fear reverberated down my spine. These trails are raw and the Black Mountain Trail is my special place—the figurative kitchen of my home.
GAZING INTO NOTHING
We break our riverside camp the next morning at the bottom of Trace Ridge and catch the gravel fire service road up to the Laurel Mountain trailhead. The Laurel Mountain/Pilot Rock ride is one of my personal favorites—a gradual and technical climb followed by a heart-in-throat descent. About halfway up Laurel I hear a loud scraping sound and look over just in time to see a fairly large black bear shimmying down a massive poplar. He crashes to the forest floor and is out of sight before I can say, "Hey, bear." The moment reminds me that Laurel is notably "out there." For me, this trail is a long meditative traverse, kind of like a therapeutic massage via roots and rocks.
There are basically three types of trails in Pisgah: 1. ones that were originally created by the timber trade for rail-bound logging carts, back when the land was owned by Rockefeller himself. These are characteristically long, sweeping routes with moderate and fairly technical climbs; 2. trails that go straight up, then straight down. These are extremely rugged, raw, and full of drops, boulders, steps, and deep ravines where they have been weathered over time; and 3. endless rock gardens.
Pilot fits into the #3 description, a 1,600-foot drop over a 2-mile boulder field. The kind of ride that inspires high-fives and requires a shot of whiskey to calm the endorphins after you clear it. At the bottom of Pilot we decide to take the inner Pilot Cove loop and camp on a giant, exposed granite overlook about halfway through the route. It is an amazing place situated in the middle of a giant bowl of forest. We arrive late afternoon and are greeted by the shed skin and severed torso of a copperhead.
Dustin reassures me, "Don't worry, I think copperheads eat millipedes." Within minutes our asses are parked on the side of the mountain, our minds staring into nothing. It's not often you can find a view where there are no signs of human impact—no cell tower, no ridge-perched million-dollar homes, no roads.
BLACK MOUNTAIN
We wake the following morning and have a breakfast of sweet-and-sour pork, curry chicken, and rice that should be enough fuel to push us over Buckhorn Gap and then up the arduous hike-a-bike to the top of Black Mountain. A couple hours later we crest the overlook on Black Mountain and I am hungry. This is the spine. If the measure of a place's wildness is based on how much it makes you forget the rest of the world, this ranks pretty high up there, especially for the Southeast.
The Black Mountain Trail is one of the most brutal that Pisgah has up its sleeve, especially the top section. They definitely didn't redesign this part. There does seem to be a little more room on the sides of the washed-out trough that runs a significant percentage of the downhill. It had developed a sizable V-shaped ravine and had become difficult to ride after last year's record rainfall. It turns out that some of the underbrush was cleared to allow riders to skirt the ravine, in turn promoting good erosion to help push dirt back into the gap—quality-over-quantity trail maintenance. The bottom part has definitely changed, and in my opinion it's been reworked perfectly—new undulations, better-tracked berms, rollers, and a new bridge. We fly down the fast lower section and it seems as if it's twice as long as it was in its previous life.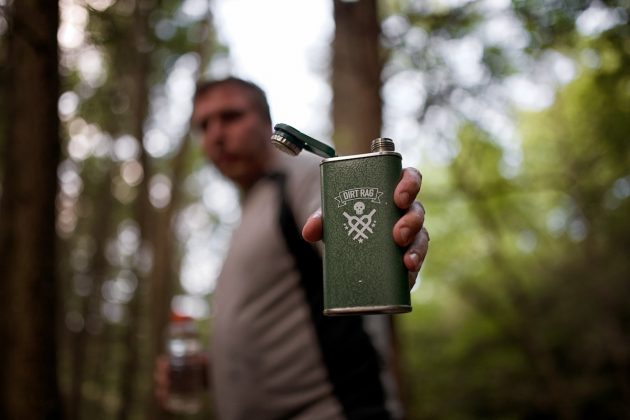 As we spill out into the parking lot, a fellow cyclist offers us ice-cold beers and asks about our trip. We pour the beers through grins, share some small talk, and wave goodbye. The local bike path leads us over to The Hub, where we pony up to the bar (their in-house "Pisgah Tavern") overlooking the twirling Allen wrenches in the service area. We make a couple friends over a Wicked Weed Freak of Nature Double IPA and jump back on the bikes for a quick ride to Oskar Blues for one more round. After poking around their facility, dusk is settling in, so we head out to our final camp, the Bike Farm on the edge of DuPont State Forest.
We arrive at dark, pitch camp, and get some rest. The next morning, we're greeted by the friendly proprietor, Cashion, and his blue-eyed dog, Mya Surlsmith. He tells us about the newly constructed Red Bull Dream Line on the property, the relationship with Oskar Blues, which helped make his dream a reality, and the future plans of this unique mountain bike base camp that beer helped build. Then Cashion bids us farewell and heads out to guide his Peruvian guests, who've also come to experience the raw trails and rugged wilderness of Pisgah.
We have one more ride. DuPont has a new loop called Hickory Mountain, and we'll finish with the fast flowing blitz of a trail called Ridgeline. We leave the farm, pedal to the top, and pause before the tear-jerking descent. "I wish we had one more night to ride out to Squirrel Gap and soak in the forest," I utter. Dustin replies, "No kidding…that'd be nice. I'm about ready for one more beer."
---
Find the route here on Logan's website, Bikepacking.com