Review: Base layers for cycling
Originally posted on January 15, 2016 at 7:07 am
Whether your ride exclusively in technical apparel or prefer jeans and the stack of old cotton shirts you saved from rock concerts, there are two investment pieces that can be worn multiple times between washes, extend the usefulness of your usual cycling gear and help get you through winter: a great jacket and a great base layer. We reviewed several base layers and present you with our thoughts, here.
Note that each of the women's' pieces has a male-specific counterpart (except for the bra, obviously). Read on for products from Rapha, Bontrager, Pearl Izumi and Smartwool.
---
Rapha Merino Mesh Baselayer
Tester: Mike Cushionbury
Yeah, I know … Rapha in Dirt Rag. But we don't subscribe to convention so when something performs this well, it's worthy of mention.
Rapha's Merino Mesh Baselayer is my go-to first layer this winter—one of the best I've ever used. Its merino wool mesh design, when combined with additional layers and a jacket, traps body heat like no other design and without being stuffy thanks to great moisture transfer. Since I've started wearing this piece, I have been able to cut down on a layer or two across all temperatures.
The lightweight, breathable, mesh design also performs well when it's milder out, changing between cool and warm (I use the short sleeve version in spring and fall) thanks to its breathability, making this a truly versatile garment.
Thankfully, for the asking price, it's extremely well made with flatlock seams, raglan sleeves and an extended tail to stay tucked in. Durability is top notch as well; so far mine shows no signs of wear.
Price: $85
More info: rapha.cc
Bontrager B2 and B3
Tester: Katherine Fuller
The Bontrager base layers I tested have become two of my favorite pieces for surviving winter, whether I'm on the bike or not. One of these tops paired with the Pearl Izumi ELITE Thermal Hoody that I reviewed earlier in the season, plus an appropriate jacket, is the combination I am reaching for almost exclusively this winter.
I honestly can't remember how many rides I've put on the B2 and B3 without washing them, but wool's odor-fighting ability is for real. I also appreciate that cycling companies are starting to recognize the value of versatility, particularly with regard to investment pieces. The Bontrager base layers are cut more casually, which makes them endlessly useful in everyday life.
The B2 uses Bontrager fabric called Profila Cool (polyester) plus Merino wool, a combination that rests comfortably on the skin. The B2 also utilizes 37.5 fabric technology, which is "patented active particles permanently embedded at the fiber level capture and release moisture vapor" according to the maker. Whatever it is, it's definitely more comfortable than a Hanes Beefy T.
I generally do not like hoods on base layers. Depending on how many jerseys and jackets get piled on top of it, the hood can become uncomfortably bunched up under the other layers. But I've come to appreciate the super-thin, ponytail-compatible hood of the B2 and how it's readily available for the briskest rides. It fits almost unnoticed under a helmet and functions like a less-restrictive balaclava with a neck that zips all the way up to my nose. The high neck means the top lays more like a cowl when unzipped but can also do double-duty as a neck warmer.
Despite the impression the hood might give, the B2 is not a heavyweight layer and is best for regulating your body heat during cool temperatures. I preferred this thin layer on longer rides during which I exerted myself and warmed up significantly, rather than casually tooling around town on a frigid day.
Nice touches on the B2 include a slight drop tail and thumb loops that lay flat, though I found the sleeves just a hair too short to use the thumb loops comfortably and the holes let in a slight draft. With long arms and a long torso, I tend to prefer base layers with exaggerated lengths, but most people should be happy with the cut of the B2.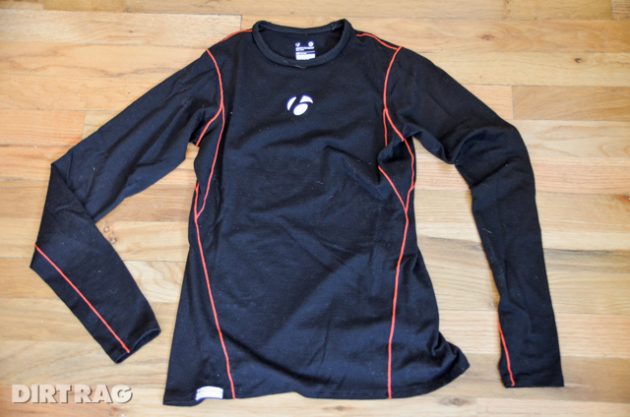 The Bontrager B3, made with Profila Thermal Merino wool fabric, is the thicker and warmer sibling of the B2. It is also slightly more fitted but not restrictive. Other than that, it is equally adept at moisture management, stink control, not itching and keeping your core warm under other layers. It's a perfect cold weather t-shirt, and I mean that as a compliment. Wear it anywhere to do anything and be able to go several days without washing it, if you must.
Price: Each base layer retails for $100
More info: bontrager.com
Pearl Izumi Transfer Wool
Tester: Katherine Fuller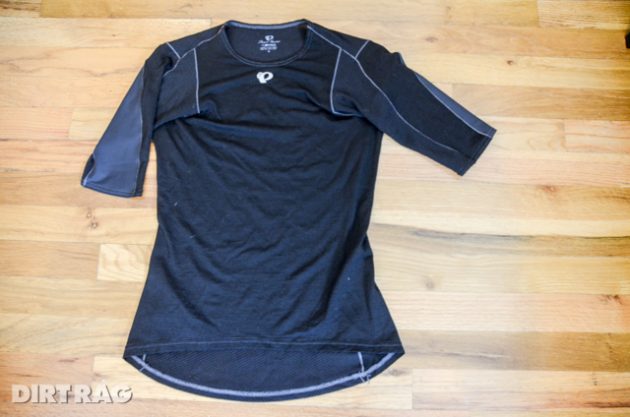 Pearl Izumi's form-fitting Transfer Wool base layer is an interesting piece I haven't quite pinpointed a perfect use for. The sleeves are elbow-length and cut in a forward-facing position. This cycling-specific shape feels awkward when you're not hunched over on a drop-bar bike—something to keep in mind.
The front is constructed of P.R.O. Transfer Dry Merino that, if you have sensitive skin, you might find to be a tad itchy. The back and underarms are mesh, and a strip of stretchy Polyester runs down the back of the arms. Pearl Izumi suggests a temperature range of 40 to 70 degrees. That is totally dependent on how you layer it, but I personally think 70 is much too warm. Generally, you'll appreciate this top on cool days with one other layer and if your arms tend not to bother you on colder days.
I found myself grabbing the Transfer Wool when I couldn't figure out what else to wear, usually on mountain bike rides where I wasn't maintaining a consistent exertion and my body temperature waffled. It's nice for days when the air is too warm for a heavy long-sleeve top but too cool for just a short-sleeve jersey. The elbow-length sleeves also mean it's not going to get bunched up when layering a short-sleeve jersey over the top.
That said, I think this base layer fulfills the same duties as does a sleeveless wool undergarment, and I'd recommend a sleeveless one to save a few bucks and to ditch the cycling-specific cut, which makes the Transfer Wool short sleeve less versatile.
Price: $80
More info: pearlizumi.com
Smartwool Women's NTS Mid 250 Pattern Crew and Seamless Liner Bra
Tester: Emily Walley
The 100-percent merino Mid 250 Crew is Smartwool's warmest baselayer and the perfect accompaniment to the Seamless Liner Bra (reviewed below). It's great to see the company offering both patterned and solid options; the pattern is a nice touch when wearing the shirt on its own.
In comparison to Smartwool's lighter weight baselayers I find the fabric weight of the Mid to look less like long underwear. The top is soft against skin with a feminine fit and it's constructed without top shoulder seams. I wore the Mid 250 as a single layer when temperatures were in the 40s and 50s, and under the Smartwool Propulsion 60 Hoody Sport Jacket in cold weather. (Stay tuned for a future review.) It has the moisture wicking and odor-free qualities one expects from merino and can be machine washed and dried on low.
Price: $105
More info: smartwool.com
Smartwool offers five options of sports bras. I tested the Seamless Liner Bra, Smartwool's lightest support option, a single layer merino and nylon/spandex blend fabric with a three-quarter inch rib cage band; adjustable straps help to achieve an optimal fit.
The Liner quickly became my go-to, in preparation for a ride, winning out over all my poly/nylon blend bras. It dries fast and wasn't heavy with moisture after a ride. The bra is mostly merino, 72 percent, therefore it doesn't have any lingering odor. This would be a great lightweight option for touring or bike packing as it weighs just a hair over one ounce and folds up tiny.
The Seamless Liner is recommended for low impact activities. For more support, take a look at Smartwool's Seamless Racerback or Seamless Double Strappy bras. With a price tag of $50 plus, Smartwool bras are more costly that the average synthetic blend sports bra. However, I'd be happy to replace all of my other bras with just two merino options.
The Seamless Liner Bra is available in bright coral, desert purple (tested) and black.
Price: $50
More info: smartwool.com