Review: Salsa Powderkeg Tandem
Originally posted on December 22, 2015 at 9:00 am
This review was originally published in our sister magazine, Bicycle Times
Testers: Justin Steiner and Emily Walley
Salsa first began prototyping tandems back in 2010 when former Salsa Engineer Tim Krueger and his wife Odia saw other couples racing the Chequamegon Fat Tire Festival's Short and Fat Race on tandems. Now, many prototype miles later, including a trip down the Tour Divide,the production Powderkeg is here.
While the Powderkeg is inspired by Salsa's El Mariachi 29er mountain bike, the construction is much burlier. Salsa utilizes downright huge Cobra Kai tubes custom drawn for this project on the frame and fork to minimize flex. Despite the heavy-duty construction, the complete bike weighs just 42 pounds.
Three frame sizes are available; medium/small, large/small and large/medium. According to Salsa, those offerings will fit captains from five feet, eight inches to six feet, three inches. Stokers from five feet, five inches to six feet even. It's worth noting we're both one inch shorter than the minimum stated fit range but had no issues fitting on the bike. Emily ran the standard stoker stem and Justin swapped to a 60 mm stem.
Salsa bills the Powderkeg as a mountain, gravel and touring bike. Big brakes and aggressive knobby tires hold up the mountain bike end of the bargain so long as you're willing. On the touring side, a plethora of rack, water bottle and three-pack mounts provide ample options for hauling stuff and mounting fenders. Salsa's Alternator rear dropout system works incredibly well with the company's Alternator Rack, but doesn't play as nicely with other racks.
The rest of the Powderkeg's spec is well thought out and reliable without being overly pricey. The Shimano SLX 3×10 drivetrain worked flawlessly and provided all the gearing range we needed. Avid BB7 cable-actuated brakes with 200 mm rotors provided ample stopping power and resisted fading throughout our testing.
It's clear Salsa invested and lot of time and energy in this project and their hard work has paid off. The Powderkeg is a cohesive, rough and ready package. I'm so impressed with the ride quality and stiffness of this frame. Fully loaded for camping or on technical singletrack we never perceived a bit of fork or frame flex, which is incredible considering the length of the bike and the force two people can apply.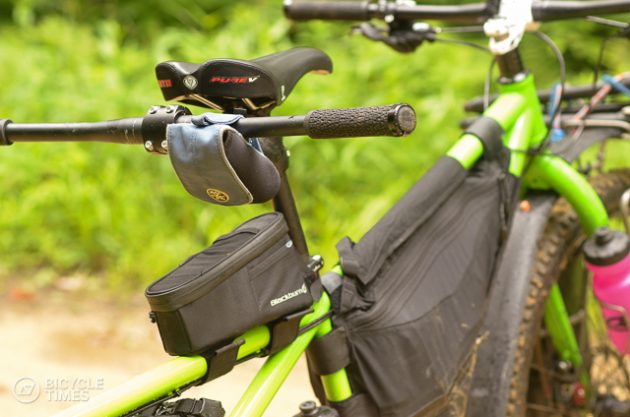 The Powderkeg's handling is similarly impressive. Of course, riding a tandem requires some adjustment, this bike's 70-degree headtube angle and long wheelbase blend low-speed maneuverability and high-speed stability very well, regardless of whether bombing singletrack or cruising dirt roads. At tandem-friendly-speeds off road, I never felt much need for a suspension fork, but a 100 mm tandem-rated suspension fork may be used. Unlike a single bike, each person is only really dealing with the impacts from one wheel. The other wheel is so far away the bump forces are much smaller.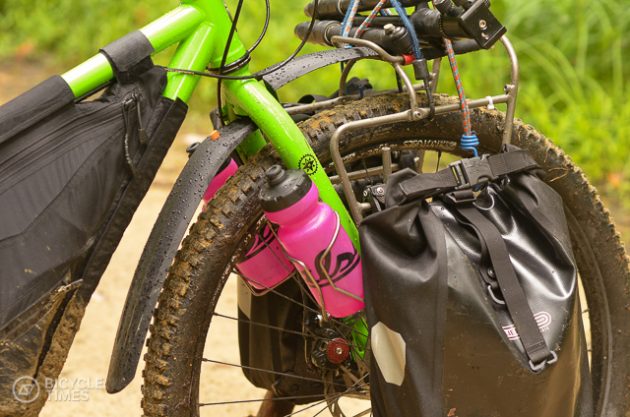 The Powderkeg is one of just a few off-the-shelf mountain tandems available. Cannondale offers the Tandem 29er for $3,125 with some compelling component spec, but it doesn't offer comparable touring versatility and has a strangely steep 72.5-degree headtube angle.
Aside from that, nearly every other tandem in this category hails from a smaller company and commands a premium. For instance, Co-Motion's Java 29er starts at $5,595. Ventana offers a handful of tandems; the full suspension El Conquistador de Montañas 29er starts at $6,000 and the rigid, fat-wheel El Gran Jefe ranges from $3,200 to $6,500. All of these make the adventure-ready Powderkeg seem like a pretty good deal at $3,999.
To see action photos and learn more about this bike, check out the multi-day bikepacking adventure that begat this review by reading "Allegheny National Forest touring tandemonium" from the same issue of Bicycle Times.